The Automotive Industry has been historically, without doubt, a male dominated industry. Although, often in the background, female presence has been there.

But now, in 2019, with notable women in the auto industry such as Claire Williams of the Williams F1 Team and Monisha Kaltenborn of the Sauber F1 Team getting headlines and plaudits on a regular basis, there is an ever-growing female presence.
From engineers to racers and in many other areas outside and in-between, the influence of women in the industry is growing. So, to celebrate International Women's Day today (8th March 2019), Nationwide Vehicle Contracts are taking a look at past, present and future women whose industry influence is notable.
There will be some surprises on the way, some new faces and some old that may be new to you, but the one thing that these women have in common is their ability to determine some sort of direction that the automotive empire has taken, or will take. Their eventual success has been made so much harder because they're often fighting against a skewed sexist opinion.
With Autocar publishing a list in June 2018 of the top 100 British women in the global car industry - a list that featured Linda Jackson, chief executive officer of Automobiles Citroën SA; Helen Emsley, GMC's executive director of global design and user experience; Danella Bagnall, Jaguar Land Rover's F-Pace chief product engineer; Angela Shepherd, Mercedes-Benz UK's network operations director; and the aforementioned Claire Williams, deputy team principal at Williams F1, amongst many others – it is not a great leap of the imagination to realise that some of the historical and current women mentioned above and below will have had some influence in encouraging a whole generation of women to get involved in automotives - be it in the garage, in the boardroom, in the research laboratory, behind a wheel, or in a design studio.
Historical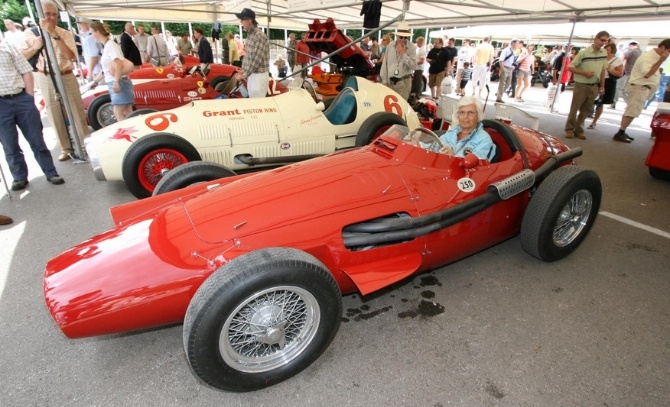 Florence Lawrence
Florence Lawrence was a Canadian-born film star in the early 1900s who is often referred to as "The First Movie Star" because she was said to be the first ever film star to be named publically.
But what is notable about Florence Lawrence was that she invented two vehicle safety components that, even today, over a century later, we all still use - albeit in a more advanced format.
Florence came up with something that she called "auto-signalling arms" (which we now call 'indicators')," whereby flags on either side of a car could be remotely raised and lowered with the push of a button.
She also developed a sign that popped up at the back of a car when the brake was depressed that we would now know as 'brake lights'.
Unfortunately for Florence, she never patented these inventions, and therefore was never credited for them worldwide and, possibly more importantly, she never made any money out of them.
Charlotte Bridgwood
Charlotte Bridgwood was responsible for developing (and initially patenting) the automatic windscreen wiper in 1917. Charlotte Bridgwood should really have advised Florence Lawrence better in regards to patenting - after all she WAS her mother.
Fellow female inventor Mary Anderson had invented the manual windshield wiper in 1903, but it never took off commercially. However, Bridgwood's idea did, but not until after her initial patent expired in 1920. The whole idea took off when Cadillac became the first car company in the world to include automatic windshield wipers on every vehicle it manufactured. This left Charlotte Bridgwood with only the gratitude of drivers to live on.
Denise McCluggage
Denise McCluggage was an American racing driver, a journalist, an author, and a photographer, but arguably more importantly, she was a pioneer of equality for women in the United States of America.
A sports journalist at the New York Herald Tribune in the 1950s, Denise started to race professionally, initially driving a Jaguar XK140. She became the first female driver to win the feature sports-car event at Thompson Raceway in Connecticut in a Porsche RS, and won the grand touring category at Sebring in a Ferrari 250 GT in 1961.
Not content with this, Dense also achieved a class win in the Monte Carlo Rally in a Ford Falcon in 1964.
She then got tired of racing and returned to her first love of journalism. Eventually, becoming the only automotive journalist ever to be inducted into the Automotive Hall of Fame on the day that she was inducted into the Sebring International Raceway Hall of Fame – and since has been the only woman to ever achieve this! Denise McCluggage passed away on May 6 2015, aged 88.
Bertha Benz
Her surname gives away the automotive heritage, but not exactly what it was that this woman did that has her in our list of notable women in automotive history.
Her husband was the famous German engineer Karl Benz, who had invented the 'motorwagen'. Unfortunately, no one was buying into the car, and bankruptcy and poverty loomed.
So, Bertha Benz took her two teenage sons and travelled 66 miles to visit her mother in the 'motorwagen'. This might not seem a great deal to us these days, but when she did it, in 1888, it was the world's first long distance road trip in a car. Bertha milked the publicity for all its worth, raising the profile of the car and getting as much good attention as was possible for the 'new-fangled invention'.
Along the way, Bertha also noticed that the brakes weren't working as well as they should. So, she came up with the idea of 'brake lining' (which we now know as brake pads), and that a third gear would be a useful addition to the car. Bertha did this without her husband's consent, and as he was a perfectionist, he wouldn't have even entertained the idea.
You can now follow the Bertha Benz Memorial Route signs along her route from Mannheim via Heidelberg to Pforzheim (Black Forest) and back.
Dorothée Pullinger
Dorothée Pullinger started her career in the auto industry as draughtswoman at the Paisley works of Arrol-Johnston at the age of 16. Little did she know, and little did many others know, that Dorothée would become not only one of the first female car designers, but also one of the first car designers to put particular emphasis on a female's car needs.
During WWI she was initially put in charge of more than 7,000 female munitions workers at Arrol-Johnston's Barrow-in-Furness plant in Cumbria. Later, her father (who was her boss) put her in charge of Arrol-Johnston's subsidiary, the Galloway Motors.
Dorothée employed local women instead of men, and this helped to develop the ground-breaking Galloway 10/20 which was especially aimed at female drivers with its compactness, higher seating position, smaller steering wheel and lower dashboard.
However, Dorothée got frustrated by people always suggesting that she was taking a man's job, and left engineering for Sales. A great loss to the Design world, Dorothée passed away in 1986 at the age of 92.
Joan Newton Cuneo
We have already mentioned Denise McCluggage when it comes to female racing drivers, but we can't ignore the achievements of the first US female racing driver superstar, Joan Newton Cuneo.
Joan was the first female car racer to compete successfully with men, and more importantly, the first woman to easily beat the majority of them. In fact, Joan was so successful that the men of the early 1900s ordered a block on female drivers competing against men for some years, because they did not like being inferior to a woman.
Finishing second behind the legendary Ralph de Palma in a 50-mile event at the 1909 Mardi Gras Races in New Orleans, Louisiana, Joan set numerous speed records for women and also won three first places in shorter events. Following her 3 victories, the AAA banned her and all other potential female drivers from competing, so she had to settle for setting speed records from then on.
Maria Teresa de Filippis
Maria Teresa De Filippis was the daughter of an automotive engineer, her first breaths were the fumes from racing cars; so, it is really no surprise that she became the first woman to race in Formula 1.
Having raced with and against her older brothers, Antonio and Giovanni, in local events, Maria started to race in minor Italian car championships, eventually working up to a second placing in the Italian Drivers' Championship in 1954, a position she maintained the following year.
After two seasons with Maserati behind the wheel of her own Maserati 250F, De Filippis made her F1 debut in the Monaco Grand Prix in 1958, qualifying 16th, and finishing there following engine failure.
She managed a career-best 10th place in her next race, the Belgian Grand Prix, but then suffered mechanical problems in the Grands Prix of Portugal and Italy and had to withdraw.
In 1959, she witnessed a fatal accident in Germany involving Behra-Porsche's team principal (and her close friend) Jean Behra, and then the death of her ex-boyfriend, Luigi Musso, in the French Grand Prix. This hastened her retirement from racing, but she kept her involvement in motor racing as vice president of the official association of former Formula 1 drivers.
Known throughout the motor racing world as 'little pilot', Maria Teresa De Filippis died in early 2016.
Current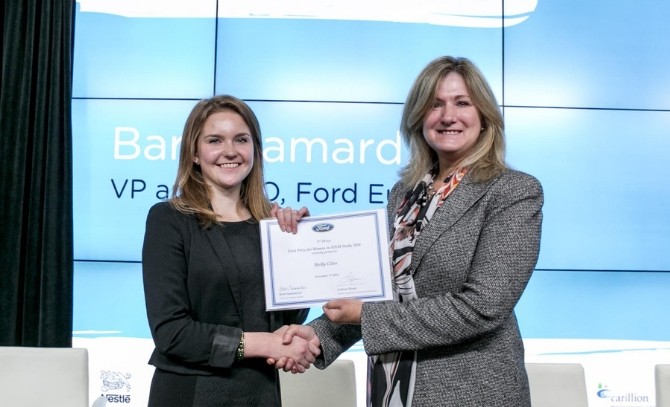 Mary Barra
Mary Barra is the Chairwoman and CEO of General Motors in the United States, and she is the first woman to run a major automaker company. Her fame, fortune and power are exemplified by her appearances in both Forbes (No.5) and Fortune (No.1) magazine on a list of powerful women in the world, and on the cover of Time's "100 Most Influential People in the World" issue.
The 57-year old is already a veteran in the automotive field, having worked at GM since the age of 18. Mary has previously overseen design, engineering and quality departments for GM vehicles worldwide, as well as managing the entire Detroit/Hamtramck Assembly plant.
Danica Patrick
Danica Patrick is the first woman ever to win an IndyCar race in 2008 and was positioned in the world Top 10 for a couple of years.
That 'first' is not the only record that Danica has achieved. In 2013 she was the first woman to win a NASCAR Sprint Cup Series pole position at the Daytona 500; she holds the record for the highest finish by a woman in the Indianapolis 500 and the Daytona 500; and is one of only 14 drivers to have led both races.
Now retired from racing, she is a model – appearing on the cover of FHM and Sports Illustrated to name but two magazines – and also an advertising spokeswoman. The most successful woman in the history of American open-wheel racing, Danica competed in both in the NASCAR Nationwide Series and in the NASCAR Sprint Cup Series.
Michelle Christensen
Many readers will be aware of the Honda NSX, a powerful, hybrid supercar full of racing technology. What many of you will not realise is the design team behind this 191mph supercar was led by a woman; Michelle Christiansen.
In fact, Michelle is the first woman to lead a supercar design team.
Juliane Blasi and Nadya Arnaout
Unveiled at the Detroit Motor Show in 2009, the BMW Z4 was a revelation, and one of the stars of the show. But few people there realised that the two women who showed the press and public around the car were in fact the designers of the impressive machine.
German designers Juliane Blasi and Nadya Arnaout were tasked with completely redesigning the interior and exterior of an existing car. Their brief of turning the Z4 into a sportster was completed so successfully that reporters described it as "more aggressive and more masculine."
There are many other women involved in the motor industry than we can list here; in fact, we haven't even scratched the surface, and Autocar's list is much more exhaustive - and all the more impressive as is JUST British women in positions of power.
Women may not always be at the forefront of immediate automotive thought, but there is a very good chance that the power behind the throne, if not on it, is a woman.
Take a look at this speech by Vice President and Chief Operating Officer for Ford Europe, Barb Samardzich, on the importance of gender equality in the car industry, after naming Citroën's global CEO Linda Jackson as the most influential British woman in the car industry.
As Autocar's editorial director Jim Holder said: "We recognise that challenges exist in the industry we love, challenges which may deter women from pursuing an automotive career, as well as the implications that the under-representation of women could pose for the future of the industry. This is something that needs to be rectified."
"By highlighting the achievements of great British women who continue to make a considerable impact on the global automotive landscape, we hope to stimulate interest in what is an exciting and rewarding career."
Nationwide Vehicle Contracts wish you all a Happy International Women's Day.