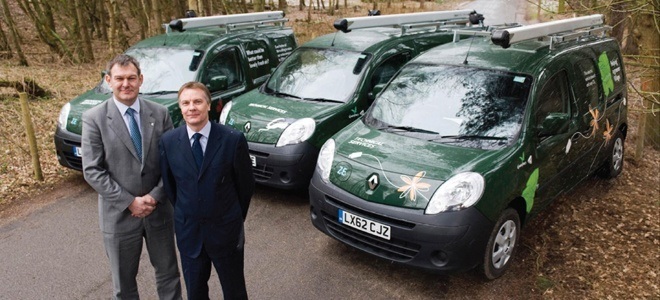 CENTER PARCS TAKES DELIVERY OF ALL-ELECTRIC FLEET FROM RENAULT
The green credentials of Center Parcs have been further enhanced with the arrival at the Sherwood Forest Centre of 22 new all-electric Renault Kangoo Maxi Van Z.E. models.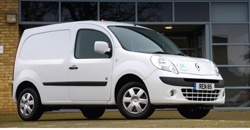 These new electric vehicles join as part of an overall 150-strong fleet used by the technical services and maintenance division and the "Dining-In" takeaway delivery operation of Center Parcs which is used primarily to transport food and beverages across the UK. The fleet provides the service to all four of the villages (Sherwood Forest, Elveden Forest, Longleat Forest and Whinfell Forest) and will soon be doing the same for the up and fifth village in Woburn Forest when it opens in Spring 2014.
The Kangoo Van Z.E.s had to undergo a rigorous selection process with Center Parcs as the holiday destination were keen to make sure that its vehicle fleet would become as green as possible, in line with the Parcs' ethos of sustainability. Based on many factors that included running costs, reliability, practicality, payload and purchase price, it was the Kangoo van that beat off all of the competition.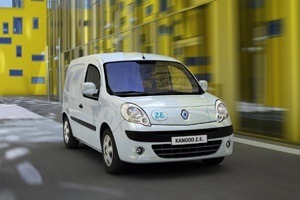 Center Parcs Operations and Development Director, Paul Kent, said: "It is important for us to ensure that Center Parcs' commercial vehicle fleet is the most efficient and least polluting option possible. The new Kangoo Van Z.E.s take this ethos to the next level, bringing non-polluting electric vehicles to each Center Parcs village. We're delighted to be continuing our commitment to ensure Center Parcs reduces its impact on the environment."
The Kangoo Van Z.E. has already had a plethora of great reports in the media, and has also managed to collect itself a long list of awards – including "International Van of the Year 2011". The fully electric model already stands out as Europe's best-selling electric LCV with almost 7,000 vehicles sold to date, including 4,000 in France, and also has a Z.E. Voice function which lets off a sound to warn pedestrians of the approach of the van at speeds of between 1 and 19mph.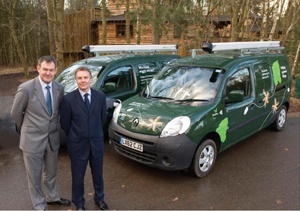 Andy Heiron, Head of Electric Vehicle Programme at Renault UK, handed over the keys to the vans at Center Parcs, commenting, "It is wonderful to see the vans in use at such a fantastic location as Center Parcs. As well as being one of the best known names in the leisure and tourism industry, Center Parcs also leads the way in ensuring that their day-to-day operations are environmentally friendly, making the Kangoo Van Z.E. a great choice for their fleet needs.
"The Kangoo Van Z.E. and our electric range as a whole offer a winning combination of practicality and reliability, plus they are respectful of the environment with no tailpipe emissions at all.  We are delighted that Center Parcs have chosen our Z.E. range for their fleet requirements and know that their staff will appreciate the vans' comfort and ergonomics."