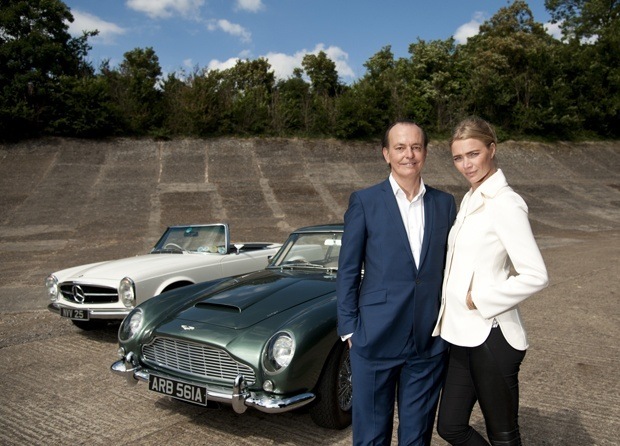 Coming to Channel 5 in early February is a landmark global TV series; The Classic Car Show, hosted by car journalist and driving superhero Quentin Willson and alongside supermodel and drag racer, Jodie Kidd (with a supporting cast of global A-list celebrities.)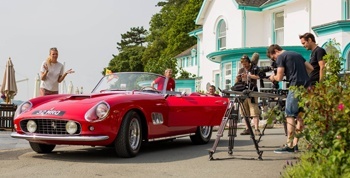 With classic cars a pull at whatever festival of speed and cars you find yourself at in a year, the 13 part series will attempt to "capture the passion, glamour and remarkable stories of the multi-billion pound global classic car industry."

Each one-hour episode of The Classic Car Show will look in depth at the classic car phenomenon; in fact, in a world where 50-year-old Ferraris can sell for more than $50m, they will be looking in-depth at the attraction of vintage vehicles.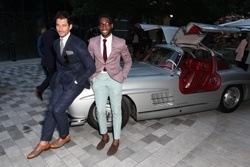 Helping out on the show will be contributors Steve Coogan, Jennifer Saunders, model David Gandy, rap superstar Tinie Tempah, race ace Bruno Senna and racing legend Sir Stirling Moss, all keen followers of the classic cars.

Sir Stirling Moss, 16 times a Grand Prix winner, Mille Miglia winner and voted the greatest all round racing driver of all time said: "What they are doing with this show is impressive. It is going to introduce the world of classic cars to a whole new global audience."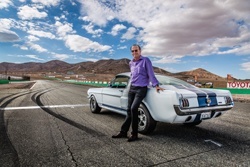 Production values on the show are high, if featured stories where Quentin Willson jets off to California to check out the celebrations for the 50th anniversary of the Ford Mustang in California, Jodie Kidd takes part in a Jaguar XK120 at the Mille Miglia rally in Italy, and resident racer Bruno Senna puts 10 classics through their paces on the track at the legendary Brooklands circuit. "Driving 10 of my favourite classic cars around Brooklands was one of the highlights of my year," said Bruno. "I've loved being involved in the series; it's great to work with a team with such passion for what they are doing."


In fact, The Classic Car Show is presented from an underground studio at the aforementioned Brooklands racing circuit in Weybridge, Surrey, and is aimed as entertainment at peak-time for the whole family, encompassing humour, attitude and charm, and not just for those who know the ins and outs of a car engine.

Cherry Yeandle, Acquisitions Executive, Factual, Channel 5, commented: "The Classic Car Show is a truly groundbreaking series. No one has ever treated classic cars in this way – and that's why we're incredibly excited to be screening the show in the UK. This is prime-time TV, packed full of the world's most amazing classic cars, glamorous locations and A-list celebrities. It's must-see viewing, not just for car lovers, but the whole family."

And this is backed up by Jim Wiseman, Series Producer and Director of The Classic Car Show: "Channel 5 really wanted entertainment – and that's exactly what we'll be bringing into viewers' living rooms. The Classic Car Show is the programme I've always wanted to make. We've spent the last year travelling the globe, delving deep into the glamorous world of classic cars. The show is a unique mix of fantastically engaging stories about the allure of classics, from those owned by Hollywood icons, through action packed historic racing, to a car hoarding family from Hampshire."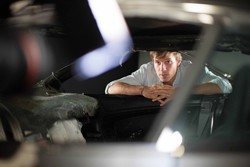 Besides featuring stars in cars with seven-figure price tags, The Classic Car Show will also be showing how to feel like a million dollars for under £5,000; Alex Riley, fresh from his Celebrity Mastermind win, will become the brand new Simon Templar with a feature on the Jaguar XJS from TV classic show The Saint; the face of 4Music, Will Best, will be trying out low-cost high-fun classic car sprints; and Quentin Willson will be picking out which classics are best to buy now before their values go stratospheric - just as a few examples as to what the show will be featuring.

Quentin Willson is not only the presenter, but also the Executive Producer, and he is looking forward to getting The Classic Car Show out onto the screens of fans of all cars – not just Classic cars: "I'm delighted that Channel 5 will be showing The Classic Car Show. The global growth in classic cars, not just in terms of auction prices of high-end Ferraris, but the sheer number of people who share the passion, has driven the creation of The Classic Car Show. No-one has done what we are doing ever before. We've got gorgeous cars, passionate stories, an extraordinary filming budget and endless enthusiasm. The Classic Car Show is an amazing, insightful series without a socket set in sight."

You can see some trailers for the show on www.classiccarshow.com and keep an eye out on your TV listings magazines as to when it hits the small screens.