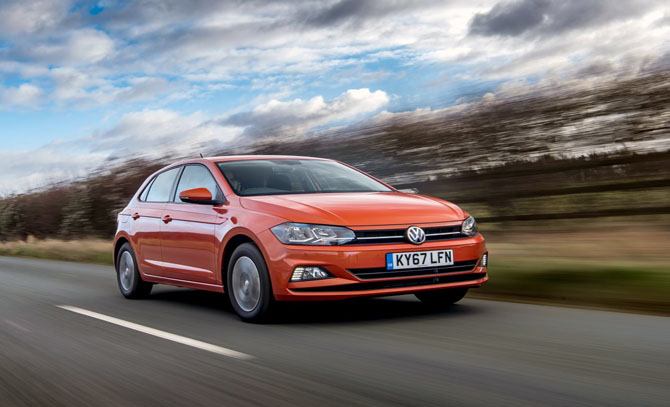 From the Volkswagen Polo to the Dacia Sandero, we talk you through the cheapest family cars to insure
Back in 2016, we published a blog post all about Car Insurance Groups where we explained the way that Thatcham Research create the Insurance Groups for the Association of British Insurer's (ABI) Group Rating System. In it, we suggested some cars that we felt were the cheapest cars to insure.
For vehicles not on a Complete Care package, vehicle insurance is included in the leasing contract and customers are responsible for arranging their own insurance on the vehicle. This insurance must be a fully comprehensive insurance policy and the contract holder must be the main policy holder or a named driver on the insurance certificate.
So, looking at what could be considered the cheapest family cars to insure can depend on a number of factors, including:
The driving history and 'insurability' of the main policy holder and/or named driver. This includes any no-claims history, the length of time driving, the age of the driver, the profession of the driver and their postcode
What can be considered a 'family car' (i.e. the size of the family, the age of the family, and the actual requirements of the family)
What type of car it actually is and its' value, power and desirability to thieves
You will have your own idea of what you want, and the budget that you can afford, so what constitutes a family car for you is all dependant on the family's personal requirements; but we have taken a look at what's out there in the big, wide world of insurance, and have come up with some suggestions for your perusal that may just fit the bill for you.
Smaller Family Cars
Volkswagen Polo
When it comes to insurance, the Volkswagen Polo it falls well within the Group 1 category – that's the cheapest to insure.
Available on some great deals from Nationwide Vehicle Contracts, depending on the Volkswagen Polo you choose, you can have (amongst so much more) Bluetooth, a multifunction colour display, a warning buzzer and light for front seatbelts unfastened, 6 speakers, DAB Digital radio, a 60/40 split folding rear seat, ABS, Driver/Passenger whiplash optimised head restraints, and Hydraulic Brake Assist, along with air conditioning, Apple Carplay and Android Auto, and alloy wheels.
All this and plenty of space too for four people comfortably with a spacious boot too.
Skoda Citigo
Also falling into Group 1 Insurance is the Skoda Citigo. At first glance, you may think that the Citigo is likely to be too small for what you need as a family car, but if you take a look at the Monte Carlo model, then you'll be pleasantly surprised.
Offering Fuel Economy figures of 67.3 MPG and CO2 emissions of just 96 g/km, economically the car will give you plenty to smile about, and with plenty of room inside for 4 people everyone will be happy.
It is nippy with speed sensitive power steering, looks good with 15" Crux black alloy wheels, and there is plenty inside to keep the whole family happy, including 6 speakers, Radio/MP3 player, 3 point height adjustable front seatbelts and pre-tensioners, ABS, two 3 point rear seatbelts and a luggage capacity (with seats up) of 251 litres.
Hyundai i10
The Hyundai i10 may look like a small car, but it feels like a 'big small car', with enough room in the back for a child and an adult (or 2 children), and has a boot that is big enough for the smaller family.
Sat comfortably in Group 1 insurance, the Hyundai i10 is one of the best-value city cars on the market. It's cheap to run and more spacious than you would believe, as well as being easy to drive - performing more so in the city than on the motorway.
Engines are available as 1 litre or 1.2 litre, so power is adequate rather than explosive, with a 0-62mph of 13.8 seconds.
Coming with 7" Touch screen navigation, Apple car play/Android Auto, Bluetooth, PAS, a Rear parking sensor, 4 speakers and DAB Digital Radio in the 1.2 Premium SE model as well as 3x3 point rear seatbelts, ABS/EBD, Brake assist, Childproof rear door locks and some great safety features, it most certainly falls into the small family car bracket.
Citroen C1
The Citroen C1 is another popular choice for young families, and falls usually into Insurance Group 3. A small car that's cheap to run and has a bit of a boost with its three-cylinder engines, the room in the back lends itself to smaller families with young children rather than teenagers.
Up against the Hyundai i10 in the small family market, the Airspace model has a fabric roof that can be retractable, allowing a greater sense of space, and, at 196 litres, the boot in the C1 is big enough for the weekly shop or the odd weekend away
Bigger Family Cars
Bigger cars normally means higher insurance, but these options for family cars can help you keep insurance costs as low as possible.
Dacia Sandero
The Dacia Sandero is a lot of car for not much money. Only available as a five-door, there's plenty of head and legroom for back-seat passengers and it's cheap to run, falling into insurance group 3 or 4 (depending on model).
The boot is one of the biggest in its class at 320 litres, (1,200 litres with the rear seats down) for family use it is right up there at the top of the bargain list.
Available from Nationwide Vehicle Contracts with some quite frankly amazingly priced deals over all 23 variations (including the Sandero Stepway), the Dacia Sandero is a family car for those that just want a basic family car without all the bells and whistles that you get from other cars for a lot more money.
Hyundai i20
The Hyundai i20 is a stylish, spacious supermini-sized hatchback that was updated in 2018, and falls into Insurance Group 4 or 5.
A very practical family car that available with three and five doors, it offers plenty of rear legroom and boot space (326 litres rising to 1,042 litres with the back seats down) and is considered to be one of the very best in its class.
While it doesn't quite match the VW Polo for all-round ability, and its fuel and emissions economy falls down against other cars in it range, the i20 is still worth checking out as its specifications are a bit more generous than others. This includes sat-nav, climate control and heated seats fitted into top spec cars.
Ford Fiesta
The Ford Fiesta often comes into the Group 2 insurance bracket, but as a reasonably priced with car adequate power and acceptable space, Britain's most-popular car will always appear in these sort of lists.
From Nationwide Vehicle Contracts there are three models available with some great deals - the Ford Fiesta, the Fiesta Vignale, and the Fiesta Active - so take a look at what's on offer.
Vauxhall Corsa
The Vauxhall Corsa is another car that can fall into Group 2 insurance. Again it is not the most powerful of engines within Group 2, but there is enough space for a small family, is available in 3 or 5 door models, and with specifications featuring a heated windscreen, cruise control, remote central locking, alloy wheels, air conditioning, a large infotainment screen compatible with Apple CarPlay and Android Auto, it is a good choice; enough to get it into the top 5 most popular cars in the UK.

Moving up into the larger family cars, you will find that Insurance Groups 11-15 will be the sort of groups that you are looking at.
Cars such as the Skoda Superb, SEAT Leon, and Volkswagen Golf are those that fall into this category, with the Nissan Qashqai falling into Groups 15-21.
Whatever your family car requirements, you can find a car to suit your needs and your budget at Nationwide Vehicle Contracts. Simply call 0345 811 9595 to speak to one of our car leasing specialists.