IS IT THE FUTURE?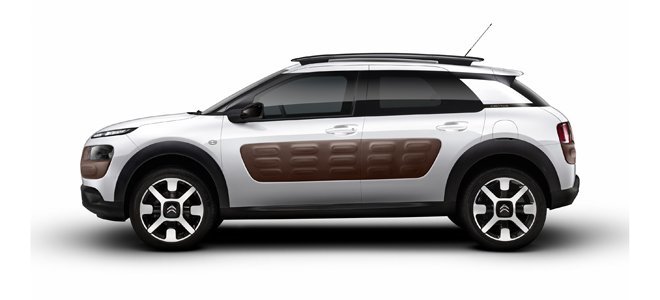 Citroën certainly think so as they lay claim that the C4 Cactus "delivers a futuristic blend of form, function & low running costs, offering a bold response to the demands of today's motorists."
It's not exactly startling news that the expectations of the driving consumer are changing, so Citroën has tried to address these with the new C4 Cactus with its substantial design, greater comfort and useful technology – all of which certainly deserve a bit of an investigation.
DESIGN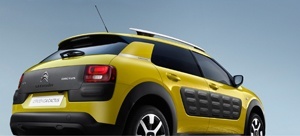 A quick glance at the New Citroën C4 Cactus and you can see that it has a unique style all of its own, making it not only memorable but easily identifiable as well. Its lines are smooth throughout, has floating quarter-lights and roof, strong roof bars and large panoramic glazed roof, with daytime-running LED lights & headlights built into the Airbump® protection at the front.
Aaah. The Airbump®: A Citroën Exclusive that combines style and practicality seamlessly along the smooth bodylines of the car, fitted to the sides of the car and the bumpers. Airbump® is available in four colours (Black, Grey, Dune & Chocolate) that can be matched with the ten body colours and three choices of interior trim (Stone Grey Ambiance, Habana Highlight & Purple Highlight) so that the C4 Cactus can truly become a driver's choice.
Size-wise, the New Citroën C4 Cactus has been created so that the car is optimised for style, space and comfort, being the same dimensions as a compact hatchback.
COMFORT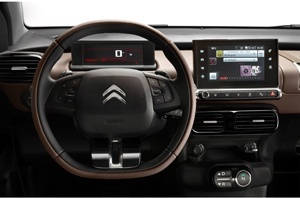 You'll no doubt be pleased to hear that the first person thought of in the comfort stakes was the driver, closely followed by the passengers – so that means that there is more space than you would imagine and an overall less-cluttered cabin.
The dashboard is set low but still manages to offer generous and easily accessible storage, mainly down to the fully-digital interface that has its own place in the optimised dashboard layout, but there are other space-saving ideas too, including the passenger airbag being in the roof rather than the dashboard; a 7" touchscreen that covers all main vehicle functions (see below) rather than buttons; and an 'Easy Push' system instead of a gear lever (on Efficient Tronic Gearbox (ETG) versions.)
(The latter allows 'Drive, Neutral, Reverse' (D,N,R) selection control to be situated on the lower fascia with steering wheel paddles letting the driver change gears manually.)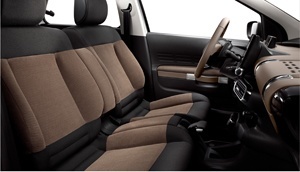 So how does the driver and the front passenger benefit from all this space? Simply by designing the wide front seats in the style of a sofa, adding to the relaxed driving ambiance in the C4 Cactus.
In the back, passenger legroom is similar to that of the Citroën C4, but adding in leather strap door handles and an on-top storage compartment in the dashboard, along with the relaxing upholstery colours means that the comfort enhancement just doesn't stop at space.
TECHNOLOGY
Realising that consumers these days are looking for "ease of use, connectivity and accessibility," Citroën have made sure that the real needs of today's motorists are looked after, especially with the fully digital & intuitive touchscreen interface that is fitted as standard.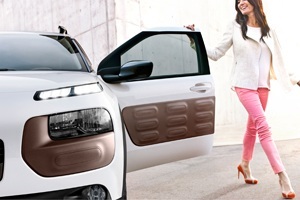 The 7" touchscreen has 7 main control buttons (all on-screen; no push-buttons here) which allows the driver full access to a full range of functions, including Automatic air conditioning; In-Car Media including digital radio, audio streaming, connection of mobile devices & music and photo store functions; Navigation (speed limit display, traffic updates & efficient route options); technology to help the driver such as reversing camera, Park Assist, Hill-Start Assist, programmable speed limiter & cruise control; hands-free telephone via Bluetooth® with complete phonebook access, display of profile photos & double call management; Citroën Multicity Connect portal via a 3G connection (see below); and Parameter settings that includes an interactive on-board manual – all on a single screen and easily accessible.
All these controls are grouped on a single screen, ensuring they are always easily accessible.
The Citroën Multicity Connect application portal is something that Citroën are very pleased with as it offers the driver a range of apps that can help make his or her life a bit easier, including; a 'Fuel' app so that the nearest and/or cheapest service station can be found; 'Yellow Pages' & 'Trip Advisor' apps, to help find hotels & restaurants; the 'Michelin Traffic' app that provides live traffic information; and the 'Coyote' app that alerts drivers to problems on high-risk roads. And all of these apps anticipate what the driver needs when he/she wants it, and gives it to them at an appropriate time by taking into account the driving circumstances such as position, speed, route, fuel level, etc.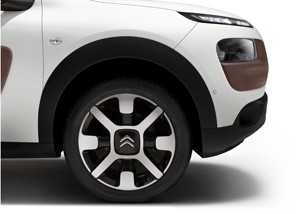 The New Citroën C4 Cactus also has a large panoramic sunroof that it is immensely proud of, featuring advanced heat protection that is designed to filter light and reflect heat, as well as offer UV protection during the one day of sunshine that we get here in the UK in the summer!
The new Citroën C4 Cactus has also managed to cut down on fuel consumption with its weight loss (in comparison to the Citroën C4) thanks to a smaller engine and high-performance construction materials, meaning that the diesel version of the C4 Cactus offers 91.1 mpg with CO2 emissions of just 82g/km (with the petrol version offering less than 100g/km too!)
The future? Maybe. WE shall have to see!