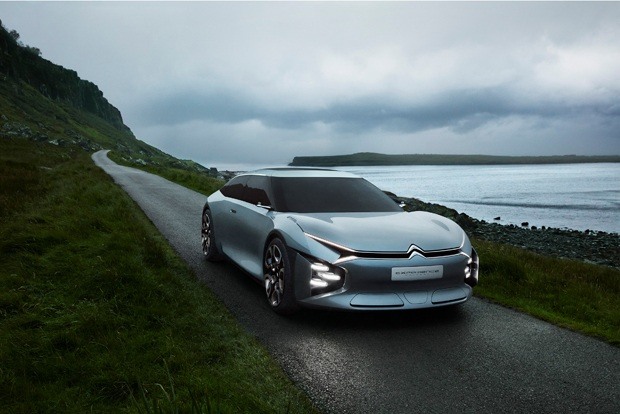 Many concept cars are on display at this year's Paris Motor Show, and French car manufacturers Citroen haven't been backwards in coming forwards with their CXPERIENCE CONCEPT that "embodies the brand's "Be Different, Feel Good" promise in the large hatchback segment."
Featuring a distinctive body style, the new and stunning plug-in hybrid concept is part of the Citroën Advanced Comfort® programme, and brings a fresh approach to the hatchback sector from Citroen - and where better to debut the Concept than in your home town?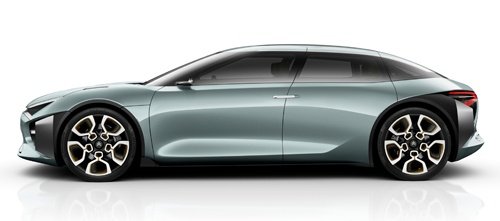 With all the hallmarks of Citroën vehicles, Linda Jackson, CEO of Citroen Global says of the car: "The Citroën CXPERIENCECONCEPT car challenges convention to express a new vision of executive hatchbacks. It also fits in perfectly with the ambitions of the Citroën Advanced Comfort® programme. CXPERIENCE CONCEPT illustrates the brand's capacity to deploy its "Be Different, Feel Good" promise in this segment."
This statement is backed up by Citroen Creative Director, Alexandre Malval: "The whole Citroën Style team pulled in the same direction to create a new executive hatchback with international reach, breaking conventional codes to express the brand's values: Optimistic, Human and Smart."
But enough about words; what is the reality?
A Bold, Exceptional External Design that offers up a Strong Identity
Designed by Citroën Styling, the CXPERIENCE CONCEPT car's distinctive body lines demonstrate Citroen's desire to look at executive hatchbacks with a fresh and stylish eye with an aerodynamic concept that reflects the research and effort put into it, yet remains true to the brand and its history.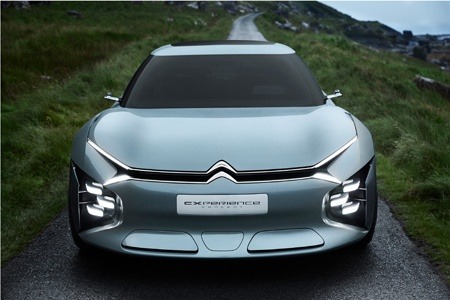 4.85m long and 2m wide, short overhangs and a very low roof (1.37m tall) combine with the pearlescent sea green "Mizuiro" bodywork and 5-spoke 22" wheels to offer and flowing look to the car at first glance.
At the front, Citroen layered LED directional headlights remain from previous Citroen models, the V-shaped daytime running lights (DRL) give the car a high-tech look, with a smooth front end and special grille finishing off the modern look with aplomb. And for added aerodynamics, controlled air intakes are integrated into the front bumpers with mobile flaps designed to open and close to contribute to the car's performance and manoeuvrability.
The rear end of the concept car also makes a statement with strongly marked wings, a concave rear window with a moving fin for improved aerodynamics, and V-shaped 3D rear lights featuring laser fibre optics .
And adding to unique personality of the CXPERIENCE CONCEPT car are the rear-hinged autoclave doors rising to the top of the roof and opening to a 90°perpendicular angle (in line with the wheels), making it easy to get in.
An Interior that continues the Style throughout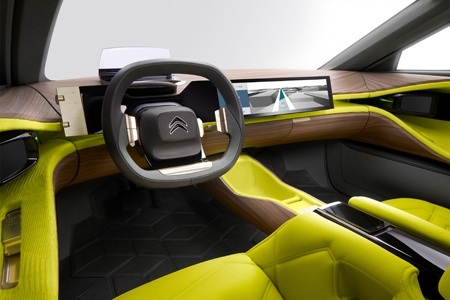 Concentrating on the architecture, decoration and furnishings aspect of style creation, the cabin of CXPERIENCE CONCEPT features premium materials and is decorated in a citrus yellow shade - as if it actually needed to stand out any more!
The whole inside is spacious and has a three-dimensional appearance, exemplified by the single-spoke steering wheel and the horizontal floating dashboard.
Seat design has not been forgotten, upholstered as they are in a padded-effect yellow mesh fabric with walnut wood shaded backrests - reflecting the dashboard. The inner door panels have been designed to resemble alcoves and the flat foam floor is covered in dark, textured leather with a de-structured design bordered by broad chrome-finish sills on either side.
The Citroen Advanced Comfort Programme
Comfort is a concept that has always been closely linked to Citroën and "Citroën Comfort", as a Concept, "has become part of a broader approach with a range of criteria including brightness, space, ergonomics and connectivity."
And this was front-of-mind when the CXPERIENCE CONCEPT car was being designed and created.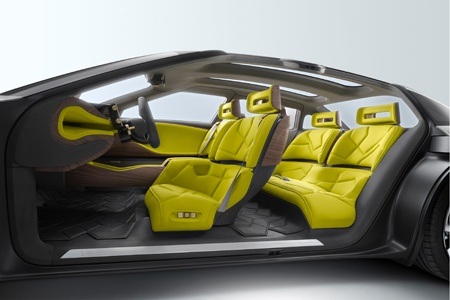 The whole relationship between the Citroën Advanced Comfort® programme and the CXPERIENCE CONCEPT is best described as a cocoon, filtering out the outside world with all it bumps and bruises to ensure outstanding driving comfort for both the driver and passengers.
It all starts with generous, body-hugging seats made from flexible shape-memory foam that provide unique comfort and support with the front seats wide and welcoming, and the rear seats bringing to mind a living room sofa. With this in mind, you'll find the front seats featuring tapered backrests and open headrests and the rear, warm, natural materials.
Throughout the cabin there are ingenious storage compartments to help make life easier, with the central console including a storage compartment at the front, and a separate compartment for charging a smartphone.
And finally, to add to the comfort, as part of the Citroën Advanced Comfort® programme, light plays its part with wide windows and two sunroofs running the full length of the car adding to the ambient lighting and air purifier that come as standard.
Encouraging sharing and connectivity
The Citroën CXPERIENCE CONCEPT car provides continuity between digital worlds for the driver and passengers with the very latest intelligent technologies that are simple and easy to use, starting from useful driving information being projected into the driver's field of vision on a wide head-up display.
The 19" rectangular touch screen is positioned in its key position (emphasising its importance to connectivity) on the dashboard and central console, and via this, the driver can operate on-board functions such as air conditioning, driving aids, navigation and media sources. The touch screen is split into several parts, and can be configured in 1/3 – 2/3 or 2/3 – 1/3 (to allow passengers to use and enjoy as well as the driver) as well as full screen. (Drivers can find journey information and choose their music, while passengers are able to watch a film or choose THEIR music - as long as it doesn't distract the driver!)
The CXPERIENCE CONCEPT features a wide range of connected services, and includes a dedicated smartphone stand that is connected to the screen which can be used to even start the car as well as activating other control features as well as smartphone features .
Passengers in the back seats have access to a supplied mobile tablet that lets the occupants adjust the seats and air conditioning at the same time, as well as providing access to media sharing through the new app 'Share with U' whereby media files such as games, music, and videos can be with shared with other passengers.
And this connectivity and sharing extends to loudspeakers in the open front and rear headrests that can be individually targeted, and integrated cameras make it possible to see each passenger or even to take part in a video conference.
The technology that comes with the Citroën CXPERIENCE CONCEPT includes front and rear cameras with the conventional wing mirrors replaced by two discreet side cameras which send pictures to small digital screens positioned along the inner door panels to help give the driver a 360° view around the car, making driving and manoeuvring easier; and the ConnectedCAM Citroën™ that you can find as a world first on Citroën's New C3, with its wide-angle HD connected camera that records whatever the driver sees on the road. (Basically a built-in Dash Cam)
Limitless Driving Pleasure that's good for the Environment
The Citroën CXPERIENCE CONCEPT features a plug-in hybrid engine that offers up efficient performance, power and versatility.
With an all-electric range of 60km, the CXPERIENCE CONCEPT is perfect for Zero Emissions driving in the city; while out on the open road and wide spaces of motorways and the countryside, fuel consumption can be limited by using the two forms of energy together in successive acceleration phases as electric power is built up during movement.
The 3 kW battery can be charged in 4.5 hours with a standard charging system, or in less than 2.5 hours with an accelerated charger.
The 8-speed electric automatic gearbox is placed between the internal combustion engine and the electric motor, with the compact battery positioned under the cabin; this gives more space to passengers and greater boot capacity.
No news yet as to when we can expect to see all this, but no doubt we will be Cxperiencing a lot of the technology and changes on other Citroen cars in the run-up to its possible production.