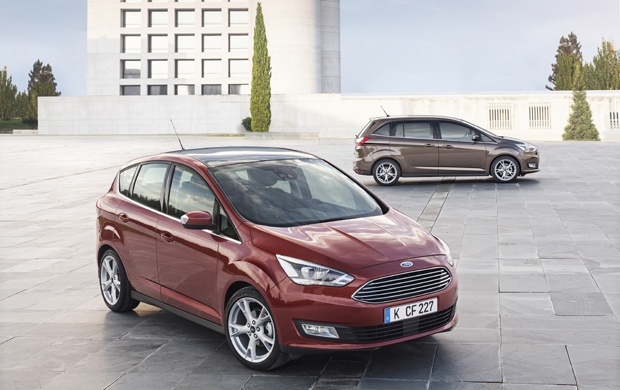 "Ford C-MAX has earned a reputation for providing a balance of great fuel economy, responsive, sporty handling and a flexible, roomy interior package," said Stephen Odell, Ford executive vice president for Europe, Middle East and Africa. "All powertrains benefit from CO2 improvements without sacrificing any of the car's great driving dynamics."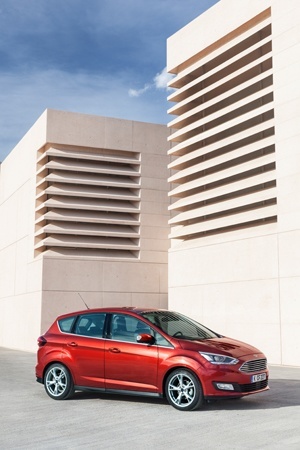 So when Ford unveiled their stylish new C-MAX and Grand C-MAX with a new sleek exterior design, beautifully crafted interior with improved stowage ideas, major fuel efficiency and CO2 emissions improvements, superior comfort and refinement, and advanced technology including Ford's SYNC 2 voice-activated connectivity system, it's no wonder that the cameras were flashing with increased regularity.

The new five-seat C-MAX and seven-seat Grand C-MAX are part of the new Ford C-MAX family that will be making an appearance across forecourts in Europe early next year, delivering levels of refinement (and a segment-first Hands-Free Tailgate) that are only usually found in larger, more upmarket vehicles. That Ford C-MAX family has sold more than 1.2 million cars in Europe since its introduction back in 2003, and Ford are hoping for more of the same from these new models.

Flexible, sporty and stylish on the outside

The five-seat C-MAX or the seven-seat Grand C MAX have both been restyled to fit in with the overall One Ford global language, and will be available in two new colours - Red Rush and Caribou (the latter being a stylish shade of grey-brown) – along with Ford's innovative twin sliding doors and "walk-through" seat design.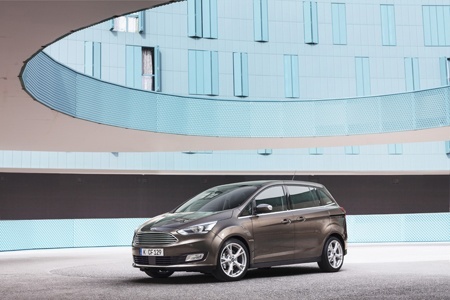 The overall styling has been designed to be dynamic with a stronger, sleeker front end that features Ford's distinctive inverted trapezoidal grille. And that front end is made even sleeker by the fact that the washer jets don't stick out anymore; they have been hidden underneath the windscreen to make the restyled bonnet look cleaner.

Sleekness is confirmed with a look at the chiselled front headlamps and the more rectangular, elongated fog-lamps, while a glance at the back reveals that the tailgate now looks as one-piece as you would want courtesy of the latest laser-brazing welding technique, along with a compact tail lamp.

Flexible, comfortable, sporty and stylish on the inside

The new Ford Focus has been the blueprint for the customer-led design refinements that feature inside the new C-MAX and Grand C-MAX with fewer controls and switches, yet easier operation – all within a new black satin trim and chrome detailing that gives the car a cleaner, modern look.

There's also a lot more space available inside for families to store things; like a redesigned centre storage console that offers increased space and features a sliding, integrated armrest, a new adjustable console that can fit a variety of bottles and cups including a one-litre water bottle and a 0.4-litre cup simultaneously, a swing bin glovebox and a deeper upper storage area on top of the dashboard for family belongings. There's even a new USB connection point for integrating and charging mobile devices so that Kindles, iPads and the like need never run out – along with the driver's patience!

When it comes to the look of the interior in the C-MAX and Grand C-MAX, this hasn't been neglected as it has higher quality trims across the entire range, a heated steering wheel, door-sill scuff plates and load-net fitting points behind both the first and second row seats.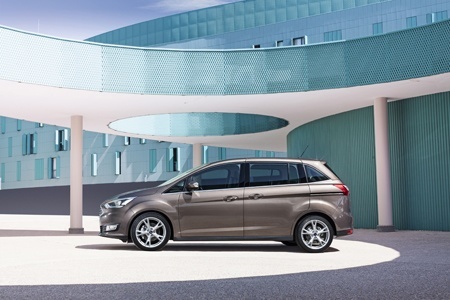 The Drive for the Driver

By using thicker side glass and more absorbent seals around the tailgate and rear view mirror, designers have managed to improve resistance against noise, vibration and harshness; and the engine bay heat shield has also been filled with acoustic damping material to help reduce powertrain noise, with diesel cars equipped with extra acoustic seals to keep the noise down even more.

There's even help under the bonnet as a retuned dual mass flywheel helps to reduce shaking forces when the engine is under load, while new engine mounts offer improved refinement during Auto Start-Stop operation. Add to all this new stiffer, noise- and vibration-optimised alloy wheels and it's the quiet ride of a lifetime – as long as there are no kids in there asking "Are We There Yet?"

"We are committed to delivering clean, and intuitive interiors across the entire Ford line-up and C-MAX is the latest vehicle to benefit from our comprehensive restyling programme," said Joel Piaskowski, director, Design, Ford of Europe. "The new C-MAX has received its most significant remodelling to date and is now more comfortable, more practical, and delivers the best driving experience in its segment."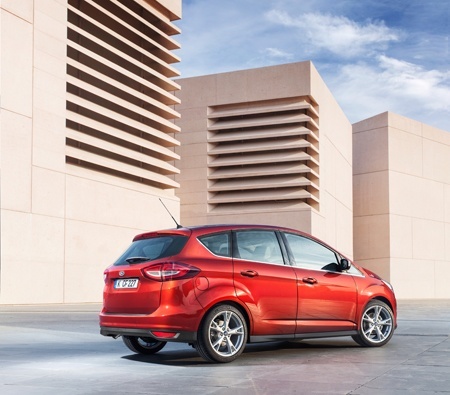 I sense danger

The whole of the new Ford C-MAX family is equipped with advanced Ford technologies to help drivers avoid or cause incidents – from those minor scrapes and bumps while parking to more serious, higher speed collisions.

Firstly there is Ford's Active Park Assist system which finds a parking space of a suitable size and then, at the push of a button, steers the vehicle in to the space with the driver controlling the accelerator and the brake. When it comes to the new C MAX and Grand C-MAX, Ford have also added in a Perpendicular Parking capability which features two new ultrasonic sensors fitted at the rear of the car to help drivers reverse into spaces side-by-side with other cars.

These extra sensors also are a main feature of more technology on the cars; Cross Traffic Alert warns drivers reversing out of a parking space of vehicles that may soon be crossing behind them and Park-Out Assist helps drivers as they exit a parallel parking space.

The Active City Stop collision avoidance system, which features on many Ford vehicles (as well as other cars under a different name) has been updated too with the latest version operating at speeds of up to 31mph as opposed to the previous 19mph in slowing the car down if it is approaching a stationary object too fast.

There is also Active Braking that works with moving objects in a similar way to Active City Stop but with a vehicle speed range of between 5mph and 112mph, by issuing warnings and applying braking as required.

Also new to the C-MAX is Ford's Adaptive Cruise Control technology which enables the driver to set a safe distance from the vehicle ahead even when not Cruising – and when Adaptive Cruise Control is not on, the Distance Indication with a three-stage dashboard display warning – from grey to yellow to red.

Houston we have no problem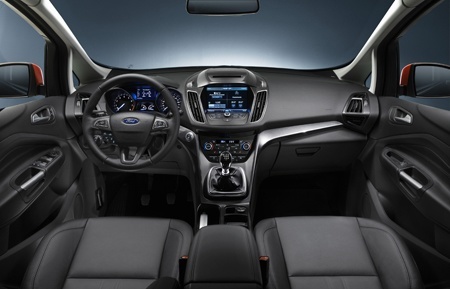 Staying fully connected is no problem at all with the C-MAX family as every car is fitted with Ford's SYNC 2 voice-activated connectivity system that features a high-resolution, 8" colour touch screen, advanced voice control for hands-free operation of audio, navigation, climate control and connected mobile phone functions, split-screen navigation display courtesy of map services provider HERE with detailed intersections, spoken street names, 3D highway junctions, landmark views and the MICHELIN guide, and even a guide to where to eat and what music to play. In fact, SYNC 2 allows a push of the voice control button to play a desired artist or an "I'm hungry" request to be answered with a list of local restaurants.

"We have developed SYNC 2 so it is simple and intuitive for drivers to use, and it seamlessly switches between touch screen and voice commands," said Christof Kellerwessel, chief engineer, Electronic and Electrical Systems Engineering, Ford of Europe. "Drivers will be able to control more in-car systems than ever before, while keeping their eyes on the road and their hands on the wheel."

That is, of course, if they can concentrate above the sounds coming out of the premium sound system with a subwoofer and 10 Sony speakers!

Powerful, gentle and efficient

As we said right at the start of this blog, the new C-MAX and Grand C-MAX have been upgraded so that they can now offer significantly improved CO2 figures – and, for the first time, they also have available as a standard feature Ford's Auto-Start-Stop technology on vehicles with EcoBoost petrol and 2.0-litre TDCi diesel engines, which should mean a reduction in CO2 emissions of up to 20%.

The C-MAX family already has 100PS and 125PS versions of the multi-award winning 1.0-litre EcoBoost petrol engine (International Engine of the Year three times from 2012-2014), but now this has been added to by Ford's new 1.5-litre TDCi diesel engine, which delivers 120PS.

This new 120PS 1.5-litre diesel engine is expected to offer up to a 6% improvement in CO2 compared to the 1.6-litre diesel it replaces, whilst delivering 5PS more power.; and the revised 2.0-litre diesel is expected to improve emissions by up to 20% per cent and with 4% more power.

"These powertrains will also help make C-MAX the first car in its segment to comply with the latest EU Stage VI emissions regulations across the entire range from launch," Jim Baumbick, Ford's global C-car vehicle line director.

As if you needed more reasons...

The new C-MAX and Grand C-MAX will for the first time offer Ford's MyKey technology, which allows the owner to programme a key that restricts the top speed, reduces the maximum volume of the audio system, prevent the driver from deactivating certain safety technologies, and can disable the audio system altogether if driver and passengers are not using safety belts – perfect for those "Dad/Mum; Can I borrow the car?" moments.

Keep tuned in for more details of when you can get hold of one of these. But in the meantime, if you can't wait, just read all this again and look at the lovely pictures.