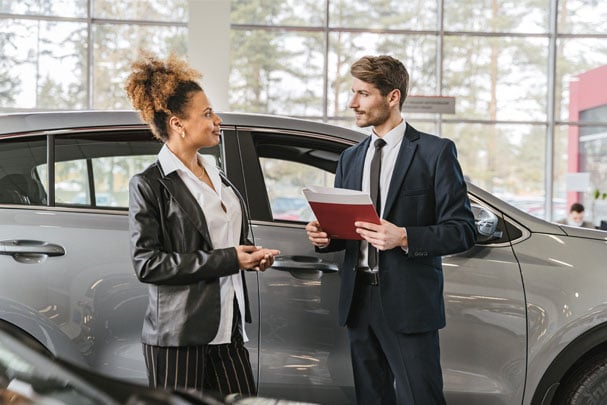 Nationwide Vehicle Contracts provides guidance on the common mistakes to avoid when leasing a car for the first time in the UK.

If you've not done it before, getting your head around car leasing can be like trying to find a needle in a haystack. It's a complicated process involving many moving parts, literally!
Even those who have done it before can still become a cropper to various mistakes, such as choosing the wrong car, underestimating annual mileage, and disregarding fair wear and tear guidelines.
To help our customers out, car leasing experts Nationwide Vehicle Contracts explore the common mistakes involved with car leasing and how to avoid them.
Understanding car leasing
Car leasing is a long-term car rental that lasts 24, 36, or 48 months. To secure the lease, you'll pay an initial deposit and then pay fixed monthly payments throughout the contract term.
Leasing is seen as a more affordable option to get behind the wheel of a new car because you can spread the cost over a long period of time and don't have to worry about the car decreasing in value.
In the UK, you can either lease a car on a personal or business contract. There are three personal contracts available, Personal Contract Hire (PCH), Personal Contract Purchase (PCP), and Personal Lease Purchase (PLP).
If leasing a car for your business, you can choose from four contracts: Business Contract Hire, Business Contract Purchase, Finance Lease, and Business Lease Purchase.
Common mistakes to avoid when leasing a car
Leasing a car is a more affordable and stress-free option than buying a car outright, but even so, there are a few bumps in the road that you should look out for:
Not reading the lease agreement thoroughly – As always, when signing a legally binding contract, ensure you fully understand what you are committing to. A car lease agreement is a long-term contract where you'll be paying a lot of money over a certain period, so you must know what's required of you.
Paying too much upfront – With car leasing, the more you pay in your initial deposit, the less your monthly rentals cost. Although this might seem beneficial, some customers get carried away with the initial deposit and pay a price they cannot afford. You should always analyse your budget and ensure you can afford every payment.
Forgetting about hidden charges – When leasing a car, you need to consider hidden costs you might receive at the end of your contract. The most common charges include excess mileage and fair wear and tear.
Choosing the wrong car – The most crucial thing when leasing is choosing a suitable car. Because of how saturated the car market is, there are so many different options to choose from, which can make it a tough decision. You'll need to consider what you need from your car over the contract term, such as practicality, reliability, and performance. Check out our Car Body Types guide for more information.
How to negotiate the best deal
Although our prices are already as low as possible, there's always a little wiggle room with other features to help reduce your costs:
Initial rental – You can choose how much money you put down as your initial deposit. If you want to save money upfront, choose a lower initial rental, or if you want to reduce your long-term monthly rentals, pay more upfront.
Stock vehicles – If you've found a car you like but think it's a bit too expensive, consider switching to a stock vehicle. As they are ready for delivery, you'll be able to get them at a lower price than cars that are yet to be built.
Choose additional low-cost features – One of the best things about car leasing is that you can customise your deal to suit your every need. You can choose cheaper features such as non-metallic paint or the standard interior trim to reduce costs.
Reduced administration fee – If you're an existing customer with Nationwide Vehicle Contracts, you might be able to secure a reduced administration fee as a thank you for your continued support. Just speak to your sales representative for more information.
Hidden fees to look out for
Excess mileage – When setting out your contract terms, you must agree to an annual mileage allowance. Many first-time customers underestimate the miles they will be driving, and thus, they are on the receiving end of an excess mileage charge at the end of their contract. For more information, read our Excess Mileage Charges Explained.
Fair wear and tear – When you return your vehicle at the end of your contract, it will be inspected for damage that falls outside of 'fair wear and tear'. Any damage outside the guidelines will be subject to an end-of-lease penalty charge.
We've broken this down further in our Leasing Wear and Tear Guide.
Choosing the right car lease
Your car lease has a lot of flexibility, including the contract length, mileage allowance, and monthly payments. Consequently, it's essential you make the right decision with your lease contract. You need to consider your budget and lifestyle.
Your budget is the main element you need to consider when choosing a car lease. If you can afford higher costs and monthly payments, you can choose a more premium car on a shorter contract.
Whereas, if you're sticking to a tighter budget, you can choose a more affordable car and spread the cost over a longer contract term.
Next, you must consider how you will use your lease car. If you plan on racking up the miles in your lease car, you'll need to choose a higher mileage allowance and go for a vehicle that's fuel efficient.
On the other hand, if you have a family, choose a practical and reliable car and add a maintenance contract to your lease to keep costs down.
Conclusion
There's undoubtedly a lot to consider when taking out a car lease. You'll have your contract for up to four years, so it's essential that you don't make any mistakes regarding contract length, additional extras, and hidden fees.
If you're a first-time customer, ensure you take your time when considering your car lease. Don't rush into anything you're unsure about and consider your budget and the requirements needed for your car.
Thinking about leasing a car? Nationwide Vehicle Contracts is one of the UK's largest car leasing brokers and offers a range of affordable leasing deals to suit your every need.
We also produce a range of blogs on topics such as The Tax Benefits of Car Leasing for Businesses and Ten Ways to Save Money on Fuel.