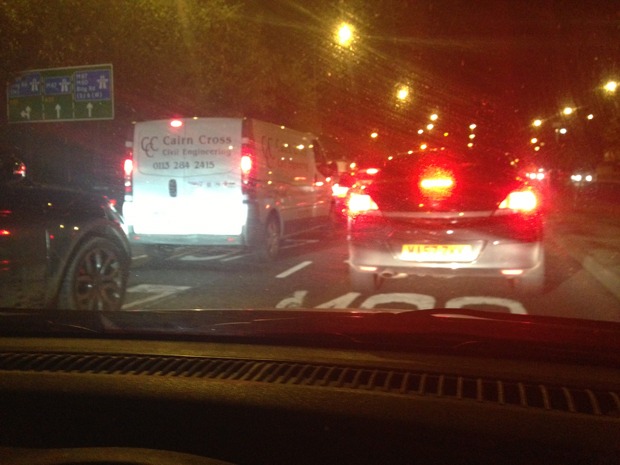 When it comes to weather conditions, driving here in the UK is a bit of a lottery - and when you add in the apparent roulette wheel of motorway roadworks, it gives an extra edge to the game of life that we call Driving in The UK.
So we took at look at what the Institute of Advanced Motorists said on their IAM Roadsmart website where IAM RoadSmart's head of driving and riding standards, Richard Gladman, offered up some great advice, including: "Before setting off, check for any weather alerts, traffic updates or planned road closures that may affect your journey."
Travelling in extreme adverse weather conditions
Obviously if your journey is really necessary, you will need to face such conditions as heavy rain, snow and high winds, but if it isn't, then the only advice you need is to "STAY AT HOME."
But if you DO have to go, then make sure that you:
Check that all lights on the car and the windscreen wiper blades are clean and working properly.
Check the tyre pressure is right for its load and that the tread depth on the tyres is not only legal but the very best to ensure the best possible grip on wet surfaces.
Plan your route in advance and try to avoid any roads that you know are prone to flooding, even if it extends your journey.
Are aware that heavy rain can often lead to damaged road surfaces and that puddles can hide deep potholes. With this in mind, look for clues such as loose chunks of tarmac and little bits of road rubble.
Switch on your dipped headlights in heavy rain to enable other motorists to see you easily.
Reduce your speed in rain to decrease your stopping distance. This will also help you pass through large puddles and potholes smoothly, without spraying other road users or risking aquaplaning.
Keep your mobile phone charged with the number of your breakdown service provider already saved on it because torrential rain and other wet weather conditions can interfere with the electrics of a vehicle causing a breakdown. So always be prepared for the worst.
Keep your bonnet closed if you do break down in bad weather as as soaking the engine will only make it worse.
Driving through MotorwayRoadworks
Even with good weather, driving through roadworks can be a decidedly nerve-wracking experience, with narrow lanes and slow traffic cranking up the temper temperature, not only in your car but in other cars too around you. But Richard Gladman suggests that if you drive carefully and at a steady speed your journey needn't be stressful.
So:
Check out your route beforehand by using the internet to discover where there are works taking place and where there are overnight motorway closures (Roadworks, The BBC, and The Highways Agency offer good information) and then changing your route if necessary, even if it adds miles to your journey.
If there's no alternative route, give yourself more time to travel and make sure that you have plenty of fuel, because running out of fuel is one of the most common reasons for a breakdown on the motorway. And you especially don't want to do it in the middle of roadworks!
When driving in roadworks on the motorway, keep a safe following distance of at least 2 seconds and if other traffic does move into your gap, adjust it by slowing very slightly. You won't add more than a couple of seconds to your journey.
When approaching roadworks, try and look as far ahead as possible. There may be a lane that's restricted and marked off by cones. If it is safe to do so, merge in turn if vehicles are travelling at low speed.
Be as attentive as possible and look out for any roadwork signs that give you particular instructions.
Make sure that you are aware of the speed limit through roadworks because average speed cameras are pretty common where long-term roadworks are in force. Even if you can't see any workforce, be prepared to slow down, because the speed limit is there not only for their safety but for yours as well.
Overall, Richard Gladman has advice for all drivers in whatever weather and on whatever roads that can be applied to every journey - "So long as you stay alert and plan ahead, your journey should be a safe and stress free one." - and you can also check out the guides available on our UK Road Law Guide.