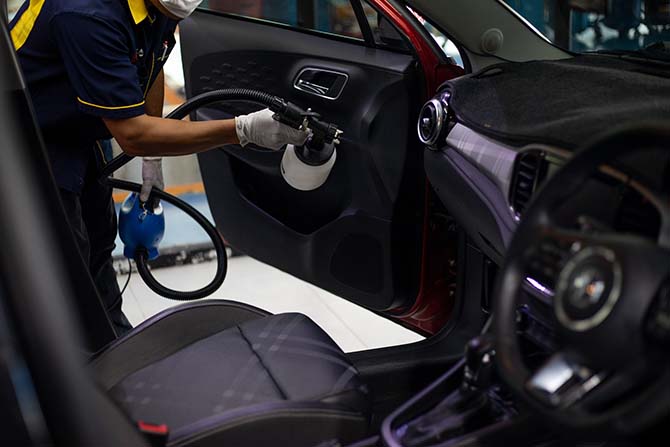 Following the recent UK Government announcement, we have updated our Coronavirus guidance for customers
Following the recent UK Government announcements regarding COVID restrictions, we have updated our guidance for customers, including those with vehicles on order and anticipating delivery.
While lockdown measures will naturally present a challenge to our normal service, we are working closely with our funder and manufacturer partners to ensure orders and deliveries run as smoothly as possible throughout this period and we would like to reassure you that it's business as usual.
We will continue to update our guidance with the latest information for customers as soon as we have it, in the meantime we would urge any customers with a specific query to contact us directly by e-mail at [email protected]
Interested in applying for a new vehicle lease?
Nationwide Vehicle Contracts has access to many great leasing deals for both stock and factory ordered vehicles. We are able to order and deliver all vehicles on our site. New offers are being added to the website daily and you can filter down by stock if you require something urgently.
Our website provides all of the tools to specify, obtain a quote and order your chosen vehicle online, but if you wish to discuss your requirements directly please call one of our Leasing Consultants on 0345 811 9595 or drop us an e-mail to [email protected]
Looking for a lease vehicle that is in stock?
We currently have access to over one thousand vehicles 'in supplier stock' or that have already been built and are en-route. These offer a great option if you don't want to wait for a vehicle to be built, although you may have to be more flexible when it comes to specification and colour options.
To take a look at our some of our best latest offers please simply visit our Car Leasing Deals page.
Have a vehicle on order with us?
Whilst franchised dealership showrooms are currently closed, they are still able to receive, prepare and deliver vehicles on our behalf. However, staffing has been impacted due to COVID19 so this, plus additional safety processes, may mean that it will take us a little longer to get an update on your order status. The good news is that manufacturers have now restarted production and time scales can now be more accurately planned and communicated.
We now key staff back working hard with our suppliers to provide you with accurate information on the status of your order and arranging delivery. As soon as your delivery is imminent our Deliveries Team will be in touch to arrange a mutually acceptable date. If you have any urgent questions, please contact our Customer Services Team by e-mail at [email protected]
Renewing your lease shortly?
If your lease is ending soon then we've got lots of solutions for you, so don't worry. You should have already received a communication from us outlining your options, which includes renewing with a brand-new vehicle or, where available, extending your existing lease for six or 12 months. One of our experienced Leasing Consultants can provide you with the right advice and will be calling you in due course.
If you are less than a month away from the end of your lease and have not received any direct communication from our team, please e-mail us directly at [email protected] or call us on 0345 811 9595.
Looking to book collection of your existing vehicle?
All of our finance providers are now open and are able to book your requested collections. Again, due to COVID safety requirements and a reduced number of drivers, lead times may be a little longer than normal. We apologise if you have not had a prompt response to your collection request and we thank you for your patience with this.
Finance providers are currently working through a backlog of customers who were unable to return their vehicles during the 2020 lockdown, which means, together with the more difficult processes, logistic companies are currently in high demand.
If your current finance provider is Leaseplan UK, please e-mail our Collections Team including your registration number and preferred collection date and they will arrange the collection on your behalf.
If your current lease is with a different finance provider, please contact them directly to arrange your collection. You can find contact details of all funders here: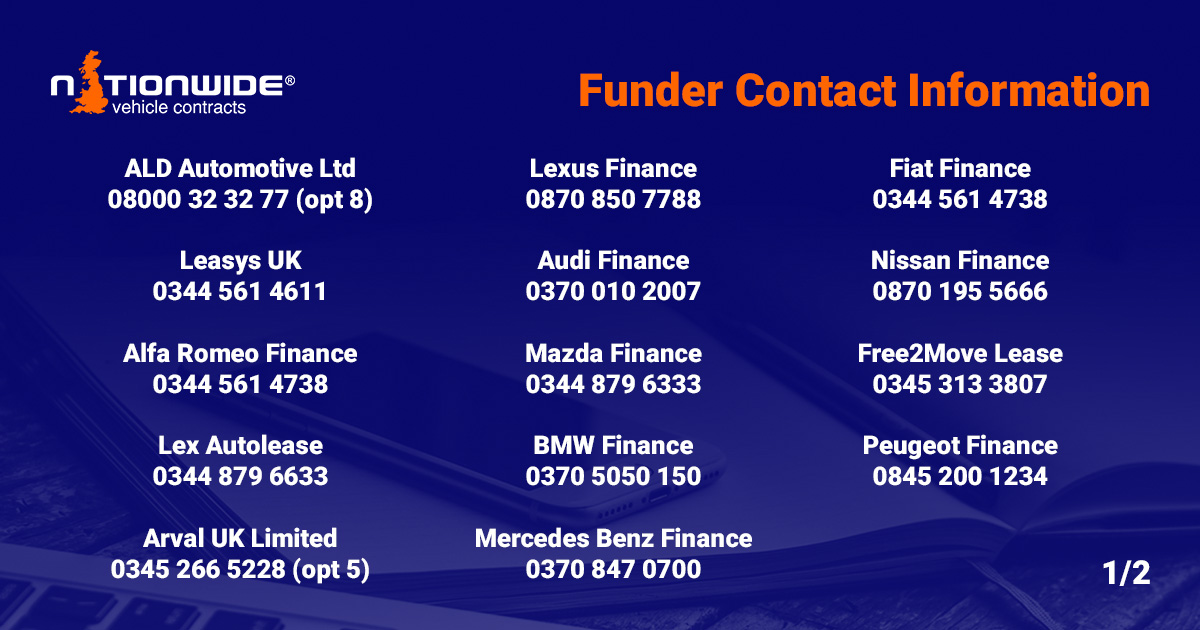 Are lease vehicle deliveries still taking place?
All vehicle deliveries are now taking place safely. The BVRLA (British Vehicle Rental & Leasing Association) minimum standards for COVID-19 secure vehicle handovers must be met upon delivery or collection of all vehicles. You can view the full guidance, on the BVRLA website.
In order to reduce the risk of COVID, customers are not obliged to provide a physical signature at the point of handover. Each funder and supplier will employ their own process. In many cases the delivery driver will require photographic proof and ask you to pose next to your vehicle as proof of delivery. They will also take photographic evidence of the mileage reading and condition of the vehicle. Furthermore, your funder and/or the Nationwide Vehicle Contracts admin team may request that you send an e-mail confirming your delivery.
If you have any issues with your vehicle at handover, please ask the delivery driver to note any problems and please contact our Customer Service Team on the number provided in your delivery confirmation e-mail.
Looking for advice on vehicle servicing and/or MOT?
The MOT test checks that your vehicle meets road safety and environmental standards. You must obtain an MOT for your vehicle on either:
The third anniversary of its registration
The anniversary of its last MOT, if it's over 3 years old
It is important that you arrange for your vehicle to have the test prior to expiry in order to remain legal. Garages and service centres are now open and are able to carry out MOTs and/or routine vehicle servicing.
When will my initial/monthly payments be taken?
If you have already taken delivery of your vehicle your finance company will usually take your first payments at any time from the day of delivery or within the following 21 days. Please be aware that due to lockdown delivery paperwork may be been delayed, therefore payments taken by your finance provider could fall outside of this time frame.
If your payment has not yet been taken and 21 days has passed since delivery, please contact our Customer Service team by e-mailing to [email protected]
You must ensure you are accumulating any outstanding payments as once you are set live with your finance provider all due payments may be taken at once by your funder.
If you have signed your lease agreements with one of our finance providers but have not yet received your vehicle there is no need to worry as payments will not start until you have taken delivery of your vehicle, unless you have been specifically advised an initial payment is due prior to delivery – this would have been communicated to you at the point of order with your Leasing Consultant.
Experiencing a change of circumstance or payment difficulties?
Please do not hesitate to let us know if you are concerned that your financial situation has changed prior to taking delivery of your lease vehicle.
If you have already taken delivery of your vehicle and have any concerns, it's best to contact your funder directly as soon as possible if you think there's a strong likelihood you may experience payment difficulties.
Make written details of your specific situation before you call - a conversation early on will help them know exactly where you stand and enable them to assist. You can find the contact details of your funder above or by logging into your online Customer Account.