It seems to be a busy year for the boys and girls at BMW. Having already shown off the BMW M3 Saloon and M4 Coupé at Detroit earlier this year, they have now released details of the fifth-generation high-performance open-top M4 Convertible - and it's a real doozy!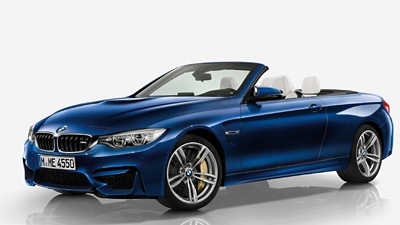 Using the same 431hp in-line six-cylinder engine as you will find powering the M3 Saloon and M4 Coupé, the BMW M4 Convertible gives you the choice between a six-speed manual transmission or a seven-speed M Double Clutch one.
And, being a BMW, the M4 Convertible will provide everything that you would expect from a car created by BMW's high-performance specialists; and that means lightweight engineering, carefully honed aerodynamics, advanced race-derived chassis tuning and electronic driver assistance technologies and a sporty elegant profile – whether the roof is open or closed.
Let's look a little closer at the high-performance TwinPower Turbo engine.
The power behind (or at the front if we are being a touch pedantic) the BMW M4 Convertible has been developed over the years and on the race track; with the  2,979cc in-line six-cylinder engine featuring two mono-scroll turbochargers, high-precision direct injection, VALVETRONIC fully variable valve timing and Double-VANOS variable camshaft control. It is this technology that lets makes the M4 Convertible at home on the race track AND the road as it switches from speedster to everyday car with the utmost ease.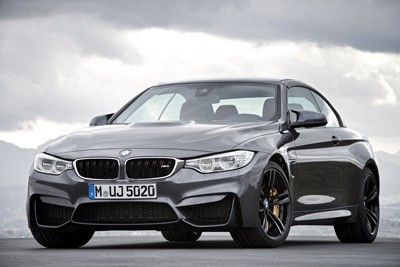 The power is there (550Nm peak torque from just 1,850rpm – where maximum power of 431hp is attained) right up to 7,300rpm with a top (electronically restricted) speed of 155mph. And nowhere is the power demonstrated better than with the 0-62mph acceleration of just 4.6 seconds with the six-speed manual gearbox and just 4.4 seconds with the optional seven-speed M Double Clutch Transmission.
Harnessing such power under a bonnet needs special race-derived technologies to be available - including special cooling systems – and they are right there with an indirect intercooler which maximises charge pressure and engine output and a main radiator supplemented by other coolers located in the sides of the engine bay. There is also an additional electric coolant pump that helps to cool the turbocharger bearing mounts when the car comes to rest.
And what else helps the M4 Convertible achieve maximum performance, agility and efficiency?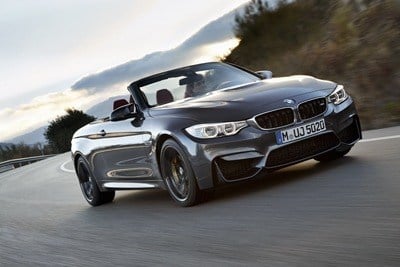 It's not all about power. If it was there would be an awful lot of beasts on the road charging about like a herd of rhinos clashing into each other. The weight of a car and its aerodynamics also play a major part in assisting agility and efficiency.
With this in mind, the BMW M4 Convertible is around 60kg lighter than the outgoing M3 Convertible that it replaces, even though it has much more equipment on board, with its low kerb weight of 1,750kg being achieved courtesy of the aluminium on the bonnet, front wings and many of the chassis components, and the carbon-fibre reinforced plastic (CFRP) on the propeller shaft and strut brace in the engine compartment.
When it comes to aerodynamics, the M4 Convertible has a number of special measures like the dynamically shaped front apron, a smooth underbody and special airflow channelling through the front end all to increase downforce and to help counter lift at speed. The Aero Curtains and M side gills with integral Air Breathers behind the front wheels are well-versed in reducing drag as are the twin-stalk door mirrors.
Tying in with the aerodynamics and low weight, the fuel consumption of the M4 Convertible is low as are the CO2 emissions, with (in manual form) 31mpg with CO2 emissions of 213g/km, and in M Double Clutch Transmission form 32.5mpg and 203g/km CO2. All these are aided and abetted by a complete suite of EfficientDynamics fuel-saving technologies that includes Auto Start-Stop, Optimum Shift Indicator (in manual mode only with the M DCT transmission), Brake Energy Regeneration, on-demand operation of ancillary units, a map-controlled oil pump and a final drive with optimised warm-up behaviour.
Sounds impressive already. Are there any more technological advancements on board?
It's a question that doesn't really need to be asked, but one that will be answered anyway.
YES!
The chassis is tuned to that of a racing car with the integrated M Servotronic allowing the driver to select COMFORT, SPORT and SPORT+ modes at the touch of a button for even greater personalisation.
Add in a DSC system that includes anti-lock brakes (ABS) and M Dynamic Mode, Cornering Brake Control (CBC), Dynamic Brake Control (DBC), Brake drying, Hill-start Assistant and, in the UK only, the Adaptive M suspension as standard, and that's the technological advancement question answered in spades.
So, it is fast and powerful; but does that come with a comfort cost?
In a word: No! The M4 Convertible is the high-performance flagship of the new BMW 4 Series Convertible range, and BMW are hardly likely NOT to offer superior refinement, a great interior and lots of luggage space, are they? (Luggage capacity is 370 litres when roof closed and 220 litres stowed.)
It has a longer wheelbase and greater width in comparison to the M3 Convertible, yet it is still undoubtedly a BMW with its sculpted front apron with three air intakes and black double-slat kidney grille allied to 19-inch M double-spoke light alloy wheels as standard in the UK. And as a convertible, it moves from the stylish coupé to an elegant convertible in just 20 seconds complete with a wide wind deflector and new three-stage neck-warming Air Collar in the front seats available.
Inside the M4 Convertible the driver will find electrically-adjustable, heated and contoured leather M seats with recessed head restraints and integrated seatbelt, an M steering wheel, chrome trim and three-colour M stitching. And the passengers will be just as comfortable too!
The BMW M4 Convertible goes on sale in the UK on 6 September 2014. Prepare for the rush!