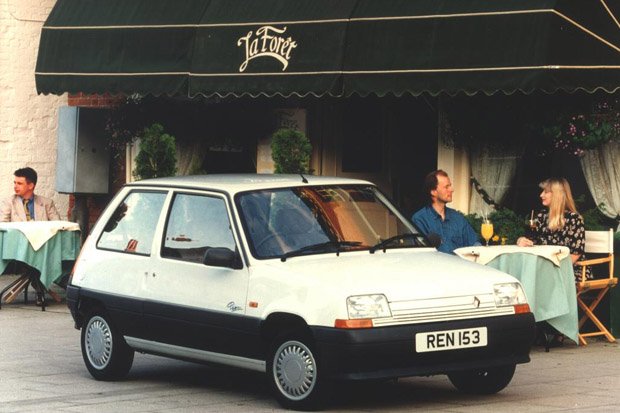 For this week's #ThrowbackThursday post, we Nationwide Vehicle Contracts' employees to share their memories back to their first car and some really funny stories came back.
Nationwide Vehicle Contracts' Digital Marketing Manager, Donna was happy to share her memories about her first car that was no other than the Renault 5.
So let's read Donna's story:
What was your first car?
My first car was a Ford Escort MK6 in blue although I never actually got to drive it. It was given to me by a neighbour but it was too expensive to insure (I was 17 at the time) so it just sat on my parents drive for 6 months. My dad then gave me his old Renault 5 which was cheaper to insure so I ended up scrapping the Escort. The Renault 5 was old, noisy and completely uneconomical but I loved it. I shed a tear when it went to the 'scrapheap in the sky' 12 months later.
What do you remember most about your first car?
It used to kick out an unbelievable amount of smoke from the exhaust. It certainly wouldn't pass an emissions test today! Not the fondest memory I know, but that's what springs to mind when I remember it.
What did you like most about your first car?
It was compact and super easy to drive. I was at college at the time so needed something that was small and nippy to drive around town and the Renault 5 was perfect for me.
What did you like least about your first car?
The heater was absolute rubbish. It used to take a good hour to warm up so in the cold winter months I was freezing. I remember driving to college with a hat, scarf and gloves on. When I scrapped it to buy my next car (a Renault Clio), a working heater was on the top of my 'wish list'.
What car do you drive now and why did you pick it?
I currently drive a Nissan Qashqai 1.5 dCi N-TEC+ in Ink Blue. I wanted a crossover and was torn between the Nissan Qashqai and Kia Sportage. I eventually settled on the Qashqai because it was more economical and had more kit for the money. I was glad I did because I absolutely love it. I'm very lucky enough to test drive lots of different cars as part of my job but I'm always happy to come 'home' to my Qashqai.
If you could own any car, what would it be and why?
Oohh, so many choices! I love classic cars like the Aston Martin DB5 or Jaguar E-TYPE but if I had to pick one, I'd probably go for the Jaguar F-TYPE Convertible. Jaguar invited me to the launch a few years back and I instantly fell in love with it. It is everything a car should be – beautiful, clever and fast! If only I had a spare £70,000 in the bank…
What was your first car? Then feel free to comment and tweet us your pictures at @car_lease.