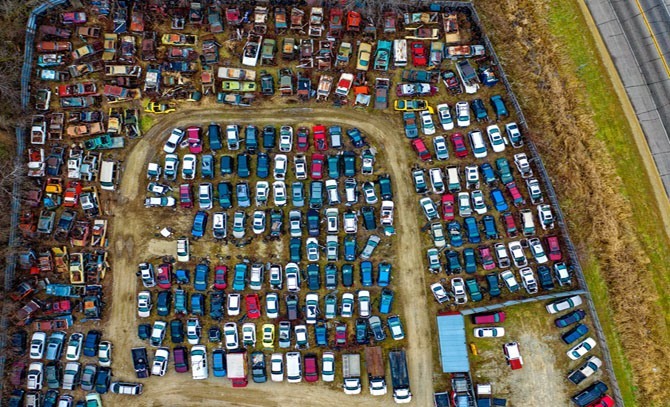 Part exchange is a facility whereby the value of a customer's vehicle is taken off the price of the vehicle they wish to purchase or lease. Here at Nationwide Vehicle Contracts, we don't offer a part exchange facility so you'll be responsible for selling or disposing of your current vehicle if it's no longer required. We don't offer a part exchange facility because as a leasing broker we don't hold any physical stock. All the lease vehicles come direct from the manufacturer and many of the vehicles are held in central stock, such as a holding compound or shipping docks. If you're looking to lease with us, and have a vehicle that you need to sell or dispose of there are many ways to do this and we're going to talk you through them.

Selling a vehicle

These days, there're many ways to sell a vehicle and sites like Auto Express, The AA and Which? will all give you notable tips on how to sell it.
First steps:
Make your vehicle stand out from the crowd, and make sure the description highlights all the good points.

You'll need to use good photographs to make the vehicle look its very best. Take the pictures in natural day light, make sure they're good quality and provide different viewpoints (side, front, back and interior.)

Clean the inside and outside of the vehicle before taking the picture/ arranging visits.

Fix any cosmetic faults, such as a cracked mirror, faulty bulb or even a scuff.

Top up anything that needs it such as oil or brake fluid etc.

Organise an MOT as this will be more appealing to a potential buyer.

Provide everything that originally came with the vehicle such as spare keys and wheel nut sockets.

Provide all documentation such as the V5C logbook, the MOT certificate, service book, vehicle manual and any receipts for significant work.
Working out a good price for your vehicle is a difficult decision, especially as depreciation is one of the main factors you'll come up against. To help make this decision it's a good idea to take a look at what similar vehicles are priced at on websites such as Ebay, Gumtree or AutoTrader.
Advertising your vehicle
Although you can still advertise your vehicle in a magazine, the best way to sell your car these days is online. The best sites are AutoTrader and eBay and to entice buyers you should provide a description and as many photos as you can. Websites such as Autotrader
will normally allow a free week's advertisement on their site before charging a fee, with premium advertising spaces available for a premium price.
If you aren't tech savvy, you could put an advert in the local newspaper or a shop window for a much cheaper alternative. You'll need to provide a brief description and usually one picture is enough. Or you could park the vehicle in a prominent spot and put a 'for sale' sign in the window with the price and contact number. Be aware that Auto Express warns "if it's parked at the side of the road for a prolonged period with a sign in the window, that's illegal, and could see the vehicle being towed away."
What to say in an ad

It's best to think about what you would want to know if you were looking to buy a used car. We suggest keeping everything fact based and don't waffle. The usual type of information you would see in a used car ad is:

age

mileage

make

model

body style

engine size

engine type (petrol/diesel/hybrid)

gearbox type (auto/manual)

condition of vehicle

any extras it has that will help you sell it
Other ways of 'selling'

Selling privately can be time-consuming and you can be presented with difficult situations such as, people not turning up, time wasters and aggressive bargaining. Private selling will probably get you the best price for your vehicle, but if you want a quick sale at a reasonable price, there are more efficient ways.

Car auctions. You'll need to pay an entry fee and set a reserve price. If it doesn't sell, you'll have to take it back home again, and if it does sell, you'll have to pay commission to the auctioneers.

Online auction site such as Ebay. You'll have to pay a selling fee, and set a reserve price - although you can set a 'Buy It Now' price for an extra cost.

Online car buying service such as We Buy Any Car, We Want Any Car or the Car Buying Group. You'll need to enter the vehicle's details on to the company's website (such as age and mileage), and you'll receive a valuation. Before a final figure is agreed, you'll then need to take the vehicle to a local depot to have it assessed. You may have to pay admin fees, but money is paid straight into your bank account in normal circumstances. Quotes are likely to fall once the vehicle has been assessed, so this service is best used as a last resort.
Please note, you're legally responsible for your vehicle until the DVLA is notified of its sale (more details here.)
Scrapping a vehicle

Another option is to have your vehicle scrapped/ disposed of at an authorised treatment facility (ATF). They're sometimes known as a scrapyard or breaker's yard. Information about where to find your local ATF and what to legally do when scrapping a vehicle can be found on the Government's website. The most important part is that you inform the DVLA that your vehicle has been scrapped as you can be fined £1,000 if you don't.
The service at an ATF is free, and they can decide whether to scrap the vehicle themselves, or repair and sell it at their own cost. If they scrap a car, small van or 3-wheeled motor vehicle, they'll give you a certificate of destruction within 7-days – proving you have scrapped the vehicle. The ATF will pay you the scrap value of your vehicle via bank transfer, as cash payments are illegal under the 2013 Scrap Metal Dealers Act.

If you want to keep the registration number you must apply and will have to use a registered ATF to scrap the vehicle. You'll need to give them the V5C document, but keep the yellow 'sell, transfer or part-exchange your vehicle to the motor trade' section. Remember to claim back any road tax or insurance you have on the vehicle.

Scrappage Schemes
As stated here, "car scrappage schemes are programmes offered by governments and car manufacturers aimed at encouraging drivers to trade in their higher polluting vehicles for newer, and often greener, models." In 2017, many car manufacturers offered their own scrappage schemes whereby car owners were able to scrap their cars in return for money off the price of a new car. Many of these schemes were extended to 2019, but all but a few cases are now expired. However, because the Government has stated they want a cleaner UK by 2050 scrappage schemes are going to be reintroduced in the next few years to enable this target to be achieved.