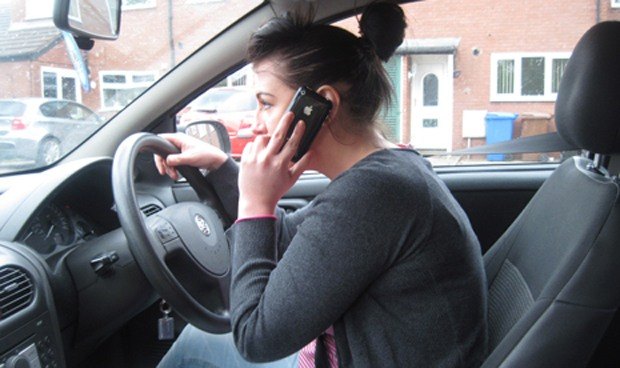 Common Driver Distraction and How to Combat It
With seemingly an almost-daily news story about a road deaths and serious road injuries being caused by drivers being distracted by internal influences, IAM RoadSmart has created three short videos, using the undoubted skills of former Formula 1 test driver Darren Turner, to show how easy it is for drivers to be distracted by three of the main instigators - children, mobile phones and pets.
Darren now races for Aston Martin in the FIA World Endurance Championship, coming 23rd this year in the Le Mans 24 Hour Race, and was previously the official test driver for the McLaren Formula 1 team in 2006. But it is unlikely that he faced the problems set by IAM Roadsmart in the videos as he tried to drive an Aston Martin racing simulator around a virtual circuit while contending with a barking dog, ringing mobile phone and noisy five-year-old child - and you can see the videos below.
At the end of each video, IAM RoadSmart's head of driver behaviour Rebecca Ashton offers advice on how to handle each issue.
Dog distraction
Darren, also owns racing simulator company Base Performance Simulators near Banbury, but even he was surprised at the results of the videos: "A professional racing driver is expected to maintain full concentration all the time while at the wheel – but I was surprised at how easy it was take your eye of the ball for a second and end up clouting the barrier in the simulator.

"Translate that to the real road, and the consequences could be far more serious."
Child Distraction
Rebecca Ashton added: "In our videos we see Darren tackle some very common distractions that any driver could face. It shows that even the best drivers can struggle if they are distracted for even a second.

"Whether you're travelling with your kids, dog or even on your own there are plenty of things which might take your attention away from the road, and we're all susceptible. But keeping your attention on the road is the most important way you can look after your passengers. Pull over in a safe place if you need to pick up a dropped toy, calm a frightened pet or answer the phone."
Mobile Phone Distraction
Figures from the Department for Transport in 2013 found 2,995 cases where distraction in the vehicle was listed as a contributory factor to accidents , and these figures backed up IAM RoadSmart's multi-award winning campaign Safely Home, back in 2014 which surveyed 1,500 motorists' habits, and that 10% of those surveyed had caused a crash because of a distraction, and that the top four causes of distraction were children in the car (29%), changing the radio channel (27%), back seat drivers (26%) and mobile phone use (24%). (Although I would guess that the use of a mobile phone now would be a greater percentage now as use increases and car technology for such phone technology as Smartphones also grows.)

An interesting article by James Foxall in the Daily Telegraph at the start of November, the day after truck driver, Tomasz Kroker, was given a 10-year jail sentence after being found guilty of causing the death of a mother and her three children by using his mobile phone whilst driving, highlighted the possible counter-productivity of technological driver aids.
With current estimates by the European Commission suggesting that between 10% and 30% of accidents in Europe are caused by road user distraction, UK police reported that in-vehicle distraction caused 99 of the 1,469 fatal accidents last year.
And when it comes to mobile phones, it seems distractions are getting greater, with Dr Graham Hole, senior lecturer in psychology at the University of Sussex, saying: "In psychology there are a lot of contradictions. But over the years, research has been done into the effects of mobile phones on drivers in all kinds of different conditions and the results have been amazingly consistent: driver performance is impaired.
"I would ban the use of phones by drivers altogether. I don't think their use is compatible with driving. In an extreme case recently, I saw a guy on his phone with his lap top balanced on the dashboard doing 70mph on the M25. The trouble is, we generally drive in a very forgiving environment.
"But the more you use a phone in your car, the greater the chance of your luck running out."
The Government is already reportedly planning an increase in the penalties for being caught using a mobile phone whilst driving from early in 2017,but there seems to be no way at all of stopping people doing it - and as distractions grow, so does the likelihood of an accident.
We can only hope that videos such as those above, and the work of IAM RoadSmart and Brake, can get drivers to realise the importance of concentration AT ALL TIMES, and to stick to the laws.