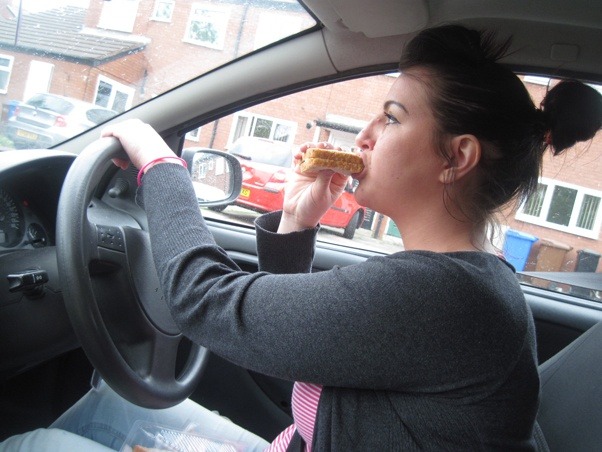 Distraction Driving has been the hot topic when it comes to the media and the road for the past few weeks, concentrating primarily on mobile pone use, but the unveiling of a new survey for road safety charity Brake discussing eating at the wheel has added more fuel to the fire as the prospect of a 'Crash Diet' rears its ugly head.
The new Brake survey, created in conjunction with insurance company Direct Line, reveals that 33% of drivers questioned admitted to eating food whilst driving, and 27% having unwrapped the food themselves whilst behind the wheel - potentially the most dangerous part of the action.
The worst offenders are drivers aged 25-34, with 55% of drivers in this age bracket admitting they have unwrapped and then eaten at the wheel, with just under a third of these admitting to doing it at least once every week.
So is it a problem?
It certainly is when one in ten of the drivers who that responded said they had been involved in a near-miss (such as having to suddenly break or swerve to avoid a hazard) because they were distracted by eating or unwrapping food.
Alice Bailey, communications and campaigns advisor for Brake, said: "Imagining a distracted driver you may think of someone on a mobile phone, but many things can dangerously draw our attention away from the roads around us. In the fast-paced world we live in it is sometimes tempting to eat on the go, but drivers who are distracted by something else, even food, significantly increase their risk of causing a devastating crash. If you're hungry, you probably need to take a short break from driving to eat and recuperate before continuing your journey when you're not distracted by hunger or eating."
Research has shown that drivers who eat and drink at the wheel are twice as likely to crash, because eating and drinking while driving diverts attention away from the driving task, increasing reaction times by up to 44%. And that is without taking into consideration the problem that drivers will usually only have one hand on the wheel, with the other hand holding the food.
And imagine the problems when the food is messy, sloppy, greasy, melting, hot, or dripping - and the inherent mindset that a driver has trying to balance road skills with 'keeping clean' skills.
It is not against the law to drive whilst eating, but it is against the law for a driver to become distracted because they are unwrapping food or eating it, the offence falling into the category of driving without due care and attention or careless driving, with a maximum penalty of a driving ban.
But then there is the added penalty of a lifetime on the mind if you kill someone whilst distracted.
Gus Park, commercial director of motor at Direct Line said:"Whilst we appreciate people's busy lifestyles often dictate that we eat on the go and that a sudden pang of hunger can seem impossible to ignore, we urge drivers not to let their stomachs get in the way of good judgement and safe driving. If you really can't wait until you reach your destination to eat, then stopping off for a comfort break is a much better idea than eating at the wheel. Pit-stops provide a great opportunity to re-energise before the next leg of your journey."
Foods to avoid (if you have to eat)
Back in 2009, American company insure.com provided a list of food to avoid whilst driving, with details of why to avoid it. Although nearly 8 years old, the list gives a great idea of why foods should be avoided, apart from making the car mucky too!
Coffee: This can get lumped in with all hot drinks in that it is hot (the clue's in the product description) and also sloppy as it is a liquid. While usually in a cup with a lid, the danger of hot liquid splashing over a driver cannot be underestimated - nor can the driver's (adverse) reactions.
Tacos, Hamburgers and other fast food: The potential for drips and slops down the front of clothing is significant, from the grease to ketchup and mustard, it could all end up on your hands, your clothes, and the steering wheel. And then you add in the unwrapping of the food, and the fact that the driver has to take their eye off the road to do it!
Sticky buns, doughnuts and cream cakes: spills, licked fingers and mucky hands.
Soft drinks: Not as bad as hot drinks when it comes to the shock when spilt, but they can spill. And don't forget that feeling of getting a fizzy drink up your nose with sudden movements!
Sandwiches: If you have to eat whilst on the move, this is probably the safest option. But make sure you unwrap them before setting off because, as we all know, supermarket and petrol station sandwiches are designed with the world's most hard-to-get-into packaging - and you won't want to be trying to get into it while doing 70mph on the M6!