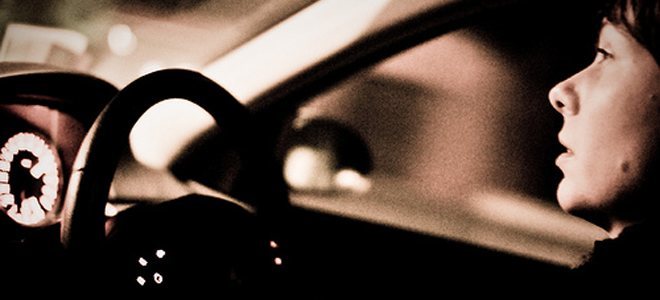 Festive Songs In The Car: Driving You Mad or Driving You Home?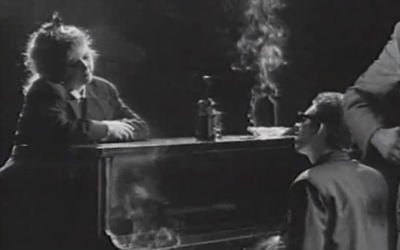 The fact that it is coming up to Christmas will not have escaped you with supermarkets stocking festive items, TV adverts and radio commercials with sleigh bells and reindeer footsteps trampling all over them, and the same songs being repeated endlessly on the radio – ON ALL STATIONS.
But come on; as Noddy Holder reminds us every year "IT'S CHRISTMAS!"; and nothing says Christmas more than a festive tune blaring out of the radio, shop sound system or your very own car audio entertainment centre. Even my three-year old grandson asked for a Christmas song the other day whilst we were driving
We all know the words – primarily because we are force-fed them on continual drip feed for a month in December every year – so why not just singalong. There will be one on your radio very soon, and it will make the car journey go so much faster – even if you can't wait to get home to escape them.
But which one? According to the Performing Rights Society (PRS), none has been played more regularly in the past two years than "Fairytale of New York" by The Pogues featuring (the supremely talented and sadly missed) Kirsty MacColl. The song, originally released in 1987, has featured in the Top 20 every December for the past 8 years and has been re-released this year to mark its 25th anniversary – and you know it's just the best Christmas Song ever!
The second most popular song in that time period is "Mariah Carey's All I Want for Christmas is You", originally released in 1994, followed by Band Aid's 1985 hit "Do They Know It's Christmas" in third place.
It may surprise you to know that Bing Crosby's "White Christmas" and Nat King Cole singing "Christmas Song" (Chestnuts Roasting on an Open Fire) weren't even in the Top Ten (23rd and 26th place respectively), but "Santa Claus Is Coming To Town" and "Do You Hear What I Hear" are.
No surprises that "Last Christmas" by Wham!, "I Wish it Could Be Christmas Everyday" by Wizzard and Slade's "Merry Xmas Everybody" are.
A spokesman for the PRS hailed the number of British Songwriters to make the list, before adding: "A well-crafted Christmas tune will be enjoyed for decades." And they suggested that the ingredients for a long-lasting Christmas tune should include sleigh bells (or just bells if you can't find them), Heartbreak, a video featuring and as few words as possible so that you can sing it whilst drunk.
Surprisingly, I don't think "Fairytale of New York" features many of them, except Heartbreak. I guess it must be a good song too!
Here's the Top Twenty  - and there are some notable songs absent from the list that you may have expected to be in there. (Remember that some of the songs have had others covering them which means that they are played in various guises)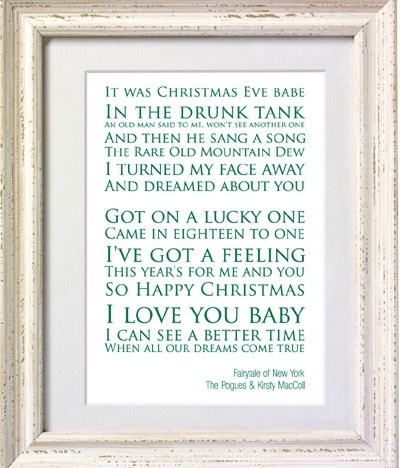 Fairytale of New York, The Pogues feat. Kirsty MacColl, 1987

All I Want For Christmas Is You, Mariah Carey 1994

Do They Know It's Christmas? Band Aid 1984,

Last Christmas, Wham! 1984 (Whigfield actually did a not bad version of this too!)

Santa Claus is Coming to Town Harry Reser 1934 (Check out Bruce Springteen's version and the Phil Spector Christmas album too!)

Do You Hear What I Hear? Bing Crosby 1962

Happy Christmas (War Is Over), John & Yoko/Plastic Ono Band with the Harlem Community Choir 1971 (The Alarm, a great band from the early to late 80's did a brilliant version with a Welsh male voice choir)

Wonderful Christmastime, Paul McCartney 1979

I Wish It Could Be Christmas Everyday, Wizzard 1973

Merry Xmas Everybody, Slade 1973 (IT'S CHRISTMAAAAAAAAAS!)

Merry Christmas Everyone, Shakin' Stevens 1985,

Sleigh Ride, Leroy Anderson, 1950

Stay Another Day, East 17, 1994 (This doesn't even mention Christmas!)

Driving Home For Christmas, Chris Rea, 1988,

Rockin Around The Christmas Tree, Brenda Lee, 1958

Step Into Christmas, Elton John, 1973

2000 Miles, The Pretenders, 1983

I'm Gonna Be Warm This Winter, Connie Francis / Gabriella Cilmi 1962 / 2008 (Can't say that I've EVER hear this on the radio)

Christmas (Baby Please Come Home), Darlene Love 1963 (Just how good is that Phil Spector Christmas album!)

Let It Snow! Let It Snow! Let It Snow!, Vaughn Monroe / Dean Martin / Smokey Robinson & The Miracles 1945 / 1959 / 1963
Other songs in the list included Greg Lake's "I believe in Father Christmas" at No.24, Chris de Burgh's "A Spaceman Cam Travelling" at No.33 and Cliff Richard down at No.37 with "Mistletoe and Wine". No Elvis, Beatles or The Rolling Stones (as The Clash said in "1977") in the Christmas Charts (although Elvis is at No.42 with "Blue Christmas") and no carols either, so there are still a lot to choose from.
Ignore the fact that it's probably completely uncool to be caught doing the "Bom bom bom bom" bit in Mud's "Lonely This Christmas" whilst sat at traffic lights, and let yourself go.
IT'S CHRIIIISSSSTTTTMMAAAAAAAAASSS"