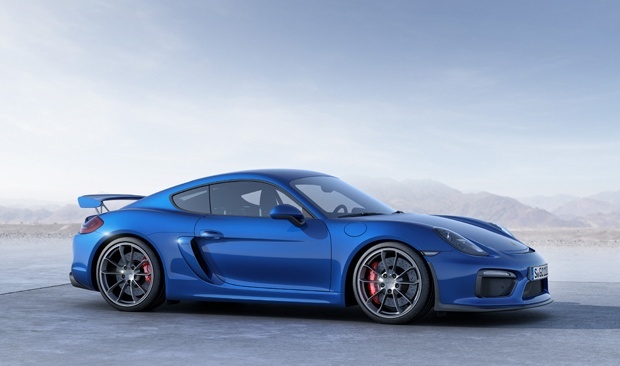 Porsche has always had a line-up of revered GT high performance models to make us all green with envy (unless you own one yourself), and now we have a new focus to go green over; the Cayman GT4.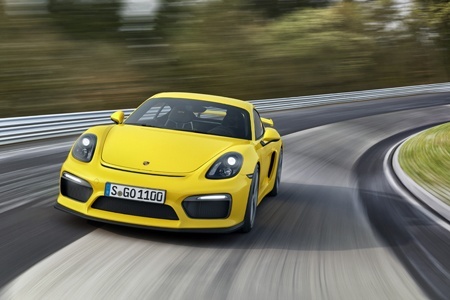 Based on the mid-engined, two-seat Cayman coupe, the new model shares many of the components and much of the genetic spirit inherent in the iconic 911 GT3, and nowhere is this better demonstrated than at the famous Nürburgring Nordschleife where a lap time of 7 min 40 sec puts the new Porsche Cayman GT4 right at the top of its market segment. The engine, chassis, brakes and aerodynamic design of the Cayman GT4 have been configured so that the driver (and passengers) can enjoy maximum driving dynamics; yet this top model still keeps hold of everything that is versatile and usable every day that is so typical of a Porsche.
The Cayman GT4 is powered by a mid-mounted, 3.8-litre flat-six engine derived from the 911 Carrera S engine that can create 385 hp (283 kW) produced at 7,400 rpm, via its standard six-speed manual gearbox with dynamic gearbox mounts. Translated into figures that make the average Joe or Josephine in the street take a sharp intake of breath, this means that acceleration form 0-62mph is achieved in just 4.4 seconds on its way to a top speed of 183mph; aided by the lower body than that of the normal Cayman (30mm difference), a comprehensively fine-tuned chassis and purposefully-proportioned brake system.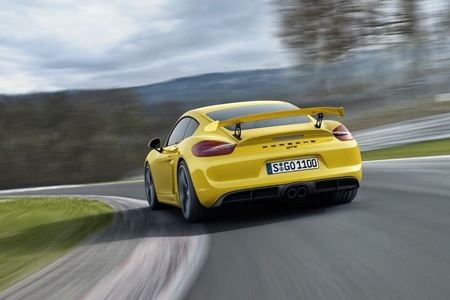 But after all it is a GT...
...which means that there are many differentials from its siblings in the Cayman range.
From the outside you can notice that there are three distinctive inlet openings in the nose and a large fixed rear wing which are not just there for decoration but also as part of an aerodynamic package which is systematically designed to not only reduce lift but also generate downforce - and therefore helping the car to go faster. This can be added to with options such as PCCB ceramic brakes, shell-backed seats made of carbon fibre reinforced plastic (CFRP), a custom Sport Chrono Package with the unique Track Precision app, and a Club Sport Package for those wanting to use the Cayman GT4 for more a sporting, or track day experience. In fact, four out of five drivers of Porsche GT models also use their cars to participate in track days and club motorsport.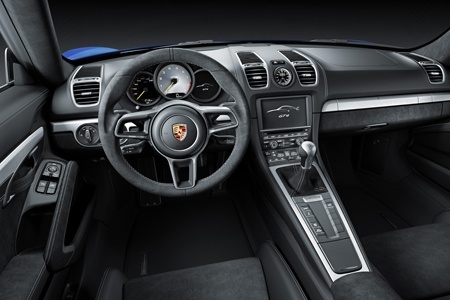 Inside the car, the driver and passenger will find themselves wrapped up in the driving enjoyment that only a Porsche Cayman can offer with upholstered sports seats in a combination of leather and Alcantara, and a new GT4 sports steering that, due to the whole compact dimensions of the car, can guarantee ideal control and direct steering feedback.
Standard equipment inside the Cayman GT4 includes bi-Xenon headlights, sports exhaust, Sport Chrono Pack with dynamic engine mounts, leather/Alcantara interior trim, sports seats, 20-inch alloy wheels, Porsche Torque Vectoring (PTV) with mechanical rear limited slip differential, a universal audio interface offering MP3 connectivity, air conditioning, Porsche Stability Management (PSM), and a Porsche Vehicle Tracking anti-theft system.
And Porsche have even achieved what many doubters think is an impossibility in a Porsche by delivering an NEDC fuel consumption of above 25mpg (27.4 to be precise) and emissions below 240 g/km CO2 (actually 238 g/km.)
Making its world premiere in March at the Geneva Motor Show, the new Cayman GT4 "makes a clear statement that Porsche will continue to promote radical two-door sports cars now and in the future" - and the proof of the pudding will be there for all to see as the first deliveries will be made later in the summer this year.