Nationwide Vehicle Contracts takes a look at the new and refined 2019 Audi A4 Saloon
Audi have refined and updated the Audi A4 Saloon as they look to trump some of the car's closest rivals in the Executive Car stakes: cars such as the BMW 3 Series, the Mercedes-Benz C-Class and the Jaguar XE - each with their own claim to top dog in that market.

With sharper body sculpting including front and rear styling, larger and newly-designed wheels on the Sport and S Line versions, and enhanced equipment added to what already was pretty much near perfection, the new Audi A4 Saloon is now an even better choice for the discerning executive.
Making the Audi A4 Saloon better than what was already a big favourite of judges such as What Car?, who made the car What Car? Executive Car of the Year 2018, was a task that the designers and engineers at Audi took on with trepidation; but they have managed it as the "new A4 saloon sets the class benchmark for interior quality and engine refinement."
And this is backed up by Car Buyer who said: "With the finest interior in its class, the Audi A4 is a comfortable and affordable-to-run executive saloon"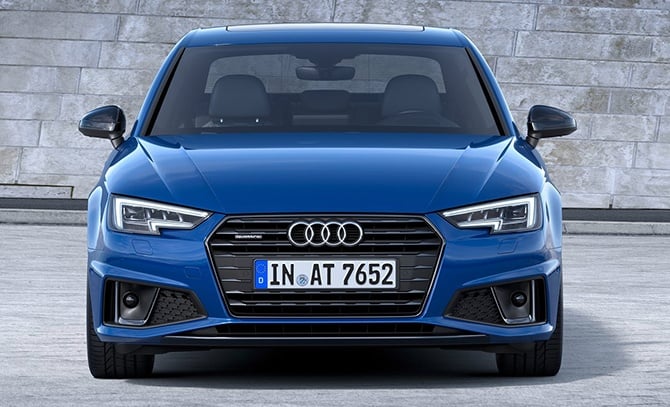 The Look
Changes to the new A4 Saloon have helped to sharpen the look of the SE and Sport versions alongside that of the S line.
With a revised front and rear bumper design, more pronounced side skirts, a special finish for the Singleframe and side air inlet grilles, a roof edge spoiler in Avant versions and a rear diffuser flanked by new look trapezoidal tailpipes, both the SE and Sport versions exude more purpose, enhanced in the Sport models with a larger 18" wheel. SE versions retain wheels of the same 17" diameter but in a new design.
The look of S line and Black Edition models is accentuated at the front by a striking new 3D-look Singleframe, edged by wedge-shaped bumpers that incorporate sizeable inlets with a U-shaped clip, a honeycomb grille and separate openings which guide a portion of the airflow into the wheel housings, where it flows past the wheels.
Both S line and Black Edition models now feature larger and newly designed 19" wheels to give them more muscle to the eye, while at the back we find a new, more contoured S line diffuser in between the new look tailpipes.
And, just to make it a little bit more special than it already is, the Black Edition specification now exclusively features a new Turbo Blue colour palette as an option.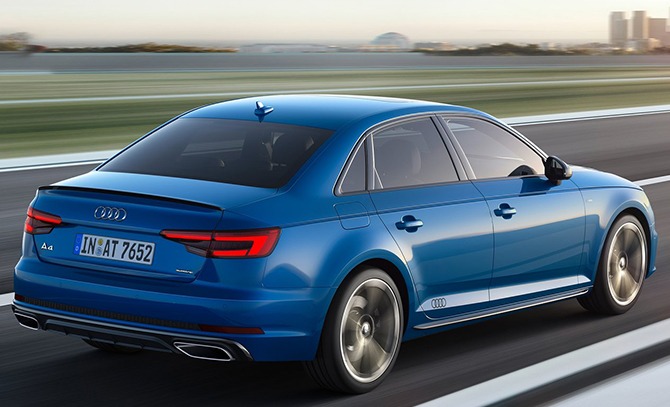 The Drive
Both Petrol and Diesel engines are available with the A4 Saloon.
For petrolheads. there is a 148bhp 1.4-litre turbocharged engine, along with two versions of a 2.0-litre turbocharged TFSI engine (187bhp and 249bhp) that offers 0-62mph in just 5.8 seconds to a top speed of 155mph.
All the petrol engines use turbochargers to boost power, with the 2-litre 249bhp engine packed with quattro four-wheel drive and an automatic gearbox.
Dieselheads get a choice of 4 engines, all with quattro four-wheel drive, with a 2.0-litre V6 version available with either 148 or 187bhp, and a 3.0-litre V6 diesel version that comes with either 215 or 268bhp and a 0-62mph time of 5.3 seconds.
You can choose between a six-speed manual transmission, a seven-speed S tronic dual-clutch automatic gearbox with steering column-mounted shift paddles – or a more conventional eight-speed automatic with the more powerful engines.
The A4 Saloon is available with five suspension set-ups - Comfort Dynamic, Sport, Adaptive Sport, S Sport and Adaptive S Sport - each with their own USP, often stating itself on the tin.
Comfort Dynamic comes as standard on non-Ultra SE and Sport trims, putting comfort at the top of the list as it glides over the undulating contours of the UK's roads.
S line versions and Ultra models both come with Sport suspension as standard - a stiffer suspension to help with body control- with Adaptive Sport suspension available as options to add in the bit of comfort that the Sport takes away on its own. Adaptive Sport is available as an option on non-Ultra SE, Sport and S line models.
S Sport is a bespoke set-up that's only fitted to the high-performance S4 model for those drivers that want something a bit 'sportier' and 'racier'. And again, and Adaptive S Sport is available to add in some comfort, although sport will win out in the end on this one.
For Audi A4 Saloons, comfort is a priority over an entertaining drive, but if you want a secure motor that handles as you would wish with precise steering, and grips the road well, then the A4 is for you.
All of the engines are hushed and transmit barely any vibration through into the cabin, and road and wind noise is kept to an absolute minimum.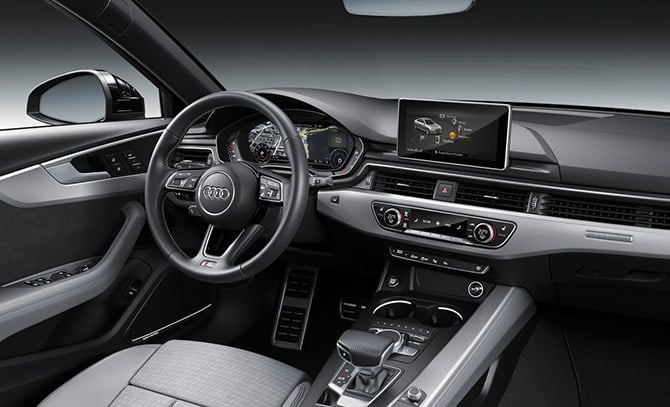 The Interior
Inside the A4 Saloon there is a generous range of seat and steering wheel adjustment, with options such as lumbar support available as an option alongside fully electric seats (standard on the S4).
The dashboard is beautifully simple and minimal, while the optional Virtual Cockpit places a 12.3" LCD display where the analogue instrument dials would be.
All models come with parking sensors at the rear to help out with reversing, and an optional Parking Plus system brings front sensors and the option of a reversing camera.
Blind-spot monitoring is also available as an option, as is Exit Warning – a system that monitors the rear side of your stationary A4 to warn you about approaching vehicles or cyclists, so that you don't open your door.
SatNav is only available as an option on the entry-level SE trim, with a basic SD card-based SatNav with 7" screen fitted to Sport and S line versions, although it should be noted that all A4s get Bluetooth, a DAB radio, voice control and two USB ports.
An optional Technology Pack offers a larger 8.3" screen along with online traffic updates, a 10GB hard drive to store music on and a touch-sensitive control pad on top of the existing rotary dial - and this is standard on S4 models.
Throughout the interior, soft-touch materials and well-damped switches abound, with real metal trims on the centre console and wood veneer across the dashboard, all adding to the ambience and luxurious feel of the cabin.
There is lots of space for both driver and passengers, with plenty of head, leg and elbow room, and storage options, and there's enough room in the rear seats to fit in a couple of tall adults comfortably.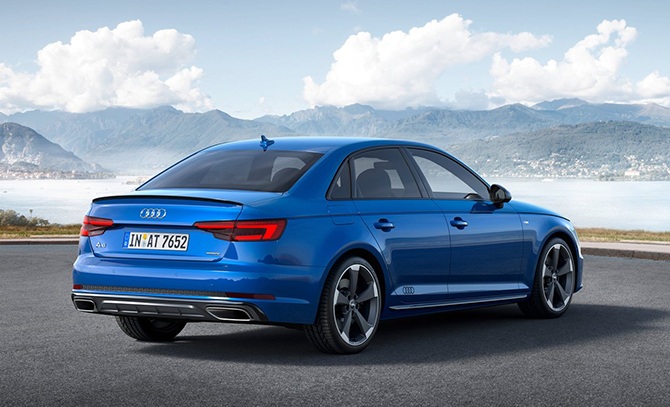 The Adaptability
The A4 comes with split-folding rear seats as standard in ALL trims, something that cannot be said of its aforementioned rivals, with the seatbacks divided in a convenient 40:20:40 layout.
The A4's 480-litre boot is almost identical in size to a BMW 3 Series and what you would expect from a saloon; certainly there is enough room to fit in a couple of sets of golf clubs, a pram, or a weekly shop easily without having to drop any of the rear seats.
There is an optional Storage Pack available that adds bag hooks and a luggage net to boost practicality.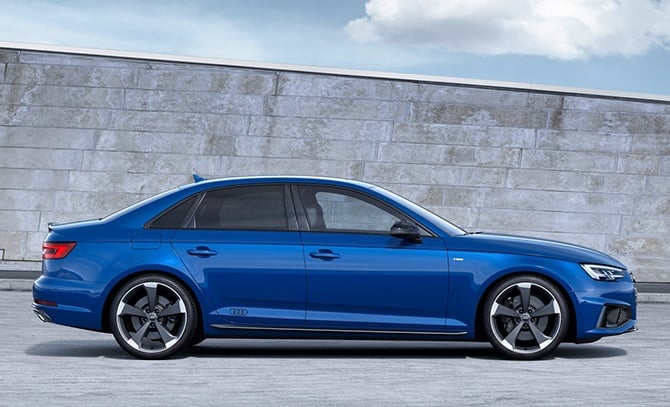 The Running Costs
With executive saloons such as the Audi A4 Saloon being a popular choice with company car drivers, CO2 emissions are very important.
The most efficient A4 (the 2.0 TDI 150 Ultra) emits just 99g/km, (rising slightly if it has an automatic gearbox) but even the more powerful 2.0 TDI 190 Ultra pumps out less than 105g/km, both of which mean that the BiK band is favourable to the driver.
More surprisingly, the 3.0 TDI V6 diesel218 emits just 119g/km even with the standard fit four-wheel drive.
When it comes to fuel economy, the 2-litre 150 Ultra diesel is capable of 74.3mpg, dropping to 67.3mpg with the 187bhp version. and to 61.4mpg with the 3.0-litre V6 diesel.
The 1.4-litre TFSI petrol is capable of 53.3mpg and offers CO2 emissions of 126g/km.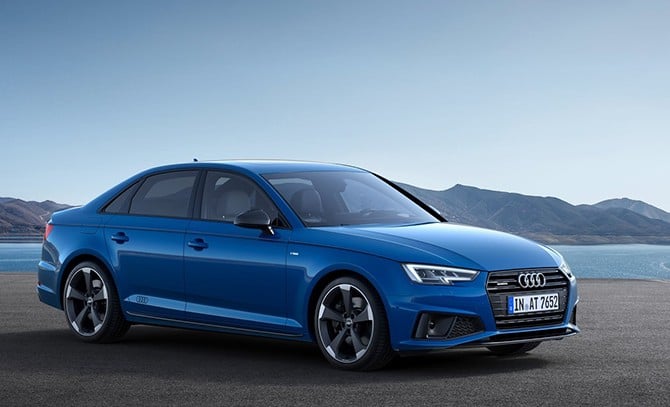 The Equipment
All A4s come with Audi's MMI infotainment system with Apple CarPlay and Android Auto, climate control, alloy wheels, cruise control, rear parking sensors, Bluetooth, keyless start and a DAB radio.
As you go up the trims you find equipment such as SatNav, a 7" colour Driver's Information System to replace the original 5" monochrome version, an upgraded multi-function steering wheel controlling a wider range of functions, auto-folding door mirrors, supportive sports seats, LED headlights, the varying suspensions, adaptive cruise control, adaptive dampers, Audi's 'Virtual Cockpit', LED 'Matrix' headlights, automatic headlight-dipping function, and various styling packs as standard.
When it comes to technology, everything is controlled via the rotary MMI controller on the centre console, displayed on a slick screen that slides out of the dashboard and sits above the air vents - although the 'Virtual Cockpit' option offers the 12.3" screen.
Throughout the car, there are various USB ports, SD card slots and auxiliary inputs for everyone to make use of, and Audi Connect is also available.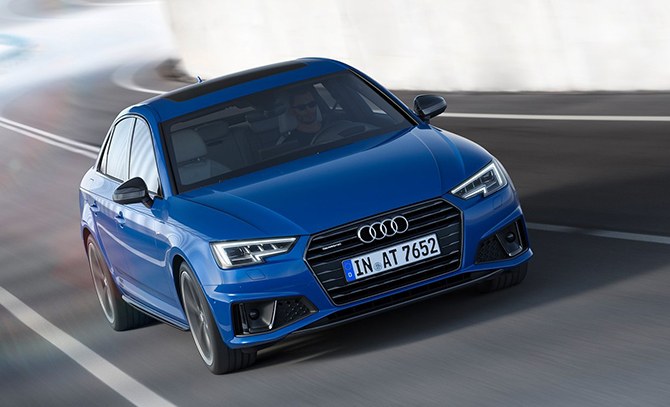 The Safety and Security
You won't be surprised to read that the Audi A4 Saloon received five stars from Euro NCAP for accident occupancy protection, including a 90% score for adult occupant protection, 87% for child protection and 75% for pedestrian protection.
All models come with city emergency braking as standard to help prevent low-speed shunts, and the optional addition of a Driving Assistance adds in technologies such as automatic braking at higher speeds, active cruise control with traffic jam assistance, road sign recognition and lane-keep assist.
There is a Parking Assistant Pack Advanced available which adds to the self-parking functions and 360-degree cameras of the Parking Assistance Pack by including a system that senses when a crash is about to happen and prepares the car for impact by tightening seatbelts and turning on the hazard warning lights, warns of any crossing traffic when reversing out of a space, warns of approaching pedestrians and cyclists before you get out of the car, and monitors blind-spots.
Six airbags come as standard, with a rear side airbag available as an option, while Thatcham awarded the A4 five stars (out of five) for resisting being stolen and four stars for guarding against being broken into.
Nationwide Vehicle Contracts offers the Audi A4 Saloon cars with some great deals, so check out the offers here or Contact one of our customer service representatives to discuss your options.