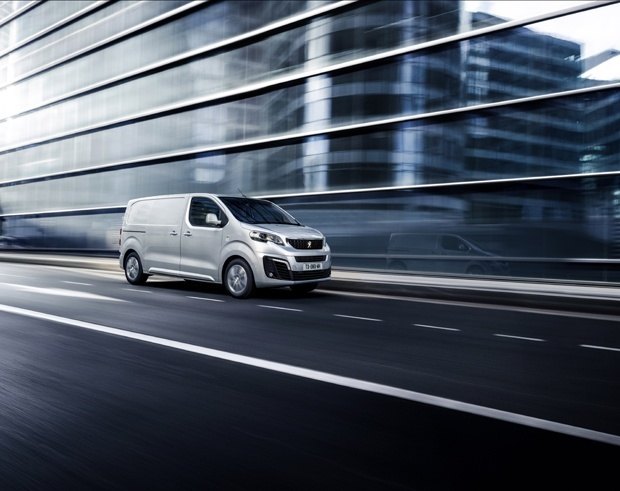 The all-new PEUGEOT Expert made its worldwide show debut in Birmingham at the NEC Commercial Vehicle Show and is now making up the quartet of PEUGEOT Vans that is the Bipper, Boxer, new model Partner, and now the all-new Expert.
The all-new PEUGEOT Expert
From the very first glance, you can see that the PEUGEOT Expert belongs to the PEUGEOT range, with the headlights evoking the legacy of the award-winning PEUGEOT 308, and the new elevated vertical grille opening comparisons with the new PEUGEOT 2008 Compact SUV.
"The new PEUGEOT Expert platform has enabled us to offer superb proportions and to inject the stylish features of the brand's passenger cars, with the robustness expected of a utility vehicle", says Keith Ryder, PEUGEOT Expert Design Manager.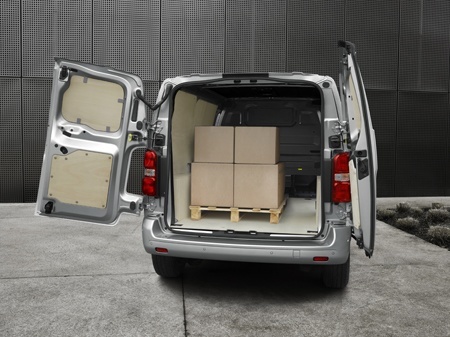 The new PEUGEOT Expert has been designed to cover many bases, respond to a variety of different uses and be as efficient as possible to as many business professionals as possible, combining compact external dimensions with maximum load capacities - a benefit required by so many businesses these days.
The new Expert is available in 3 body lengths - Long (5.30m), Standard (4.95m) and Compact (4.60m)- and with a choice of 2 or 3 seats in front, and offers up to 6.6m3of carrying space and up to 1400kg of load weight with a potential length of 4m in the Standard and Long versions. (The Compact 4.60m version, unique in the segment, allows loads of up to 5.1m3 and 1400kg, with a useful length of 3.32m).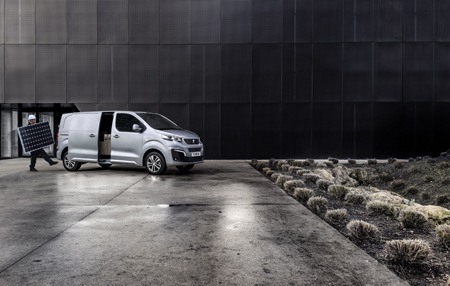 With these reduced dimensions and overhang, the new PEUGEOT Expert is able to offer greater manoeuvrability, with the reduced height of 1.90m guaranteeing access to all car parks, with both these benefits particularly applicable in urban and city areas.
At the front there is available a three three-seat bench in the large Moduwork bulkhead with a side cushion that can be folded away. This, as a concept, not only allows Three people to sit in the front when fully created, but also produces (when only 2 passengers) a flat floor with increased useful length of 1.16m or extra volume in front, as well as a mobile office function by using the table built into the folding backrest of the middle seat (versions with Moduwork). There is also storage space available under the middle seat.
When it comes to responding to specific business needs, the PEUGEOT Expert is available in the following versions:
Crew vans - with five or six fixed or fold-up seats. Available in both Standard and Long versions, they are available in two forms with fixed and folding bulkhead depending on needs in terms of use and load volume
Platform cab - as a conversion base. Available with a long wheelbase of 3.275m, the Platform Cab offers numerous bodywork conversion possibilities.
Combi - as a people-carrier with up to nine seats. Available in three body lengths for passenger transportation, it offers multiple seat configurations comfortably seating between two and nine passengers. With nine people aboard the boot volume is up to 1,300 litres (1237dm3 VDA), which can be increased to 4,900 litres (4,554dm3 VDA) by taking out the removable row 2 and 3 seats.
The Power behind the Expert
When it comes to the engines under the bonnet on the new PEUGEOT Expert, it's all down to BlueHDi engine options that not only incorporate an SCR (Selective Catalytic Reduction) upstream of the additivated DPF (Diesel Particulate Filter), but also meet the Euro6 standard with the most effective pollution control technology on the market.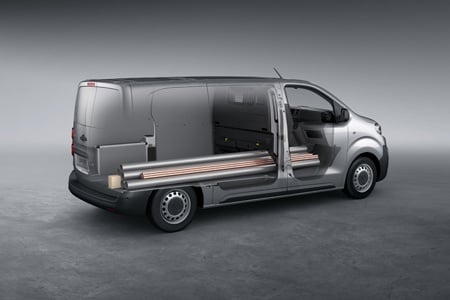 And, of course, the modern and efficient Euro 6 BlueHDi engine options available (from 95hp / 210Nm to 180hp / 400Nm) are mostly equipped with Stop&Start technology to offer record fuel economy/CO2 emissions for this particular segment.
Tying it all in with the new BlueHDi 180 EAT6 gearbox and the BlueHDi 95 ETG6 electronic automated gearbox, the engines help the new PEUGEOT Expert offer excellent driving comfort with the added bonus of freeing up extra legroom for the middle passenger.
When it comes to fuel emissions and fuel efficiency, ceck out these figures for the various engine options, many of which are best-in-class:
1.6 L BlueHDi 95hp, 5-speed manual gearbox from 51.3mpg, i.e. CO2 at 144g/km
1.6 L BlueHDi 95hp S&S, ETG6 controlled gearbox from 54.3mpg, i.e. CO2 at 135g/km
1.6 L BlueHDi 115hp S&S, 6-speed manual gearbox from 55.3mpg, i.e. CO2 at 133g/km
2.0 L BlueHDi 120hp, 6-speed manual gearbox from 53.2mpg, i.e. CO2 at 144g/km
2.0 L BlueHDi 150hp S&S, 6-speed manual gearbox from 53.2mpg, i.e. CO2 at 139g/km
2.0L BlueHDi 180hp S&S, EAT6 automatic gearbox from 46.3mpg, i.e. CO2 at 151g/km
New Features
"For business professionals' efficiency, comfort and safety, the new PEUGEOT Expert offers a number of latest generation features that are rare or exclusive in the segment", including:
Hands-free sliding side doors - a benefit that is unprecedented in the market - can be opened or closed even with your arms full with a simple foot movement via the electronic key
Moduwork, the head-up display and sign reading system with speed limiter recommendation - another first in the segment
Active Safety Brake
Automatic switching to main beam lamps
(On certain options)
New voice-control connected 3D navigation and real-time traffic information
VisioPark 1 reversing camera with 180° overhead rear view and rear view zoom
Driver Attention Alert.
Comfort and dynamic handling

When on board the PEUGEOT Expert, both drivers and passengers will see a major improvement in both ergonomics and driving comfort right from the start with a step providing easy access to the elevated seating positions. The instrument panel and steering wheel have been repositioned for easy viewing and comfort more in the mould of an SUV than a van, with the touch-screen (standard from the second trim level) always easy to reach and see.
When it comes to the suspension on the new PEUGEOT Expert, the adoption of the Pseudo MacPherson front suspension from the EMP2 ensures high-end dynamic capability with the electrohydraulic-assisted steering combining with the anti-roll bar positioned in front of the steering rack to make sure that the turning circle is maximised along with general ride comfort.
And it almost goes without saying that the PEUGEOT Expert offers a best-in-class level of acoustic comfort, enhanced at the second and third trim levels to enhance passenger and driver comfort.
Standard Specifications on everyday usage, both for practicality and technology
The new PEUGEOT Expert also features:
Two glove boxes on the passenger side, one enclosed upper 7-litre compartment which can contain five small 0.5-litre bottles and be refrigerated, and one open lower 5-litre compartment. There is also another open 5-litre A4-size storage compartment above the dashboard, which can house a tablet for example;
2 cup holders on either side of the dashboard both accommodating a 0.5- litre bottle;
Key trays in the centre of the dashboard and on the passenger side;
In each front door, a large 8-litre door compartment tray that can contain two 1.5-litre bottles;
A large 8-litre storage compartment beneath the front two-seat passenger bench that can hold work boots and a hard hat, for instance;
On the high-end fixed Crew Cab versions, a large 73-litre storage compartment is located beneath the bench.
Jack, 12V and USB sockets in the lower glove compartment that can be used to charge mobile devices.
A new 7" capacitive touch-screen, in addition to the multimedia system, with voice recognition as well as touch capabilities.
A new generation of PEUGEOT Connect connected 3D navigation, controlled by voice recognition and/or using the touch-screen that includes TomTom Traffic real-time traffic information, service stations and car parks locations, weather information, local search of points of interest (POI) and Alert zones.
The PEUGEOT Expert has a wide range of the latest generation of driving assistance devices to make sure that the drive is not only comfortable but safe too! these include:
Driving time warning system that warns the driver that they have been driving uninterrupted for 2 hours at a speed of 40mph or more with a warning light and a 'Take A Break' message. (No news about whether you get a free KitKat with this though!)
Blind Spot Monitoring
VisioPark 1 that provides a 180° overhead view of the rear zone of the vehicle and its environment created by the reversing camera as the vehicle reverses.
Grip Control to extend the usability of the PEUGEOT Expert on roads or tracks with low levels of grip to help the two-wheel drive on the van as it adapts to the conditions encountered by acting on the front driving wheels, while leaving the driver in control at all times.
Optional Safety Pack
Road Sign Reading and Speed Limit Recommendation system
Driver Attention Alert
Lane Departure Warning System (LDWS)
Automatic main beam switching
Optional Drive Assist Pack
Active Cruise Control
Distance Alert
Active Safety Brake
"Our ambition with the new PEUGEOT Expert is to attract new customers. Its innovative design offers differentiating services and embodies a new aspect of PEUGEOT's high-end strategy in the utility vehicles sector", said Maxime Picat, PEUGEOT Brand CEO.
Contact one of our Customer Representatives to discuss your van needs, and see how an Expert can make your business better.