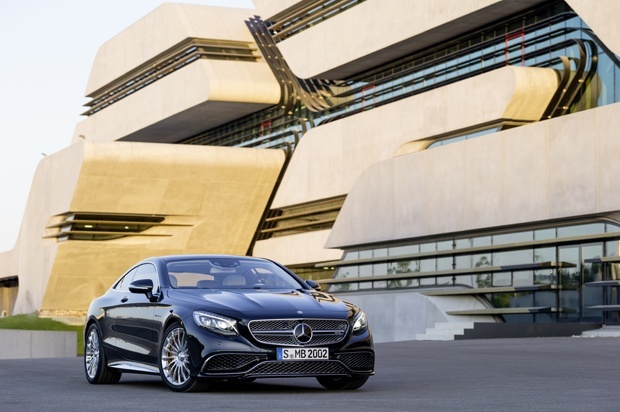 The new Mercedes S 65 AMG Coupé is the new twelve-cylinder top-of-the-range two-door model in the S-Class Coupé series with what can only be termed unique drive comfort, benchmark performance and exquisite appointments as well as an AMG 6.0-litre V12 biturbo engine, with an output of 630 hp and 1000 newton metres of torque.

Tobias Moers, Chairman of the Board of Management of Mercedes-AMG GmbH says of the new S65 Coupe: "There are AMG fans for whom our V12 biturbo engine is the measure of all things. For this clientele we have developed a unique car in the form of the new S 65 AMG Coupé. From driving dynamics to comfort and equipment – our new twelve-cylinder coupé surpasses even the highest of expectations."

And if you are talking Mercedes-AMG, when it talks about exceeding expectations, then that is some car.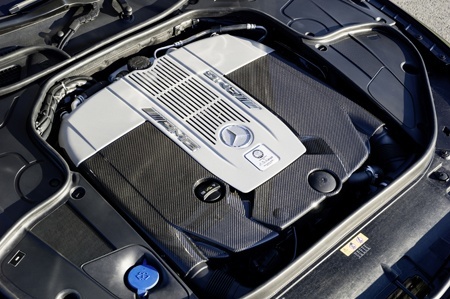 The new S 65 AMG Coupé is the fourth AMG high-performance car with a V12 engine, meaning that Mercedes-Benz offer more twelve-cylinder vehicles (in the guise of Mercedes-AMG) than any other car manufacturer in the world. After all, twelve-cylinder engines are still considered the pinnacle of engine design.

The AMG 6.0-litre V12 biturbo engine that you find under the bonnet of the S 65 AMG Coupé delivers those impressive figures of 630 hp output and a maximum torque of 1000 newton metres; resulting in effortlessly superior performance – and if you combine this with the acceleration (0-62mph) in 4.1 seconds with an electronically limited top speed of 155mph, you also get a sensational drive in Mercedes comfort. (And with a fuel economy figure of 23.7mpg it is a lot more economical than many of its rivals as well as complying with the EU6 emissions standard.)

For the technologically obsessed petrolheads amongst you, here are some highlights of the AMG 6.0-litre V12 biturbo engine: Biturbocharging, Aluminium crankcase, Forged crankshaft in high-grade alloy steel, Multi-spark ignition with 12 twin-spark ignition units, Air-to-water intercooler with low-temperature circuit, Alternator management and the ever-present ECO start/stop function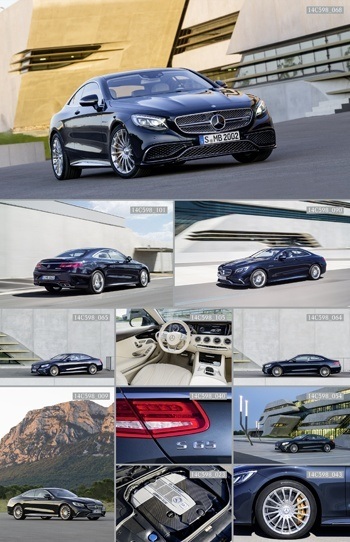 The AMG speedshift Plus 7G-Tronic transmission allows the driver to make a choice between three individual modes - Controlled Efficiency (C), Sport (S) and Manual (M) – just with the push of a button on the centre console; all part of the car's dynamism. And just so you enjoy that dynamism at its very best, there is the AMG Sports suspension.

Based on the premise of the unique Magic Body Control – a standard combination of Active Body Control (ABC), Road Surface Scan and Curve Tilting Function – the Mercedes S 65 Coupé ensures an incomparable driving sensation, especially when using the curve tilt on country roads when travelling between 10 and 110mph. (This curve tilt function is actually making its debut in the S 65 AMG Coupé along with the S 63 AMG Coupé.)

Complimenting the sophisticated suspension technology is the electromechanical speed-sensitive sports steering that makes sure that the vehicle handles safely at high speeds whilst still being as agile as you would need it to be in all three driving modes, providing steering assistance where and when it is needed.

With forged wheels in a multi-spoke design looking good as well as performing to the highest of standards, and an AMG high-performance composite brake system that features brake callipers with a grey finish, safety and style combine just as you would expect in a car that really is as good as it looks.

INSIDE THE S 65 Coupe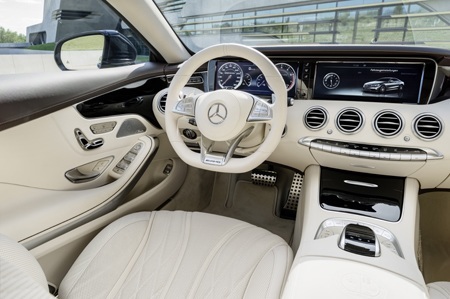 It's not going to be anything less than quality, is it? It may only be two-door (adding to the sporty nature of the car) but inside you experience the feel and ambience of something so much more.

Featuring the finest materials, the highest manufacturing quality and an extensive range of standard equipment, the interior of the S 65 Coupe is as near as you can get to perfection without it being absolute. From the upholstered sports seats that are electrically adjustable, have heating and a memory function as well as climate control, contoured seat cushions and backrests to the nappa leather roof liner, leather-lined dashboard, door centre panels in a diamond-pattern design, leather-clad roof grab handles, chromed door pins and AMG stainless steel door sill panels, illuminated in white, there is definitely no need for Peter Andre and the 60 Minute Makeover team to visit the inside of an S 65 Coupe.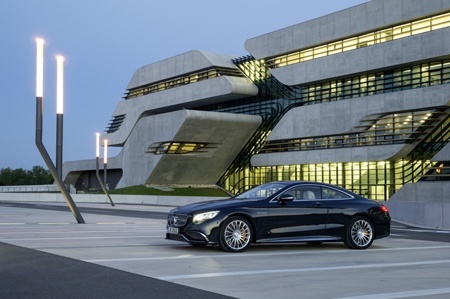 There is a brand new sports steering wheel with a three-spoke design, and the semi-legendary (in the right circles) AMG instrument cluster that displays engine speed, vehicle speed and much more on two animated round dials on the 31.2 centimetre, high-resolution colour TFT display.

I could continue to go on and on about how the S 65 AMG Coupé also sets new standards in terms of active and passive safety, and describe the lines of design and the fuller details about the colour TFT display, but it's a lot to take in all at once – so you'd be better off looking at the pictures here and then....