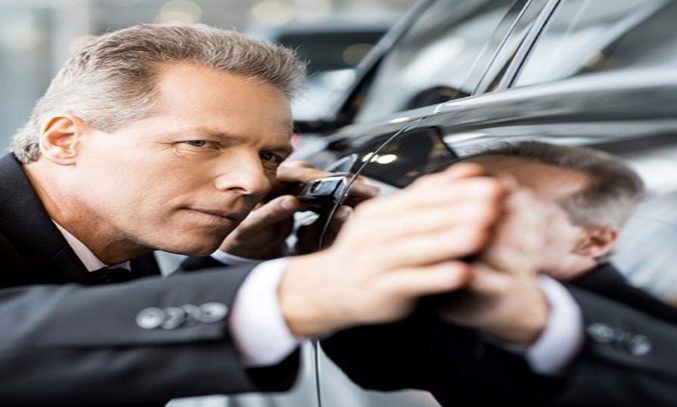 You may have read our recent blog on what is involved when you return a car at the end of a lease, and with that you may have wondered just what exactly is involved when it comes to the phrase 'fair wear and tear'.
With each car manufacturer and leasing agent, the rules when it comes to fair wear and tear vary, but in essence there are some guidelines that it is advisable to follow before the vehicle is returned to the finance company and assessed to determine whether the vehicle meets the agreed returned condition.
The BVRLA, the trade body for the vehicle rental and leasing sector, describes fair wear and tear as occuring "when normal usage causes deterioration to a vehicle. It is not to be confused with damage which occurs as a result of a specific event or series of events such as impact, inappropriate stowing of items, harsh-treatment, negligent acts or omissions."
The vehicle that you return is normally sold on to a dealer, or sold at auction, and therefore needs to be in the best condition possible with no scrapes, bumps, tears or damage to it, so it is understandable that wear and tear charges outside of 'fair wear and tear' are applied. After all, if you lent somebody something of yours that cost an awful lot of money, you would want it back in as near to a pristine state as was applicable!
So just what is Fair Wear and Tear?
"All leasing companies in BVRLA membership are obliged under the BVRLA Code of Conduct to trade fairly and responsibly in all dealings with their customers, and this includes the end-of-lease charges that can be applied to reflect any loss of value in the vehicle to the leasing company if it is returned in a poorer condition than originally contracted and / or achieves a decrease in value as a result of a failure to use, maintain and look after the vehicle and its equipment. The leasing company will not necessarily carry out any damage repair or refurbishment prior to selling the vehicle."
So there is a BVRLA industry standard that is set that you can order a copy of from the BVRLA here (or get a copy from the leasing agent) to help you understand just what is fair and what is not.
Checking the vehicle
The BVRLA suggest that you take a good look and appraise the vehicle abut 10-12 weeks before it is due to go back - this will give you time to get any problems solved prior to return, otherwise the leasing firm will get an estimate and charge you anyway. It's a good idea to get someone else - a friend or colleague - to look over the vehicle with you too, and any appraisal should take place in good light and at a good time, because that is when the leasing company will do it. Bad light will hide rather than show up any faults.
Make sure that you clean the car thoroughly before checking it, and allow time to dry as water on paintwork can actually mask any faults that there may be. Make sure that the inside is clean and valeted too.
Checking the outside of the vehicle


Make sure that you walk all the way around the vehicle and examine very closely each and every panel including the roof, bonnet, doors, and body for significant damage that includes scratches and dents. Make sure that you also look at panels from all angles as light is reflected differently from dents and scratches however you are looking at it.
Crouch or kneel down at the front and rear of the vehicle and look along the bodyline on each side from this angle so that you can see any scratches or dents that you otherwise may not be able to see.
Take a close look at all lamps, lenses, windows and mirrors to check for chips, cracks and holes.
The tyres are just as important too, as are wheel trims and wheel spokes. Check the tyres for any damage and that the wear on the tread across each tyre is even, not forgetting any spare that the car may have, and check trims and spokes for scratches and deterioration.
Checking the inside of the vehicle


Make sure that it is clean, valeted and smells nice.
Take a close look at all the upholstered areas for odours, tears, burns, stains and wear. As a family car is likely to have 'suffered' from having children in it, this is a special area that you should concentrate on.
Make sure that any controls on the dashboard and all technology are there and all work. We are talking about audio equipment and accessories as well as any touchscreens and Sat Navs that come with the vehicle. It is also advisable to clear any personal information from the equipment too.
What will incur a charge?
Scratches over 25mm (relative to the vehicle's age and mileage)
Scratches under 25mm (where the primer and bare metal is showing)
Accident damage and dents
Missing sets of keys
Missed services
Missing documentation
Damaged or stained interior
Windscreen chips
Wheel damage due to kerbing
Obviously, as a car will have been in your possession for usually 2-3 years, there will be a certain amount of wear and tear, and the finance company will accept that - which is why the BVRLA brought out their guidelines.
The vehicle is to be returned in a safe and roadworthy condition, with all the appropriate documentation such as service history, spare keys and equipment included and must be a clean condition, ready for inspection. What is generally termed as acceptable is/are, subject to different finance companies implying different standards of what they see as Fair Wear and Tear:
Small scratches to the windscreen outside of drivers eye sight. What is unacceptable are holes, chips and cracks in the glass, and scratches inside the drivers direct line of sight.
Minor scuffage to the wheels up to 25mm in length, and at the very least minimum legal requirements tread on the tyres. What is unacceptable is scoring and other damage to wheel surface, and damage to side walls or uneven tread wear.
Minor scuffage on the wing mirrors as long as no paintwork is damaged, with missing, damaged, or cracked wing mirrors not acceptable.
Minor scuffing up to 25mm in length on the bumper. Unacceptable are deep scuffs where paint is broken, and dented and cracked areas.
On the bodywork, it is usually acceptable that there are small areas where the paint may be chipped, light scratches up to 25mm in length (relative to the vehicle's age) and minor dents up to 10mm providing paint is not broken. What is not acceptable are stone chips or scratches over 25mm in length that have exposed the bare metal or primer or have rusted, any impact damage, and multiple dents on a single panel.
Any decals (or stickers) must be removed along with all glue residue removed, but if any damage is done in the removal, or any glue left on, this is unacceptable.
All interior upholstery be clean and tidy, with only slight wear and soiling through normal use. What is unacceptable are burns, tears or permanent staining, and any damage caused by the fitting of equipment such as mobile phones.
Driving a family vehicle, carrying children that will not have the same 'standards' as yourself when it comes to cleanliness in a car, or a concern regarding the return of a leased vehicle. It is suggested that any spillages and the such like are dealt with at the time rather than later to avoid possible charges at a later date.
If you want to check out more details about fair wear and tear, and other questions regarding leasing, be it personal or business, check out our FAQ article here.