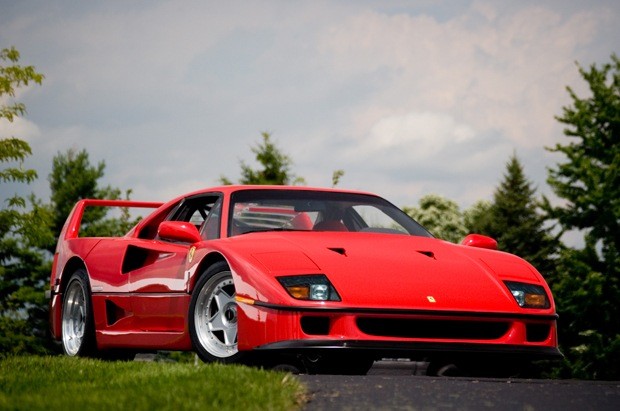 In a poll to find out the best 10 supercars of all time, carried out by the organisers of Donington Park's July Fast Car Festival, it was Ferrari's legendary poster icon, the F40, that came out on top, beating other Ferrari stablemates as well as other legendary cars from the likes of Alfa Romeo, McLaren and Porsche.
The F40, built to commemorate Ferrari's 40th anniversary in 1988, was the last model to be signed off by company founder Enzo Ferrari himself before his death, and took 18% of the total vote with its closest competitor in the poll the Alfa Romeo 8C Competizione.
At the time of its creation, it was claimed that the Ferrari F40 was the fastest and most powerful car that Ferrari had ever sold to the public, as well as being the closest thing to an F1 car on the road AND Ferrari's most expensive car.
In all, just over 1300 F40 models were produced in its 5-6 year life cycle, with the mid-engine, rear-wheel drive, two-door coupé sports car having originally been developed from five 288 GTO Evoluzione development cars that were destined to compete against the Porsche 959 in FIA Group 9 (as Wikipedia details) before that category ended. And although it is said that people were originally suspicious of the timing of the car's release just after Enzo's death, eventually the car's quality shone through.
Detailed on the Top Speed website, the finer details of the 197 mph supercar merely justify the reputation and accolade the car attracts with its "stunning exterior design and brutal turbocharged power."
And it continues to appreciate in value with a 1992 Ferrari F40 selling for €1.12 million at Coys auction at the 43rd AVD Oldtimer Grand Prix in Nurburgring, Germany.
The car looks lean and hungry, with a giant wing at the back to help stabilise the car at high speeds, with the interior "a throwback to a simpler time of racecar construction."
The F40 features a 2.9-liter V-8 engine with a parallel twin-turbocharged design, making the F40 capable of a top speed of 197mph, 0–60 mph in just 4.2 seconds with an observed fuel economy of about 7.5mpg, putting it in the same class as competitors the Porsche 959, Lamborghini Countach, Jaguar XJ220 and Bugatti EB110.
And that's what the Ferrari F40 is all about. The drive; exhilaration; excitement; style; terror! Which of these took it to the top of the table below is up for conjecture, but what fun you would have with the discussion having driven it.
The top 10 supercars of all time on the Fast Car Festival organisers' list were:
Ferrari F40
Alfa Romeo 8C Competizione
Ferrari La Ferrari
McLaren F1
Koenniggsegg
Porsche 911
Pagani Zonda
Ferrari Enzo
Audi R8
Jaguar XJ220