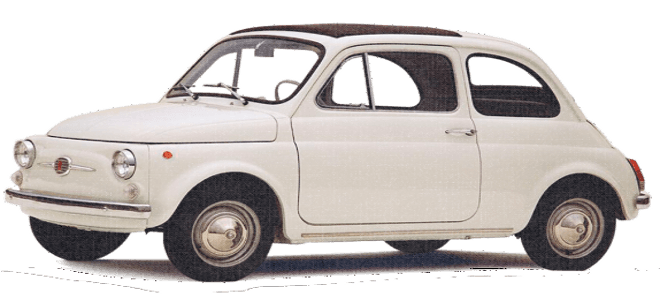 For People Who Really, Really Like Cars
I'm going to go out on a limb and declare that the Fiat 500 is one of the coolest, most stylish cars that ever was. Maybe not the coolest, but certainly in the top ten.
And yet, those strange Top Gear men don't include it on their definitive Cool Wall. Indeed, Fiat only have one entry on their canonical scale. James May's Fiat Panda was given its own spot at the back of the hangar, several metres beyond the "uncool" line.
But what do they know? They have no time for style or fuel efficiency. They just like masculine cars that go fast. They're dinosaurs.
Their favourite car is the Aston Martin DB9, which, along with the Enzo Ferrari, the Ferrari 458 Italia and the Lamborghini Aventador, sits in its own Sub-Zero Fridge.
Well, as if to prove that the Fiat 500 is as cool as it comes, it's now so cool that it doesn't even need to sit in a fridge. Rather, it is a fridge.
The Fiat 500 Design Collection
The Fiat 500 Design Collection is, if my Italian translation abilities are anything to go on, an attempt to celebrate the role the Fiat 500 has played in the "daily life of an entire country".
The Fiat 500 has always been a versatile car. Since 1957, it's been used to cruise those scorching, sinewy yet stylish Italian streets, making the occasional foray into the country for picnics, holidays and other extensions. It's always been a car for people who do things, which is why Fiat have teamed up with similarly iconic Italian manufacturers to offer you, for the very first time, genuinely useful appliances made up of the parts of old Fiat 500 models.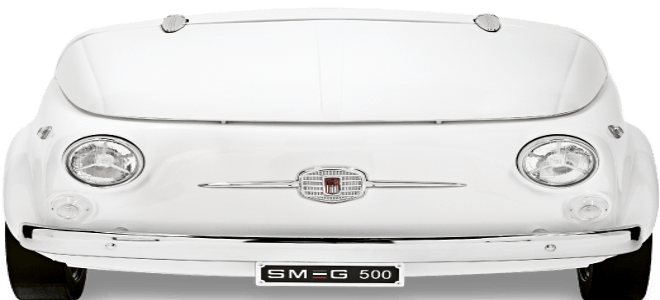 Fiat & Smeg
Despite having a name that makes schoolboys titter, Smeg have retained the last word in fridge style for the past 65 years. I don't really care about interior design, and even I really want a Smeg fridge.
"Because a refigerator is not just an appliance, and a hood is not just a piece of a car", Fiat have teamed up with Smeg to create a Fiat 500 fridge, with which "the rigour of technology meets the flicker of creativity.
"Not just a refrigerator," reads their website, in Italian, "but an intersection of concepts for the most exclusive of environments, from the homes of collectors to fashion lounge bar for drinks."
Thank you, Google Translate.
The fridge is available in three colours – red, white and green, Italy! - and, in a particularly neat touch, the controls are modelled on the dashboard of a vintage Fiat 500.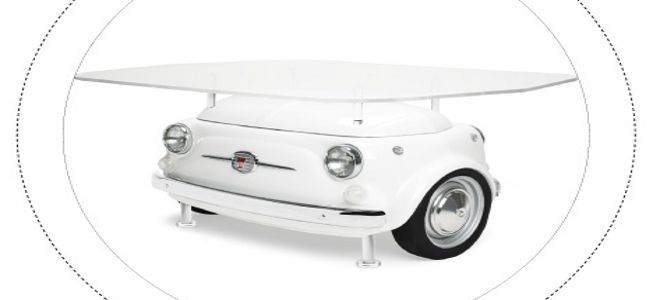 Fiat & Collezione Meritalia
For their other collaboration, Fiat paint this idyllic scene:
"Park on a hill on the side of the road. Spread the tablecloth on the grass. [Enjoy] a picnic outdoors and cross your glasses in a toast. Getting lost in the vastness of an Italian landscape, while the sun sparkles on the body of a historic 500.
"The design of a jewel made in Italy becomes furniture, to relive every day in your own home the feeling of being outdoors."
Yes, to celebrate the cruising nature of the Fiat 500, Fiat have teamed up with Italian designers Collezione Meritalia to create three items of furniture modelled on the unmistakable style of the original Fiat 500.
Picnic is a table, Panorama is a small sofa (complete with a most fetching cushion in Italian covers) and Cincin is a smaller side table.
These curiosities might not have any appeal outside of Italy, but I doubt that even Jeremy Clarkson, apparently a sworn enemy of Fiat, could resist the allure of a fridge that was once a car.
In any case, James May will probably buy one, from which he'll one day procure a beer. Then he'll sit on his Panorama couch, thinking. Just thinking.
All images from Fiat.