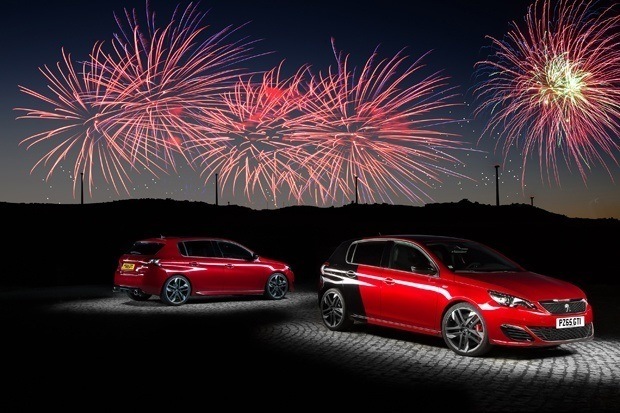 It's been a while since we saw a new Peugeot GTi badge arrive in the medium car segment (it was the 1990s when we last did) so the arrival of the Peugeot Sport 308 GTi as a high-end performance 'hot hatch' is highly anticipated.
The Peugeot 308GTi
The Peugeot 308 as a range is one of the best sellers at Nationwide Vehicle Contracts, and the addition of this new high-performance model is sure to help raise the Peugeot 308 profile even higher than when it picked up the prestigious 2014 European Car of the Year award.
And following in the footsteps (or tyre tracks) of the previous three Peugeot Sport projects (The critically acclaimed RCZ R, 208 GTi 30th and 208 GTi), the 308 GTi has been extensively developed Peugeot Sport's in-house team of motor sport engineers with their "wealth of expertise and success in the performance road car and international competition fields."
The 308 GTi offers customers a striking new interpretation of the 308's sleek exterior design, enhanced sports-oriented interior detailing and an unparalleled driving experience with strong desirability and following - and the fact that it has a GTi badge on it is a sign that it offers performance of the highest standards.
Power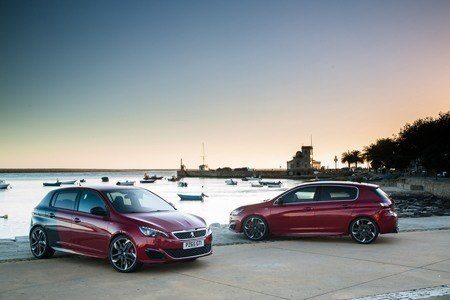 Underneath the bonnet, we find the most-powerful engine of its size, the 1.6-litre THP petrol engine with Stop&Start (S&S) technology, available in both 250hp and 270hp power output versions that speed the car up to a limited 155mph. And despite the sporty nature of the car, CO2 emissions weigh in at just 139g/km, with Combined Cycle fuel economy t 47.0mpg.
Weight reductions in the car mean that it weighs in at just 1205kg - a statistic that gives the car the ability to accelerate from standing to 62mph in just 6.2 seconds, with the 308 GTi 270 managing even better figures setting a new segment record for power-to-weight – at just 4.82kg/hp – and reaching 62mph in a mere 6.0 seconds flat.
The speed and performance of the 270 GTi is also helped by being equipped with 19" 'Carbone' lightweight alloy wheels that feature the latest Michelin Pilot Super Sport tyres. These are 'controlled' by 380mm ventilated front brake discs with solid red four-piston Peugeot Sport signature calipers.
Style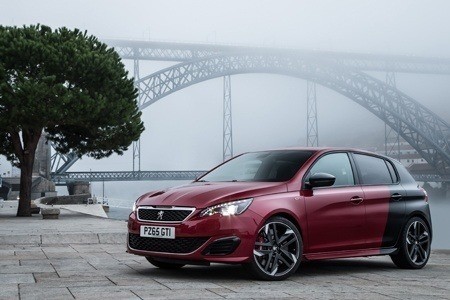 Sitting 11mm lower to the ground than its siblings, the Peugeot 308 GTi is an aggressive looking car in design at the front and back - and this 'visual reputation' is helped by the six available and distinctive exterior colours (new Ultimate Red, Pearlescent White, Magnetic Blue, Nera Black, Cumulus Grey and Hurricane Grey.) And if you want to be even more eye-catching then the 308 GTi 270 offers a 'Coupe Franche' two-tone design that contrasts the Ultimate Red with Nera Black.
Inside, the sporty nature of the exterior is mirrored to compliment with both Peugeot Sport and GTi signatures abounding, and the foot pedals, foot rest and gear knob finished in aluminum. The GTi 270 features Peugeot Sport race-inspired seats, upholstered in leather effect and Alcantara, with red stitching - a design style also on the door panels, gear lever and premium floor mats. There is also a compact steering wheel, head-up display instrument panel read-outs with chequered backdrop and a 9.7" centrally mounted touch-screen that is part of the instrument pane.
As Standard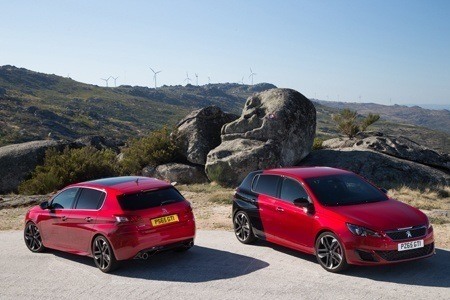 When it comes to standard equipment on the Peugeot 308 GTi, you won't be surprised that the list is not only extensive, but expressive and exciting, containing amongst other thing:
A Driver Sport Pack that allows owners to ramp up the high-octane feel by changing display colour and engine noise growl amongst other effects
Red 'PEUGEOT' lettering on the grille
Sports side skirts
A new twin exhaust system with black diffuser,
GTi badging
Full LED headlamps
Front LED sequential indicators
Reversing camera
Front and rear parking sensors
Peugeot Open & Go (keyless entry & push button start)
Satellite navigation
DAB digital radio
18" Diamant alloy wheels on the GTi 250 and 19" 'Carbone' lightweight alloy wheels on the GTi 270
Keep an eye out on the Peugeot Leasing page for the arrival of the Peufeot 308 GTi to the leasing options for both business and personal leasing - or register your interest with one of our representatives, who will be glad to help you.