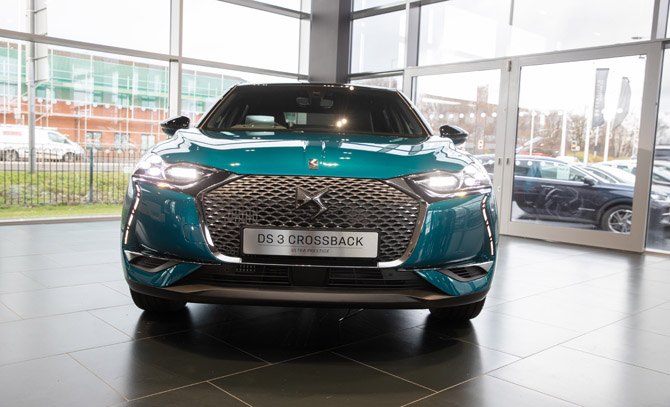 Can DS Automobiles' new entry into the compact SUV market really knock Audi off the top spot?
If you're not driving an SUV these days you're in the minority. One in three cars bought in the UK in 2018 was an SUV with high-riders now accounting for almost one third of vehicles on UK roads.
One player hoping to cause a stir in this already competitive market is the new DS 3 Crossback. With high ambitions to take on the premium sector, DS Automobiles hope their the new compact SUV will rival the likes of the Audi Q2, the Mini Countryman and forthcoming Lexus UX in terms of style, quality and price.
"Our overall brand ambition is to encapsulate the automotive industry with French luxury know-how, or as the French would say, savoir-faire" explains Mark Blundell, UK Managing Director of DS Automobiles in an exclusive interview with Donna Kelly.
"When you think about luxury brands you think about French brands like Louis Vuitton, Cartier etc. so we want to bring that 'know how' to automotive. Although we are a premium brand, we are leaning on luxury attitudes in terms of design and customer care".
Design is certainly something that stands out on the new 3 Crossback, the second of six planned DS models by 2023. Inspired by its bigger sibling - the DS 7 Crossback - the 3 Crossback's striking avant-garde style certainly looks the part thanks to its curvaceous silhouette, large alloy wheels and subtle design features.

At the front, the vehicle is dominated by a large bulging grille which gives the car an aggressive stance, while the shark-fin side pillars are a subtle nod to the popular DS 3 Hatchback set to be phased out this year. The piercing matrix LED vision lights - the latest generation of smart lighting technology from DS – also not only look good but are functional too, automatically adjusting to the road ahead by activating full beam when the road is clear and dimming automatically when another car approaches.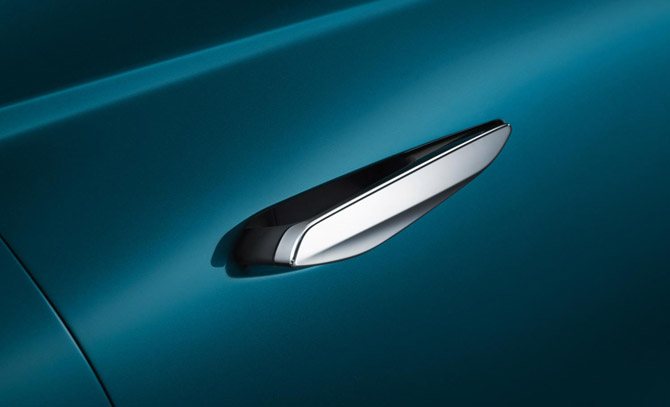 There's plenty to take in from the side with subtle design features such as the hidden door seals on the side windows and Tesla-style flush fitting door handles - which are a first for this segment – not only aiding aerodynamics but also enhancing the overall style of the car by staying hidden until you are within 1.5m of the car with the key.
At the rear, the 3 Crossback's huge exhaust pipes and large vents cut into the rear bumper to give the car an overall sporty, rally-car look while the LED rear lights and roof mounted spoiler help to finish off the 3 Crossback's unique style.
Inside, this same attention to detail is brought through to the interior with five DS 'inspirations' to choose from. The 3 Crossback features a completely digital cockpit with a large touchscreen providing the central focus and subtle design features, such as the diamond-shaped button clusters and central air vents, echoing the brand's emblem throughout. On the DS Lounge version, the high-end FOCAL Electra® HiFi system with 12 speakers and subwoofer offer an immersive listening experience like no other. The cabin is further complimented by a full leather interior with contrast diamond stitching, a leather steering wheel or fabric trims.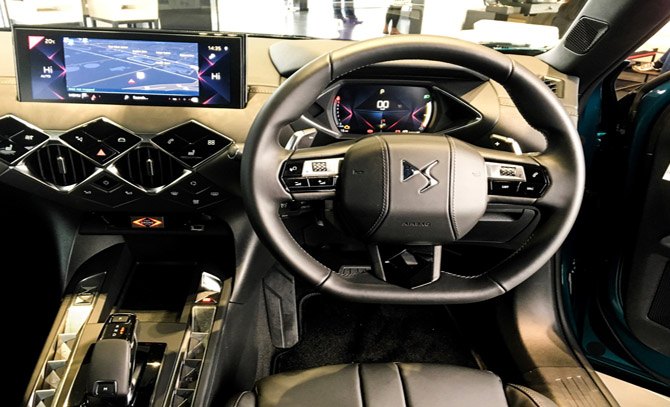 Under the bonnet, the 3 Crossback is available with a 100bhp, 130bhp or 155bhp version of their three-cylinder 1.2-litre Puretech petrol unit or a 100bhp 1.5-litre four-cylinder diesel. The majority of the models also come with an automatic gearbox, although a manual version is available on the 100bhp petrol and diesel.
"In the SUV segment, you'll notice there's been a big growth in auto and on the DS 7 Crossback, at least 75% of our mix is auto" explains Blundell.
"It's an eight-speed auto, really versatile and a very good drive so we think customers will go for the auto naturally anyway."
The 3 Crossback is also the first model based on the PSA Group's new common modular platform (CMP) architecture, which will underpin every small car from DS, Peugeot, Citroën and Vauxhall in the immediate future. The plan is to offer electrified versions of each of its cars, rather than having bespoke electric models, with the 100% electric 3 Crossback E-Tense expected later this year.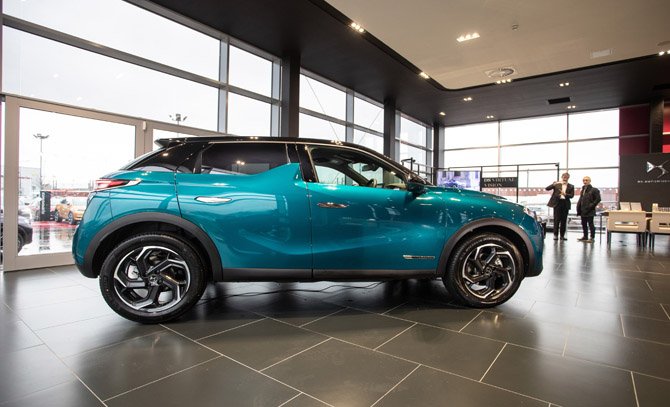 On first glance, you certainly have to commend DS for the 3 Crossback. Clearly a lot of thought has gone into the vehicle to truly make it stand out from the crowd but realistically can the brand compete against well-established brands like Audi, Mini, Volvo and Lexus?
After separating from Citroen in 2015 to become a stand-alone premium brand, demand for DS models declined by 38.5% in 2017, largely due to a heavy decrease in sales in the Chinese market. Surprisingly, UK Managing Director Alain Descat is not concerned by this.
"None of our KPIs are volume based" explains Descat. "We have a triangle of KPIs that are very important to us and one of them is Profit but not volume"
"What happened last year was a turning point for DS in Europe. When we started selling DS 7 Crossback, we started with limited company car numbers and short term rentals, so we've been very selective in our channels."
"We could have sold a lot more DS 3s. We sold 1600 in March in last year, this year if we sell 200 I'd be a happy man. We could sell these numbers but we couldn't build the brand in the way we want. In Europe, you'll see the volumes are down but the DS 7 Crossback is month on month growing. It's slow volumes but its finding its market."
Orders on the DS 3 Crossback open shortly with first deliveries expected later this year.