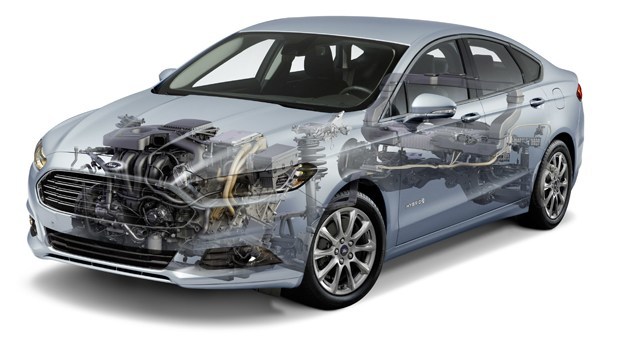 Production has started at Ford's state-of-the-art plant in Valencia, Spain, of the all-new Ford Mondeo Hybrid – the first hybrid electric car to be built and sold by Ford in Europe - one of the new engines available in one of Ford's most popular cars. First launched in 1993, the Ford Mondeo has found itself on the driveways, outside on the street and in the garages of over 1.4 million customers across the UK.

The Mondeo Hybrid combines a specially-developed 2.0-litre petrol engine with an electric motor and 1.4 kWh lithium-ion battery to give some pretty cool fuel economy figures (67.3 mpg combined and 100.9 mpg urban driving) and emissions of just 99 g/km CO2

"The Ford Mondeo Hybrid offers consumers the best of both worlds: the enhanced efficiency and reduced emissions of electric power, and the range and performance of a traditional powertrain," said Roelant de Waard, vice president, Marketing, Sales & Service, Ford of Europe. "With a range of Ford vehicles that also includes the Focus Electric, as well as fuel-efficient ECOnetic diesel and EcoBoost models, our customers will soon have more options than ever to optimise running costs."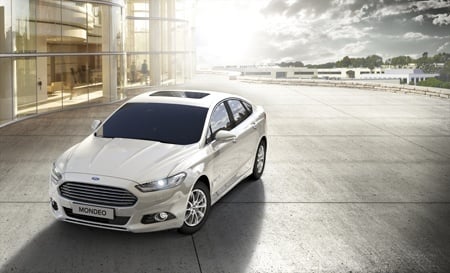 In the U.S., Ford is the second largest manufacturer of hybrids, having already produced a total of 400,000 vehicles since their introduction, but that's over the pond. We are more interested in the fact that the all-new Ford Mondeo Hybrid is available in the UK from December, delivering advanced Ford technology, elegant design and the sophisticated driving experience that customers have come to expect from Ford's flagship.

The all-new Ford Mondeo Hybrid is available in only a four-door version (with other Mondeos also coming in five-door and wagon models in Europe) and is also available with the option of all-wheel-drive. Highlights in a packed series of highlights in the car include Ford's innovative inflatable rear seatbelts, integral link rear suspension, massage function-equipped multi-contour seats with Active Motion and Ford's first adaptive LED headlights in Europe.

These are available on all Mondeo engine models, including Ford's triple International Engine of the Year award-winning 1.0-litre EcoBoost petrol engine, but the new Ford Mondeo Hybrid does contain: an inverter system controller, Electric AC compressor, 2.0 litre Atkinson-Cycle Petrol Engine, electric water pumps and electric power steering, Hybrid transmission, regenerative braking, an electric Vacuum pump, and an advanced Lithium-ion Battery Pack.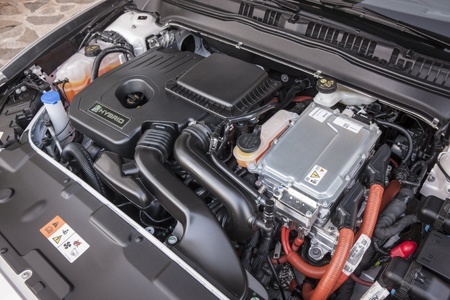 The Mondeo Hybrid can reach up to 85mph in electric mode, and when it works in tandem with the specially-developed 2.0-litre Atkinson cycle petrol engine, the car is able to deliver 187PS with 67.3mpg and 99g/km CO2. And all this can be monitored using Ford's Smartgauge interface along with management of fuel and energy consumption, along with features that include "Brake Coach" that encourages gradual braking to help return more energy to the battery.

"The Mondeo's petrol-electric hybrid powertrain means the driver does not need to do anything differently from a regular petrol or diesel vehicle. They start it the same way. They fuel it in the same way. They drive it the same way," said Thomas Zenner, supervisor, Electrification Engineering, Ford of Europe. "The only thing customers might want to learn is how to maximise their fuel economy by modifying their driving habits – and with Smartgauge we've given them the tools to do that."

And now it is in production you'll be able to test all this yourself.