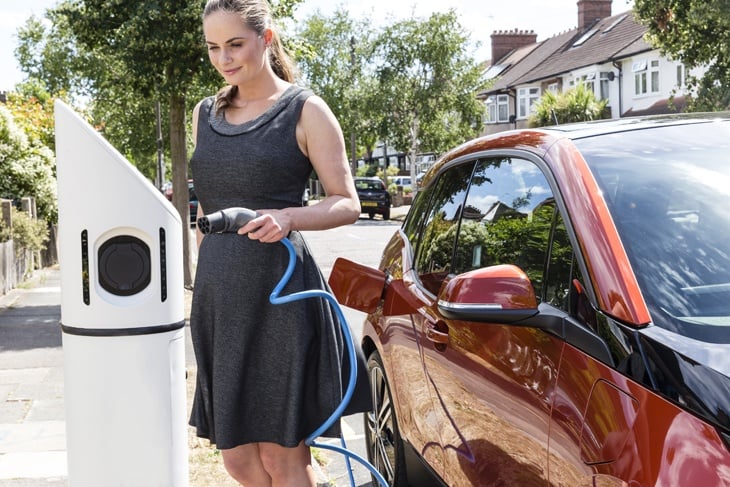 The electric car revolution is upon us. As of July 2023, the number of electric vehicles on UK roads exceeds 2.3 million.* And as we hurtle towards net zero, that number will only grow as more drivers embrace electric.
But despite skyrocketing sales and bountiful benefits, many are still hesitant to lease an electric car. Maybe you're one of them. Maybe you require a little more convincing.
The benefits of an electric car speak for themselves, but they're often subject to misinformation and hyperbole, making it difficult to know what to believe.
That's where we come in.
So, let's bust some myths and explore why you lease an electric vehicle.
*Stats from GOV.UK
1. They're better for the environment
This one's a no-brainer. Electric cars don't emit the type of noxious fumes that pollute the air, damage plant life, and even destroy animal habitats. (Our lungs don't like them either.)
You see, petrol and diesel engines spew out carbon monoxide, hydrocarbons, particulate matter, and all sorts of other nasty stuff. By leasing an electric car, you're playing an active role in slashing air pollution.
What's more, EV charging stations (which are everywhere now) can be powered by renewable energy like wind, hydro, and solar. Meaning? As oil and diesel reserves continue to dwindle, you'll still be on the road.
So far, so environmentally friendly. But how does leasing an electric vehicle impact your budget? Well, there's good news on that front, too.
2. They're cheaper to run
Electricity is cheaper than petrol. This you know. It's also less subject to the type of jaw-dropping price fluctuations we've seen in recent years.
Electric vehicles may take slightly longer to charge than a petrol tank does to fill, but the difference to your budget is worth it. It's just a matter of planning and using downtime to charge your car. You could make a habit of charging the car at regular intervals each week; it'll be habit before you know it.
Generally speaking, the cost-per-mile to fuel an electric vehicle is 33 – 25% cheaper than petrol and diesel alternatives. And with the surge in charging stations on car parks, it's easier than ever to charge your car while you run errands.
And that's in addition to home charging kits, which allow you to charge your car overnight, as you would your mobile phone.
3. They're cooler (and quieter)
Ever sat in your car on a blazing summer's day, feeling as though you'll melt at any given moment? (Usually in a traffic jam.)
Well, leasing an electric car can improve your life here too. The batteries and motors in EVs are more streamlined and efficient, meaning they generate significantly less heat.
They also don't have exhaust pipes, banishing the scorching metal that sits beneath petrol and diesel cars, growing hotter the longer you sit in traffic.
They're naturally more discreet too. Why, you ask? Well, electric vehicles don't require the mess of pulsing pistons that combustion engines do, dramatically reducing the ambient noise on your morning commute.
4. They're cheaper to maintain
Picture it. A mechanic is slowly walking towards you, cleaning his hands on an oily rag. You smile, as if trying to coax good news out of him. It doesn't come. There's some minor (yet expensive) issue with your fuel line.
Not so for electric cars. They don't have exhaust systems. They don't have fuel lines. They don't require oil changes.
And with less to go wrong engine-wise, you can concentrate on safety requirements such as tyre inflation and care, which is much easier on the monthly budget.
But your car isn't just a practical thing. Style matters too. Leading us neatly into our final reason to lease an electric car.
5. They're stylish and fun to drive
On average, you'll spend 4.5 years in your car. You deserve to do so in style.
Your car is an extension of your personality. It reveals who you are. It can't not; we're psychologically hardwired to choose cars that suit us aesthetically, just as we do with clothes.
Electric car design has evolved to suit a range of tastes. From quirky city cars to luxurious saloons, there's an EV for everyone. But they all have something in common. That sleek, futuristic sheen that we've come to associate with EVs.
And that dynamic style translates on the road. Driving an electric vehicle is a smooth experience. The acceleration is immediate and powerful. The high torque tightly grips the road, making cornering effortless.

The immediate response brings its own pluses, such as easier merging into traffic and quicker 'get-off' when entering a roundabout, because all the car's power is available at the touch of a pedal.
If you're eager to fall in love with driving again, an electric car is for you. (You'll even score points on your neighbours as you surge ahead of them in the electric vehicle revolution.)

So, is an electric car worth it? Well, they're cheaper, quieter, and more environmentally friendly. You do the maths. And as carmakers turn their attention to EVs, drivers are spoiled for choice.
From iconic SUVs like the SMART #1 and the Polestar 3 to newcomers such as the Hyundai IONIQ 5 and the TESLA Model 3, there's an option for anyone eager to lower their emissions in style and comfort.

Looking for more electric car inspiration? Check out our other electric vehicle blogs, including insights on charging your car and the costs of owning an electric car.
For more information on leasing an electric vehicle from Nationwide Vehicle Contracts, contact one of our Customer Representatives.