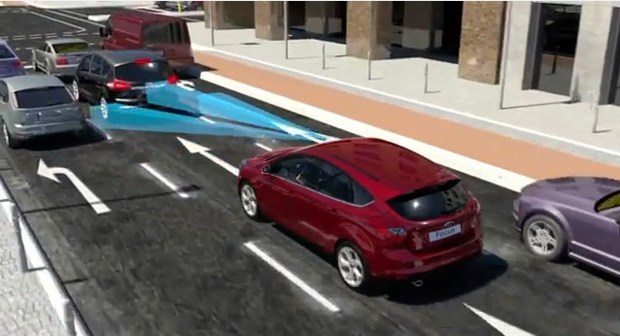 PARIS RUSH HOUR TRAFFIC
If you drive in rush hour traffic and face all the stresses and strains that that entails, think yourself lucky that you don't commute on the roads of Paris as with the French capital carrying a reputation as one of the most stressful places to drive in Europe.
Which makes it pretty much the perfect place for Ford to test out its automatic braking technology, Active City Stop, having passed the exhaustive tests that computers and closed track journeys can offer.
So it off to Paris with its bumper-to-bumper traffic, dangerous junctions and drivers pushing through the narrowest gaps, as Nils Gerber, technical expert, Electrical and Electronic Systems Engineering, Ford of Europe explains:
"Paris streets are not for the faint-hearted, with multiple lanes of fast-moving traffic competing for space, and busy junctions testing the nerves of even skilled drivers. We knew these streets would be perfect to help test Active City Stop in conditions that are simply not possible to replicate on the test track."
ACTIVE CITY STOP
Part of the reason for this testing is that there is an advanced version of Active City Stop making its full debut in a Ford shirt on the new Ford Focus going on sale in Europe later this year.
Working at speeds of up to 30mph, Active City Stop uses light detecting and ranging sensors to scan the road ahead 50 times every second, and collecting the information from these scans. This information is internally computed in double-quick time to allow the system to help reduce the severity of rear-end collisions, and in some cases even prevent an accident entirely, by applying brakes if the driver does not react in time to traffic that is slowing or stopped ahead. The system also reduces engine torque and activates the rear hazard lights to warn others behind the car.
THE PARIS MATCH
During the recently completed test, Ford used professional drivers with local knowledge to drive the vehicles used along the busy Paris streets that were ranked by the TomTom traffic index for Europe as being amongst the 10 most congested in Europe; streets that include notorious junctions like the Place de l'Etoile at the Arc de Triomphe, where 12 major avenues converge.
Throughout the tests, the Active City Stop automatic braking function was disabled, but Ford engineers were able to monitor the system to see when it would have used and to ensure the brakes were only triggered when there was a risk of rear-end collisions.
Pascal Houssais, a professional chauffeur, one of the drivers who took part in the test said: "Drivers can be very unpredictable, changing lanes without any warning, and people are always in a hurry. Paris is a very good place for this kind of test – you encounter all kinds of driving situations."
This Paris Match allowed Ford engineers to cover almost 2,500 miles in five days using the Ford Mondeo and Tourneo Connect prototypes during what were considered peak traffic conditions, and these tests enabled the team to sign off the system as production ready for each model.
The new Ford Focus will be all the better for the introduction of Active City Stop; but that's not all that the Ford Focus will be equipped with as the new model will also introduce some more advanced technology for safer and less stressful parking.
New technology to feature on the new Ford Focus will include; Perpendicular Parking to help drivers reverse hands-free into spaces alongside other cars; Cross Traffic Alert to warn drivers reversing out of a parking space of approaching or nearby vehicles; and Park-Out Assist will helps drivers exit a parallel parking space.
In fact, if we look further into the future we will see that Ford researchers are in the process of developing a Fully Assisted Parking Aid that could enable drivers to park with only the push of a button from inside or outside of their cars well as looking at car-to-car and car-to-infrastructure communication that includes an Electronic Emergency Brake Light that could alert drivers even around corners and through traffic.
Ford cars: safe as the proverbial houses. Browse our latest range of Ford cars and have a look at the offers we have available.