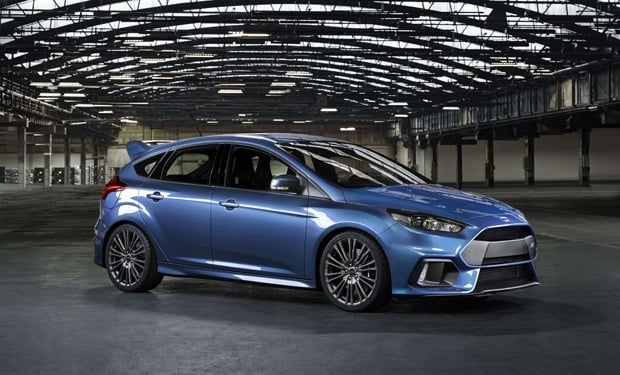 Ford have debuted their innovative Ford Performance All-Wheel-Drive with the all-new Focus RS, a high-performance road car equipped with a special 2.3-litre EcoBoost engine that offers up class-leading cornering speed, thrilling performance and (needless to say) unbridled driving enjoyment.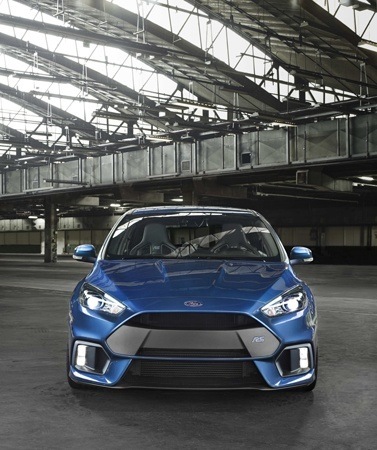 Part of the company's One Ford plan for profitable growth, product excellence and innovation in every part of its business, the new Focus RS is designed to be the very first of 12 new performance vehicles that they are aiming to deliver in the next 5 years.
"The all-new Focus RS is a serious machine with high-performance technology and innovative engineering that sets a new benchmark for driving exhilaration on the road and track," said Raj Nair, group vice president, Global Product Development, Ford Motor Company. "The RS line has a proud history of technical breakthroughs that have migrated to mainstream Fords to benefit all of our customers, and the new Focus RS is no exception. It's a great example of our passion for innovation through performance and creating vehicles that make people's hearts pound."
The new Ford Focus RS was developed by a small team of Ford Performance engineers in Europe and US and is the 3rd generation of Focus RS cars, and the 30th car to wear the legendary RS badge, following some of the most iconic and trendsetting vehicles as the 16-valve 1970 Escort RS1600, the turbocharged Sierra RS Cosworth of 1985, and the four-wheel-drive 1992 Escort RS Cosworth.
"The new Focus RS represents Ford at its passionate best – delivering innovation, unmatched driving dynamics and stunning performance that was previously the sole province of high-priced performance luxury marques and exotics," said Jim Farley, president, Ford of Europe, Middle East and Africa. "We are acutely aware of the benchmarks we have set ourselves with RS performance models through the years, and rest assured that this new car raises the game to a new level.
"Just as important is the fact that with technologies such as EcoBoost, we are able to demonstrate how an innovation that powers almost every car in our range can also be the heartbeat of our finest performance cars."
Innovative Ford Performance All-Wheel-Drive
The all-new Focus RS is one of the first cars to feature Ford's innovative new Ford Performance All-Wheel-Drive (AWD) with Dynamic Torque Vectoring to make sure that the car can boast a new level of handling capability that combines outstanding traction and grip with unmatched agility and cornering speed.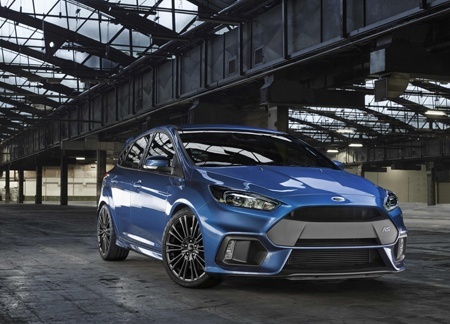 Based on twin electronically-controlled clutch packs positioned on each side of the rear drive unit that manage the car's front/rear torque split, the packs can also control the side-to-side torque distribution on the rear axle to deliver that handling and cornering stability.
By tuning the AWD system to deliver exceptional grip, the Focus RS has no trouble at all in delivering some class-leading cornering speed and acceleration as it comes out of a bend with safety concerns alleviated by the ability to achieve controlled oversteer drifts; making sure that the car can deliver the ultimate fun-to-drive experience.
"This AWD system is a breakthrough technology, capable of delivering supreme cornering and handling at the limit," said Dave Pericak, director, Global Ford Performance. "We have ripped up the rulebook which says that AWD hatchbacks cannot be fun to drive, and have created a car which will surprise and reward in equal measure."
It's not just the torque-vectoring AWD that is a contributor to the performance of the new Focus RS; there's also the sports suspension with spring rates, updated bushes and anti-roll-bars, two-mode switchable dampers, and a carefully carefully tuned electric power-assisted steering system (EPAS).
"The Focus ST and Fiesta ST showed that we can achieve sporty steering feel with an EPAS system, and the RS raises the bar. We set out to provide keen drivers with steering which is very direct, precise and well balanced – and the RS delivers," Pericak added.
Obviously all that technology in the making of the car is very important when it comes the cornering and on-road performance, but then you also have to make sure that the aerodynamics are right (They are - and the Focus RS delivers a balanced performance with zero lift front and rear for optimum high-speed handling and stability) and the tyres are capable of dealing with everything that is thrown at them (They are; developed with Michelin, the high-performance 235/35 R19 tyres are those tyres.)
Unique powertrain
Nearly every new Ford vehicle features Ford's EcoBoost technology, and the new Focus RS is no different with the specially engineered 2.3-litre EcoBoost engine offering levels of power and torque well in excess of 320PS that mean some particularly impressive acceleration when it is combined with the exceptional AWD traction.
The all-aluminium four-cylinder 2.3-litre engine has been significantly upgraded with a new low-inertia twin-scroll turbocharger with larger compressor, a less restrictive intake design, a large-bore high performance exhaust system and a cylinder head produced from an upgraded alloy material that can withstand the higher temperatures that are going to be produced with high performance - amongst many other refinements.
The power unit delivers can climb to a free-revving top-end up to a maximum rev limit of 6,800 rpm, and watchers of the new Focus RS will be in no doubt as to the performance of the car as the Ford Performance engineers have tuned the RS to deliver a rewarding and sporty sound character with the distinctive burbles, pops and crackles that are a RS signature.
"This very special 2.3-litre EcoBoost unit will inspire drivers as they feel the surge of the turbo, and reward them as they take it to the red line – all delivered with a stirring sound guaranteed to put a smile on your face," says Dave Pericak.
With a six-speed manual transmission and an upgraded transmission and clutch, the high-efficiency EcoBoost engine features Auto-Start-Stop fitted as standard, direct fuel injection, twin independent variable camshaft timing and advanced turbocharging, meaning that fuel consumption figures will be dramatically improved from the previous model, as will the CO2 emissions figure.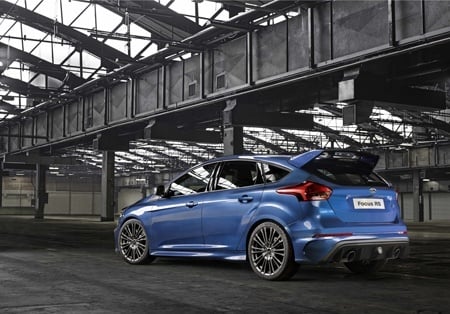 High-performance design
As you can see, the new Focus RS is an impressive design.
"This is the ultimate Focus – stunning to look at, and entirely fit for purpose," said Joel Piaskowski, director, Design, Ford of Europe. "RS models have always been striking, high-performance cars where function is paramount. This new Focus RS is true to that heritage."
The car is has a great base in the new Focus, but the RS features a powerful new front-end with a bold upper trapezoidal grille above the deep front splitter, lower wings and large outboard openings on each side, and vertically-mounted fog lamps.
At the back, the car's image is dominated by the exceptionally large diffuser, twin round high-performance exhaust outlets and clear central fog lamp, with the distinctive rear roof spoiler carefully integrated with the car's silhouette through body-coloured side panels featuring a subtle embossed RS logo.
Multi-spoke 19" RS alloy wheels and standard Bi-Xenon HID headlamps with Adaptive Front Lighting merely ice the cake when it comes to the sight that meets anyone looking at the car.
Inside, the high-performance character of the RS is most certainly reflected with heavily-bolstered partial-leather Recaro sports seats as the centrepiece along with a new flat-bottomed steering wheel with a soft-feel leather covered rim. Throughout the cabin, the distinctive blue RS theme is echoed through stitching on the seats, steering wheel, floor mats and interior trim, the coloured graphic on the gear shifter, and via the RS logo itself, proudly displayed on the seats, steering wheel and door scuff plates.
The control layout is in keeping with the redesigned Focus as it is simple and more intuitive with SYNC connectivity providing access to audio, navigation, climate control and mobile phones via voice control, and via a high-definition, 8" colour touchscreen, a set of unique instrument graphics within the main cluster and an additional bank of gauges above the centre console that display turbocharger boost pressure, oil temperature and oil pressure.
The new Focus RS is available in four striking exterior colours: Nitrous Blue (a vibrant four-coat metallic finish that is exclusive to the RS), Stealth Grey, Absolute Black and Frozen White.
Looking at the photos here, you can see that the all-new Ford Focus RS is a car that a lot of people will have their eye on; but let's leave the last word to Joe Bakaj, vice president, Product Development, Ford of Europe: "The all-new Focus RS is true to the core RS principles of innovative engineering and high performance. Driving enthusiasts have always aspired to own RS vehicles, and this is a heritage that inspires everyone within Ford."