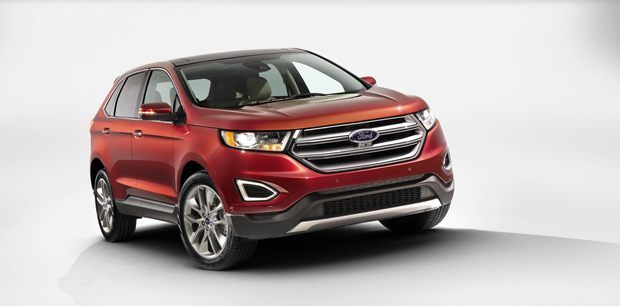 Making the move across the Atlantic into Europe in 2015 will be the new Ford Edge, a high tech smart utility vehicle that was first launched in North America back in 2007 and in 2013 achieved record sales there before being available in South America, Russia and eastern Asia, including China.
It's all part of Ford's expansion plan for their SUV range as they move into Europe with the Ford Edge joining the new Kuga medium-sized SUV and the all-new EcoSport small SUV into new markets.
"We are leveraging our One Ford portfolio to offer a broader range of products to our customers in Europe. This year we have already launched EcoSport, with new Mondeo and Focus on the way,"
said Stephen Odell, president, Ford of Europe, Middle East and Africa.
"Next year, we will launch all-new Edge, new Mustang for the first time in Europe – as well as our Vignale range."
The all-new Ford Edge allows Ford to move into a new segment in Europe just after the updated, refined, technologically advanced and spacious SUV goes 'live' in USA early next year, complete with its four-door, five-seat configuration and fun-to-drive DNA.
"The all-new Edge will deliver more room for passengers than large competitor SUVs that cost considerably more. The styling and suite of comfort, convenience and safety technologies in Edge rival the premium offerings in Europe."
said Roelant de Waard, vice president, Marketing, Sales & Service, Ford of Europe.
So what's the Ford Edge 2015 got in the way of Advanced Technology?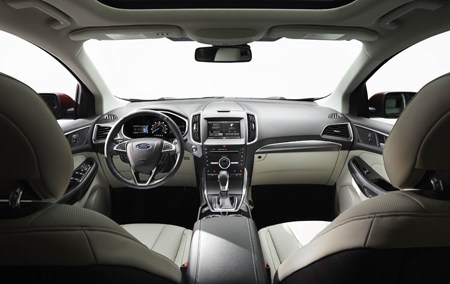 In a word: PLENTY
For a kick-off there is Adaptive Steering, which constantly checks vehicle speed and changes the steering ratio to make the Ford Edge a lot easier to move about – and a lot more fun to drive – as it makes the whole car a lot easier to turn. For example; when you are pulling into a parking space or attempting manoeuvres in tight areas at low speeds, the Adaptive Steering gives the Ford Edge that little extra bit of agility so that reaction times just seem that little bit quicker and more precise on your part – useful also at high speeds on motorways and dual carriageways!
Also, when it comes to those parking space movements with restricted visibility (and other driving blackspots such as difficult junctions sightings), the Ford Edge has the edge too thanks to its Front Split View Camera that is actually a piece of technology installed as a 180-degree camera system installed at the front of the vehicle so that these 'problems' are viewable and therefore eradicated.
Then there is the Active Noise Cancellation system from Ford that makes use of the three microphones that Ford have installed in the cabin to generate opposing sound waves that are directed through the audio system to make the engine sound better whilst at the same time making the whole in-cabin driving experience that much better.
And these aren't all. The Ford Edge also has specially designed ducts integrated into the side of the vehicle that help to create an "air curtain" around the car which means that aerodynamically (at speed) the Ford Edge can move that much quicker with less air resistance, a hands-free tailgate, Ford's advanced in-car connectivity and voice control-system SYNC 2, Adaptive Cruise Control with Collision Mitigation and Forward Alert, Enhanced Active Park Assist with Perpendicular Parking and Cross Traffic Alert, Inflatable Rear Seatbelts, Intelligent All Wheel Drive with Torque Vectoring Control and Curve Control, Active City Stop, a Blind Spot Information System, a Lane Keeping Aid, Traffic Sign Recognition, a heated steering wheel and heated-and-cooled front seats.
In fact, almost every technological advancement that cars have seen when it comes to driver aid in the past few years – all crammed into the new Ford Edge.
Does the Ford Edge look any different to other SUVs?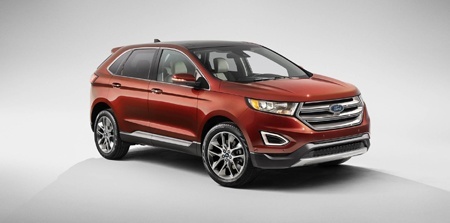 To be entirely honest; not really.
It looks like an SUV, it looks like a Ford – and that's because it is a Ford SUV! But that should be a good thing in your mind because both materials and visual design quality are inherent in the Ford production ethos; and the Ford Edge is no different.
The design team at Ford have worked hard on the new Ford Edge – and it shows – with a visual impact that gives you a little whistle as you see it for the first time with its prominent chrome grille, thin and chiselled front LED headlamps, three-dimensional blade shape rear LED tail lamps, and 20" alloy wheels.
The design of the car works well with the actual construction of it with the sophisticated body structure and suspension system absorbing and masking any road imperfections and noise on the UK roads (and there is plenty of that!) without compromising the handling of the Ford Edge, with the integral-link, independent rear suspension making sure that the whole driving experience is safe, dynamic, engaging and smooth.
The whole body structure has been created by using high-strength steel to make it all more solid – and you needn't worry about all that outside noise because once inside the car, the acoustic glass will give you peace and tranquillity (if you want.)
So what will be available when we finally get to see the new Ford Edge in the way of power?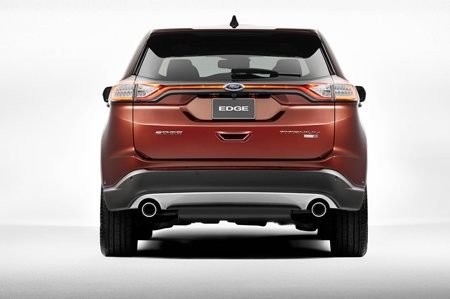 When the Ford Edge drives onto European shores next year, we will see two versions of Ford's 2.0-litre Duratorq TDCi diesel engine: a 180 PS version with 6-speed transmission that delivers 400 Nm of torque and a projected 149 g/km CO2, and a 210 PS version with 6-speed PowerShift automatic and paddle-shift controls that produces 450 Nm of torque and a projected 159 g/km CO2.
"We are delivering a truly technologically advanced SUV that can meet and exceed expectations in this growing segment, and complement new Kuga and all-new EcoSport to offer a complete SUV range," says Roelant de Waard. "Over the past few years we have seen a dramatic shift among customers from cars to SUVs around the world. The time is right for a larger, more upscale SUV at the top of our European line-up."