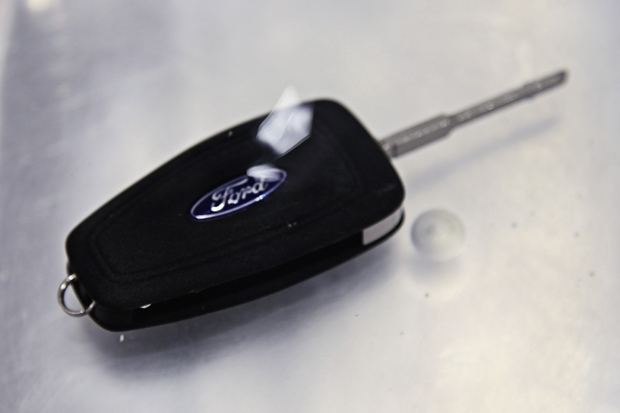 Vans are tough cookies, and we expect them to withstand the rigours of everyday work life, but maybe that isn't so for the electronic devices that we have grown to rely on - including the ignition key!
It's not something that we think of, really. But the ignition key gets used every day, and often many times in that day, just as we use smartphones, tablets and laptops. But these three items are often consigned to the scrapheap after only a few years, victims to the weather, rough treatment and constant use - not to mention technological advancements.
But that ignition key has to last us for years, way beyond that of other daily devices, as we make our way through work life constantly, so Ford has introduced a super-tough new version designed to last a lifetime in the hands of the most demanding drivers.
The key – developed for use with Transit and Transit Custom vans – has been thoroughly tested by Ford researchers; so much so that they claim that it could survive being submerged underwater for 30 minutes, dropped 50 times onto a concrete floor and being exposed to temperatures from 60deg C to – 20deg C.
"Our customers want a key which can tackle the hard knocks of construction sites and city deliveries, and keep coming back for more," said Jonathan Allan, electrical engineering supervisor, Ford of Europe. "While a mobile phone can sometimes let you down, Ford has ensured that Transit drivers have a key which is just as rugged as their vehicle."
To the casual 'glancer', the key fob looks like any other ignition key, featuring the usual keypad to lock the vehicle and a flip-style key blade. But then the toughness technology kicks in.
To ensure it is completely waterproof, it is permanently sealed shut, with the two halves of the plastic housing joined by friction welding. Inside the key you'll find that there is careful construction to make sure that it can resist typical workplace impacts, and a rechargeable battery cell that charges whenever the key is placed in the ignition, thereby making sure that it never runs out of charge.
The shockproof key is the latest generation of a design which has been refined and developed with 10 years of feedback from Transit customers, and tests have been carried out over the years that have included testing the key for:
Temperature changes by using climatic chambers in temperatures simulating everything from desert heat to arctic cold
Humidity levels of up to 100%
Dust resistance by leaving the key for five hours surrounded by a fine, penetrating dust
Chemical resistance by continuously exposing the key to diesel, petrol, ethanol, detergents and sweat for up to 96 hours
Pocket simulation with a test that involved four hours non-stop vibration with coins and other keys
Button durability with 10 button presses at 12 times the usual force
Endurance by activating it 100,000 times in all temperatures as detailed above ranging from 50deg C to -10deg C
Ford's new Transit and Transit Custom commercial vehicles are available to lease from Nationwide Vehicle Contracts, powered by the all-new 2.0-litre Ford EcoBlue diesel engine which offers improved cost of ownership and performance, with fuel consumption reduced by up to 13% compared with the previous model.
Contact one of our Customer Service Representatives for more details.