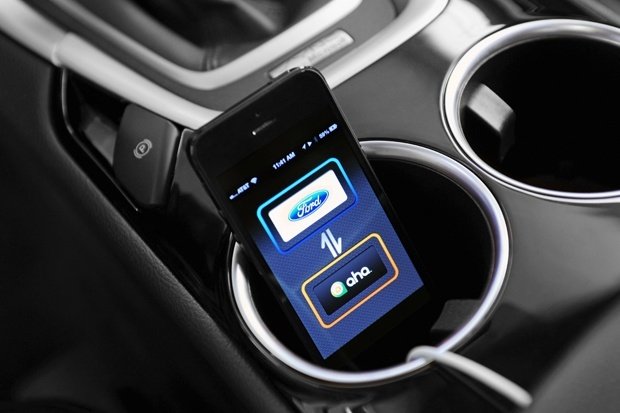 Connectivity on the move is a bit of a grey area when it comes to whether or not it is something that should be done whilst driving. With legal fines in place for using a phone whilst driving, how long will it be before use of on-board touchscreen connecting devices becomes illegal due to safety concerns? After all, whilst touching a screen and concentrating on what is on it, eyes aren't being kept on the road.
So this is why companies such as Ford are continually investigating technology that enables safe use of social media and the like whilst on the road.
And having already released their own SYNC AppLink Connectivity system that is available on models such as the Ford EcoSport, Ford Focus, Ford C-MAX, Ford Kuga, Ford Fiesta and Ford B-MAX, they have announced the development of a new app for the system that allows you to get updates from networks, including Twitter, Facebook and LinkedIn, and to control responses via your voice.
Ford's SYNC AppLink technology
First introduced in Europe in 2013 Ford SYNC with AppLink connects the driver with their smartphone apps through voice commands, helping to support "the Ford principle that drivers 'keep their hands on the wheel and eyes on the road'". AppLink itself is an upgraded version of the Ford SYNC technology, that allows the driver to stream internet radio and listen to news and tweets through the vehicle sound system, as well as much more - even to the extent that they can control artists or playlists from their music selection, chose an address to navigate to, or have their emails or text messages read out aloud, simply via some simple voice commands.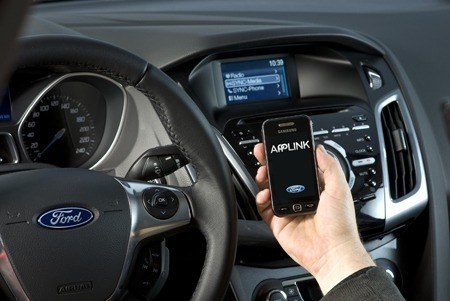 Ford SYNC with AppLink is available for Android and Apple smartphones, with the applications available through iTunes App Store and Google Play, with a full list of Smartphone apps - that includes Audioteka, AUPEO!, Cityseeker by Wcities, Cyclops, Eventseeker by Wcities, Glympse, Goal Live Scores, Radioplayer, Roald Dahl Audiobooks and Spotify - available here.
The Ford SYNC AppLink technology was launched back in 2013 in response to a requirement from drivers who needed (or wanted) to be kept up to date with media at the touch of a button - with social media top of the list And this requirement has been borne out by a 2015 Reuters Institute Digital News Report that showed that those aged 44 and under are most likely to get news online, including from social media. Indeed, Statista has revealed that by 2018, around one-in-three people worldwide will be using social media.
Don Butler, executive director, Connected Vehicle and Services, Ford Motor Company explains the thinking behind both the creation of Ford SYNC AppLink and the new app: "For many people today, social media is fundamental to staying up-to-date and informed. From a reminder that it's a friend's birthday, to hearing the minute your football team scores a goal, to breaking news, social media is part of the fabric of modern life. By adding further news and personal communications, we are helping to ensure customers can stay seamlessly connected throughout their day in a safe and stress-free way."
The Meople.Connector app
The Meople.Connector app that will be introduced to Ford's connectivity system SYNC AppLink to enable drivers to use voice-control to listen to messages from social media sites is Meople's first AppLink-enabled social media app for SYNC, and will be available for both iOS and Android devices,.
Gizmag describes Meople as "an existing a social media aggregator service, launched in 2012, that can be used to pull together content from sites like Facebook, Twitter, Instagram, Tumblr, Foursquare, YouTube, LinkedIn and Google+ into one stream for more efficient consumption," and Ford "worked very closely with Meople.Net to develop an experience that would allow drivers to stay connected while ensuring they remain focused on the road ahead."
How it works is; After drivers are alerted to any received messages, they can then use voice commands to "Read", "Answer", or "Skip", the message. If they choose to respond to the message, they can do this by using pre-recorded customised messages. And if you are concerned about the number of notifications that you may receive whilst driving, drivers are able to select how often updates are received.
And they can also use the app to send their current location to friends, family and colleagues.
Based in California, Meople have made the app available in English, French, German, Italian, Spanish and Russian, and founder Dzmitry Markovich explains why he believes that the new App could prove invaluable to the Ford driving community: "Social [media] has triggered a game-changing communications shift, with more and more people using networks to communicate. But people can't be on every site at once, especially when driving. Meople.Connector enables drivers to access and respond to social communications with the same ease as making phone calls and sending text messages."
Ford have just been showing off their apps in Dublin at Web Summit, one of the world's leading technology conferences, with Ford Executive Chairman Bill Ford speaking at the event as well as meeting with developers to discuss his vision for the future of mobility and how technology will make people's lives better.
For us all, it's a matter of convenience and a matter of safety. And the more safety-first technology that can be developed, the better it will be for the future.