FOLLOWING A LONG LINE OF MUSTANG MOVIE STARS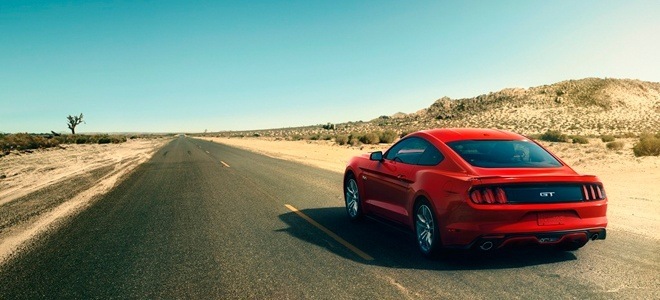 The Ford Mustang has made over 3,200 appearances in films on both big and small screen over nearly 50 years – in all its many guises – so it's no real surprise that the all-new Mustang (complete with new design and new turbocharged EcoBoost® 2.3-litre and 5.0-litre V8 engine options offering more than 426 PS) is making a welcome return to the silver screen in "Need For Speed" which debuts in the USA in March.
"I chose Mustang because it is a car that really represents American culture," said Need for Speed director Scott Waugh. "It just represents modern muscle, and it's iconic, having been in some of the greatest car chase movies of all time."
The film is based on the long-running series of EA video games (of which there have been 20 since the first game in 1994) and will star Aaron Paul (one of the stars of TV phenomenon 'Breaking Bad') who will be driving the custom 2014 Mustang hero car, and it is Paul who will take the wheel of the next-generation Mustang in its first on-screen appearance as well.
"On-screen or on the road, the sight and sound of Mustang has been inspiring fans for nearly five decades," said Jim Farley, Ford executive vice president, global marketing, sales and service and Lincoln. "The feeling of optimism and being in control that Mustang's world-class power and performance provide is a perfect match for Aaron Paul's character in Need for Speed."
According to all the promotional blurb about the film, and watching the trailer from it, it looks like the makers have tried to return to the halcyon film days of the great car culture films of the 1960s and '70s, making the American myth of the open road once again a reality.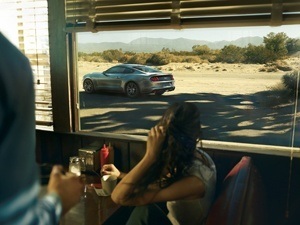 In the film, Aaron Paul plays a blue-collar mechanic called Tobey Marshall who races muscle cars in an unsanctioned street-racing circuit on the side who partners up with a wealthy and arrogant ex-NASCAR driver (Dino) played by Dominic Cooper to try and keep his business afloat. But it all goes wrong and Tobey gets framed by Dino and sent to prison for a crime he didn't commit.
Two years later, Tobey is released and set on revenge – but by beating him in the high-stakes race known as De Leon – the Super Bowl of underground racing. Getting there on time means "a high-octane, action-packed gauntlet that includes dodging pursuing cops coast-to-coast as well as contending with a dangerous bounty Dino has put out on his car." You can guess the final result!
But the film looks good (if that's your sort of thing!) and the car looks great, continuing the legacy started in 1964 with an original Mustang, and continued with the appearance of a Wimbledon white 1965 convertible in the James Bond film 'Goldfinger'.
Five decades on and 3,200 film later, the list of films that feature the automotive and cultural icon that is the Mustang continues to grow.
If you already have the video game (Does the word video sound outdated or is that just me?) you will already have access to virtual drives of the new Mustang courtesy of the free in-game download that came with EA's Need for Speed™ Rivals released in December – and those Mustangs can also be customised!
The real ones can too, but they cost a lot more; so probably best to watch it on the big screen.