Not bouncing down stairs and blowing doors off but making the same sort of splash, Ford has unveiled the new Ford S-Max Vignale Concept as they continue to search for the upmarket product that European customers are searching for – and where better to show off style than in the Italian city of Milan.
Last year, Ford introduced the Ford Mondeo Vignale Concept ( a production version of which will be available next year), and the new Ford S-MAX Vignale Concept is no less impressive with its premium design, craftsmanship, and exclusive specification; as Martin Smith, executive director, Design, Ford of Europe, gushes about.
"Spacious and aspirational, the S-MAX Vignale Concept goes beyond traditional automotive design and speaks to customers who value aesthetics. Our Vignale designers were inspired by trends from furniture to fashion to create this new expression of Ford."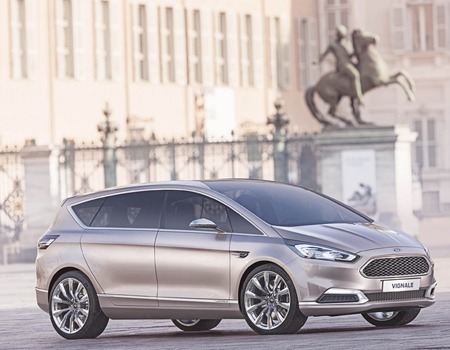 If you needed any further evidence of the (up)market the Ford is aiming for with the S-MAX Vignale, then the fact that the car was unveiled at the Salone del Mobile, the world's leading furniture design expo in Milan should speak volumes, especially as tied in with the car is a "Vignale Lounge" retail experience that will be rolled out in select Ford retailers throughout Europe featuring a Vignale lifestyle collection, including a bespoke travel bag that was awarded an iF Design award, a dedicated relationship manager, as well as VIP collection and delivery services.
All will be fully revealed in the run-up to the production version of the S-Max Vignale being unleashed in 2015.
UNIQUE
With Ford being more famous for the everyday car, it's the quality of the product that is unique about the new S-MAX Vignale Concept. The 21-inch Vignale alloy wheels with fine detailing and high quality finish may just give you a warm and fuzzy feeling, but it's the little touches like the jewellery-like appliques and chrome mirror caps, distinctive hexagonal Vignale grille design, unique "Milano Grigio" paint colour and "exclusive Vignale-embossed seating with hexagonal quilting and high-quality and soft-touch leather enhanced with woven texture-embossed aluminium detailing" that are likely to blow your (probably silk) socks off..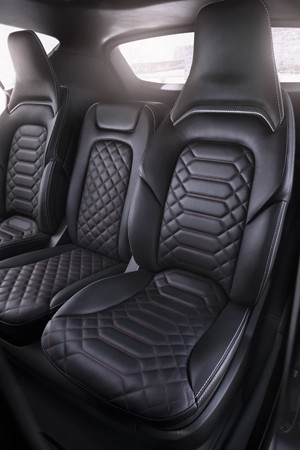 It would be a shock if the technology in the car wasn't up to scratch with today's trends and requirements, so there are no surprises there with advanced car-to-car communications, tablet device-docking stations for second row seats and an intelligent flexible seating concept with thin seat technology just three of the technological wonders available inside the luxury that is the S-Max Vignale.
And the only shock that anyone is going to get from the outside is just how classy the car looks with its sharply styled, sleek exterior, characteristic profile and dynamic roof arc dressed in the exclusive to the Vignale "Milano Grigio" pearlescent jewel-like colour that, according to all the hype surrounding the car, is "directly influenced by rose metallic tones evident in furniture and fashion designs on display at Salone del Mobile."
"We can see from the designs around us at Salone del Mobile and Milan Design Week that modern luxury does not need to be loud," said Stefan Lamm, exterior design director, Ford of Europe. "Lighter tones and careful application of detailing have helped us deliver a level of sophistication Ford customers have not seen before."
TAILORING
That is exactly what I am on about – the exclusivity and shock factor to not only people looking at the S-Max Vignale but to the drivers themselves – because it is a Ford.
Inside the car the feeling is in tune to current menswear trends with lights and darks mixing to create that feeling of style that transmits to the driver. This is no ordinary Ford.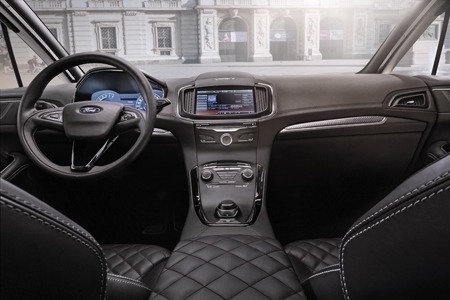 Sleek, contemporary lines and hand-stitched pearlescent leathers cross the car's interior as if they have always lived there, and the leather extends from the dashboard and instrument panel right to the rear luggage compartment in a single colour to give the whole inside a lounge-like feel.
And interspersed amongst all this leather are metallic textures in aluminium and hexagonal quilting on the seats with "tone-on-tone" stitching with thick dark red thread highlighting the seat centres.
I am the last person to talk about style and trends in men's fashion and in furniture styling, but Sonja Vandenberk, chief designer, Colour and Material, Ford of Europe, isn't. "The tonal connections and the quality of craftsmanship and detailing inject a sense of tradition into the S MAX Vignale Concept," she said. "The design language itself is on the cusp of the latest fashion and furniture trends, reflecting inspirations in terms of fabrics, leathers, colours and detailing."
THE CUSTOMER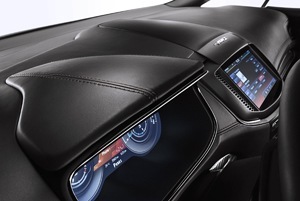 Incredibly enough, despite its reputation for supplying a large proportion of the world with everyday cars, Ford say that half of its large cars are sold in high series specification; and that 10% to 15% percent of customers want an even higher level of specification and customer service – hence the arrival of cars such as the S-Max Vignale Concept and the forthcoming Mondeo Vignale.
"We know that many customers are looking for a Ford that's more exclusive and upscale than we currently offer in Europe," said Roelant de Waard, vice president, Marketing, Sales and Service, Ford of Europe. "The other key trend is the desire for a more memorable and personalised ownership experience that is tailored to individuals and respects their time. Vignale will meet these needs in a fresh way."
Roelant is talking there about "Vignale Lounges" in select Ford dealerships, mostly in metropolitan locations, where staff will be providing a personalised service in stimulating, secluded environments so that drivers can sample exclusive materials and colours and discover exciting features and technologies.
The S-Max Vignale is due to go into production in early 2015.