Awards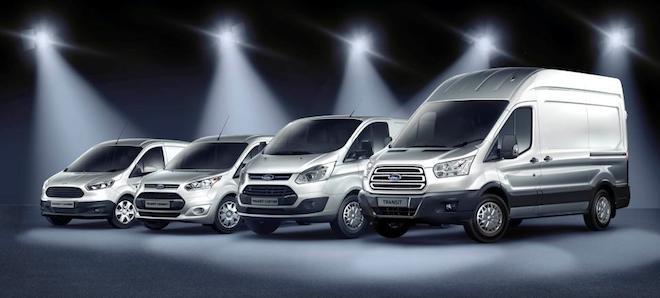 Ford's commercial vehicle range has been one of the most successful collections of cars ever produced. Carefully tailored to bring consumers exactly what they desire, the company created an identity that synonymous with superior quality and responsive design. Not surprisingly, this precision has earned the company a series of awards. As each recognises the hard work placed in crafting each vehicles, let's take a look and see exactly what they received.
Over several months Ford has won an impressive collection of 25 top awards- more awards than in any other year.  Amongst these included the International Van of the Year 2013 as well as 'van of the year' accolades from VansA2Z, Auto Express and What Van? titles.
Perhaps the most recognised of these vehicles was the Ford Ranger, which was launched in 2011. The range impressed many judges winning three 'best pick-up' awards and overall International Pick-up of the Year in 2013, making it a worthy selection for anyone looking for a good pick-up.
Additionally, the company also claimed two awards for their overall performance, snapping up the 'van manufacturer of the year' from Fleet Van and Van Fleet World publications.
Mark Ovenden, Ford Britain chairman and managing director, recently commented on these wins by saying: "Ford customers have the best-looking, most technologically advanced, fuel-efficient and fit-for-purpose CV range ever to choose from, and this is reflected in our outstanding awards success.
He continued: "On top of the launch investment committed for these new class-leading Transit models, Ford of Britain is investing heavily in its CV sales and aftercare infrastructure in the UK, launching 100 dedicated Transit Centres over the next 12 months."
The full list of their honors is included below:
Transit Custom

International Van of the Year 2013

Vans A2Z Awards – Van of the Year

Vans A2Z Awards – Best Small Panel Van

Vans A2Z Awards – Best Innovation

Trade Van Driver Awards – Best Medium Van

Van Fleet World Honours – Best New Van

Van Fleet World Honours – Best Medium Van

Van Fleet World Honours – Innovation Award
Auto

Express Awards – Van of the Year (inaugural award)

ALD Automotive/Shell FuelSave MPG Marathon - Class 9 Award Transit Custom ECOnetic

Fleet Van Awards – Medium Van of the Year

What Van? Awards – Van of the Year 2014

What Van? Awards – Best Medium Van 2014
Transit

Vans A2Z Awards – Best Minibus (third year running)

National Courier Association Members' Choice Suppliers Awards – Best Light CV up to 7.5t

FN 50 Awards – Most Reliable Van

ACFO Awards – Large Van of the Year (17th time)

Commercial Motor Used Truck of the Year Awards – Winner, 3.5-tonne van category
Transit Connect

ACFO Awards – Small Van of the Year (11th successive time)
Ranger

International Pick-up Award 2013

Trade Van Driver Awards – Best 4x4 Truck

Fleet Van Awards – Pick-up of the Year

What Van? Awards – Best Pick-up 2014
Fiesta Van
Vans A2Z Awards – Best Small Van

ALD Automotive/Shell FuelSave MPG Marathon – Light Van Award - Fiesta Sport Van

What Van? Awards 2014 – Best Small Van
Ford Motor Company

Van Fleet World Honours – Van Manufacturer of the Year

Fleet Van Awards – Manufacturer of the Year