"The all-new Ford Transit Courier will offer van operators best-in-class fuel efficiency and load space when the first models are delivered to customers in early summer."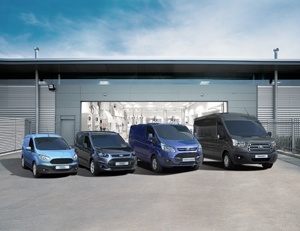 That's the claim from Ford about their first-ever small Transit van as it delivers fuel efficiency across the diesel and petrol engines range that have Auto-Start-Stop of up to 76.3mpg (with the 95PS 1.6-litre Duratorq TDCi engine) and CO2 emissions of 97 g/km with the same engine. The multi-award-winning 1.0-litre EcoBoost engine is also available and offers 54.3mpg and 119g/km CO2, as well as a 75PS 1.5-litre diesel that boasts improvements and better figures than its nearest rivals of 103g/km CO2 and 72.4mpg.
Being a working business van, reliability is right up there when customers are looking for a vehicle , and the good news is that the all-new Transit Courier has been engineered to deliver exceptional reliability with prototypes of the van having been tested over the equivalent of one million miles, a thousand times more than The Proclaimers were prepared to walk or two to fall over when they get to the door. And then on-road tests wer undertaken over 250,000 miles of public roads with doors having been slammed shut 250,000 times too.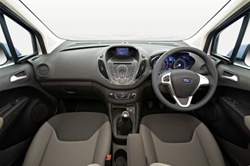 Inside the stylish all-new Ford Transit Courier you'll find 10% more load DIN- and ISO-compliant volume than its direct competitors as well as a longer load length of 1.62m at floor level, and a greater access 453mm width through the sliding side doors. On top of all this there is a full-height, full-width steel bulkhead (glazed or unglazed), optional folding mesh bulkhead, fold-dive passenger seat for longer items up to 2.59m, a maximum load volume of 2.6m3,  six cargo tie-down points, multiple pre-installed bodyside fixing points to mount racking or framework and optional ultra-bright LED loadspace lighting for the van bodystyle.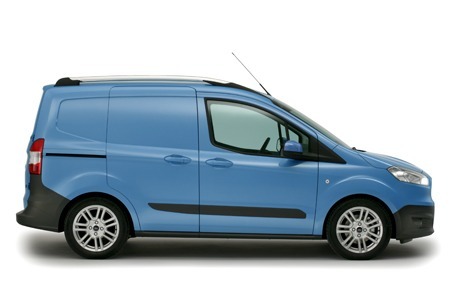 Able to accommodate a wide variety of cargo and equipment, including a standard Euro pallet, the maximum payload capacity of the Ford Transit Courier is 660kg, the twin asymmetric rear cargo doors opening at an angle of up to 158 degrees as standard, with the Commercial Kombi versions offering room for up to five occupants with flexible 60/40 split folding rear seats.
There is more technology and functionality than before, more safety features, more in-cab stowage space, Ford SYNC with Emergency Assistance, and a new Device Dock that allows charging of phones and navigation devices.
"The all-new Transit Courier is an affordable, hard-working van that offers unrivalled fuel economy and bigger load space than its closest competitors," said Paulo Giantaglia, chief programme engineer, Transit Courier, Ford of Europe. "This is the perfect vehicle for today's busy city streets, and will bring Transit capability to a whole new group of customers."
And those target customers? The urban delivery market and small businesses that need a functional and compact van.