THOSE WHAT VAN? AWARDS IN FULL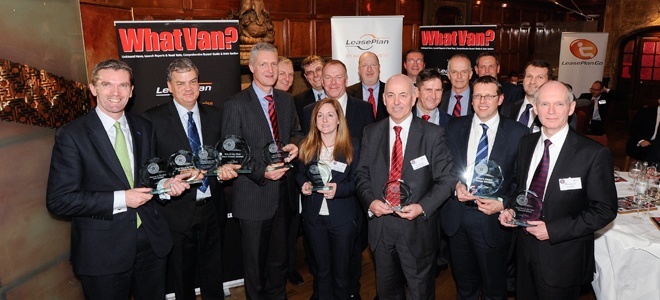 Last year, the Ford Transit Custom was named Van of The Year 2013 in the What Van? Awards; this year it made history by picking up the 2014 award too – the first time it has happened at the prestigious awards hosted by the industry's premier light commercial vehicle publication.
Seemingly, the Transit Custom's combination of "innovation, interior quality, equipment, driving experience and sales success" was enough to allow Ford's director of fleet operations Phil Hollins to collect the award from What Van? Editor Paul Barker and awards sponsor Leaseplan's Mark Lovett at the awards ceremony held in London.
"It was a difficult decision to break with tradition and give our biggest award to a van that was victorious the previous year, but the Transit Custom's impact on the light commercial vehicle market means the success is warranted," said Editor Paul Barker. "It's been a deservedly successful first year for the Custom, a vehicle that has moved the sector on in a whole series of ways."
It proved to be a fruitful night for Ford, with the Fiesta Van picking up the Light Van of the Year award, the Transit Custom winning in the medium van sector, and the Ford Ranger picking up won best the pick-up award.
Other dual winners were Mercedes-Benz who took the large van category with the Mercedes Sprinter and the overall Safety Award as a company; and Volkswagen also triumphed with Best Used Van of the Year Award for the VW Transporter and Best Website for the manufacturer itself.
The Light Van of the Year ended up in a tie with both the Fiat Doblo Cargo and the Vauxhall Combo driving off the stage together, the Mitsubishi Outlander won best 4x4 Van of the Year, and Nissan were the recipients of the Editor's Choice award for their NV200.
What Van? also used the 2014 awards to set up and establish its very own Hall of Fame, with the first inductee being the evergreen Vauxhall Vivaro.
Still being made at the UK's only major remaining LCV manufacturing base in Luton, it is being replaced in 2014 by an all-new model, but the impact that the van has made since its conception in 2001 is considered immense enough to warrant the opening slot in the What Van? Hall of Fame.
I wonder if any of the other vans that are winners here will still be around in 13 years time to warrant a place there too?