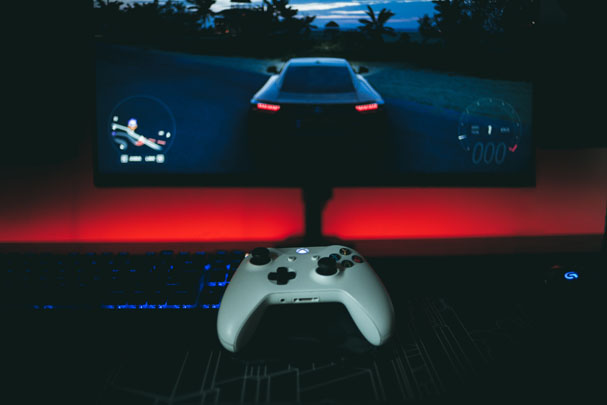 Nationwide Vehicle Contracts lists the best Forza car games from best to worst.

Forza is perhaps the most iconic car game ever. Beginning with Forza Motorsport in 2005, the series has captivated gamers ever since through scintillating racing and stunning graphics.
As of 2021, the Forza franchise has sold around 16 million copies of its games, making it the sixth best-selling racing franchise and one of the highest-grossing video game franchises of all time.
But which Forza game is the best? From Forza Motorsport to Forza Horizon 5, Nationwide Vehicle Contracts breaks down the Forza games from best to worst.
13. Forza Street (2018)
The less said about Forza Street, the better. The free-to-play game was released in 2019 on Windows 10 as a mobile game but was shut down by Forza in 2022 due to its lack of popularity.
Although it had pretty good graphics, the gameplay was hard to enjoy as the steering was automatic, and you could only control acceleration and braking.
12. Forza Motorsport 5 (2013)
Forza Motorsport 5 was the first Forza game released on the new Xbox One, and Microsoft put a lot of effort into ensuring the game was a success. It boasted impressive graphics, featured a career mode, and had voice role cameos from the BBC Top Gear trio.
However, Forza Motorsport 5 ranks so low on this list because fans were critical of the lack of content compared to its predecessor.
11. Forza Horizon (2012)
Forza Horizon was the first instalment in the Horizon series and the first Forza game to be open-world. The game was in Colorado and focused on non-track races and off-road competitions during the fictitious Horizon Festival.
The great thing about Forza Horizon was its sheer replayability. Because it was an open world, it allowed gamers to cruise around and explore the map in their own time without constantly competing in races.
10. Forza Motorsport 3 (2009)
The late 2000s was the era when video games began to evolve, as seen in Forza Motorsport 3. The third instalment in the Motorsport series saw a huge jump from the previous two, and we saw the introduction of drag racing, drifting, and over 500 cars and 100 tracks.
The single-player mode was great, but the multiplayer mode was underwhelming. The race sizes were decreased, and finding a lobby took a long time.
9. Forza Motorsport 2 (2007)
The second Forza game, Motorsport 2, came with improved content and vehicle customisation compared to the original Forza Motorsport.
Another cool inclusion was that you could change the damage settings to where the car became completely useless or that damage remained purely cosmetic.
8. Forza Horizon 2 (2014)
Horizon 2 probably deserves to be higher on this list, but blame Microsoft for making such a competitive game series! Forza Horizon 2 was built on the foundations laid by Forza Horizon, and the game made clear that open-world games were the future.
Set in Southern France and Northern Italy, Horizon 2 provided the opportunity to roam for hours exploring the stunning landscape, which was three times bigger than the first game. It also was the first Forza game to introduce a day/night cycle and different weather conditions.
7. Forza Motorsport 4 (2011)
Forza Motorsport 4 was the best simulated racer game to feature on the Xbox 360. It had a huge single-player career mode, over 450 licensed cars, and 17 real-world tracks.
Forza 4 still featured some of its DNA seen in the previous games but immersed gamers in adrenaline-fuelled races with stunning visuals and amazing engine sounds. Forza 4 is a game for car enthusiasts.
6. Forza Motorsport 6 (2015)
The standout element of Forza Motorsport 6 was the introduction of wet-weather racing. Not only did racing in the rain look great, but it also effected how gamers had to drive, bringing real-world characteristics to our controllers.
Forza Motorsport 6 includes 70 hours of its Stories of Motorsport mode, 500 vehicles, real-life car handling and meticulously designed tracks.
5. Forza Motorsport (2005)
The first Forza Motorsport game introduced Xbox fans to the simulation-style racing games we all know and love today. The original game was a huge hit in 2005, coming with modern graphics and a range of over 200 cars.
One element that stood out from the rest was the customisation available. Gamers were able to upgrade the visual and performance aspect of the cars, making it one of the most realistic racing games in 2005.
4. Forza Motorsport 7 (2017)
To date, Forza Motorsport 7 is the last edition Microsoft has added to the Forza Motorsport game series. If this is the end, they've left it on a good note. The game boasted exceptional graphics, new environmental and weather effects, over 700 cars and 30 real-world tracks.
Motorsport 7 also appealed to newcomers as well as Forza veterans, with car control rewarding those with more skill but being easy enough to pick up for beginners.
3. Forza Horizon 3 (2016)
If you thought Forza Horizon 2 was a big map, Horizon 3 takes it to another level by doubling the map size. What's even better is that it's set in Australia and uses skyboxes based on real photos, so when you look at the sky, you are actually seeing the real Australian sky and clouds.
Gamers can explore the stunning Australian scenery in more than 350 cars and participate in a range of showcase events where they race against planes and boats. You can also play with up to four friends in co-op mode.
2. Forza Horizon 4 (2018)
Forza Horizon 4 moved the open-world game to Great Britain and did this superbly, balancing refined mechanics and visuals to perfection. As you play Horizon 4, the seasons change, meaning you get to embrace the wild British weather behind the wheel.
The different seasons also influence how you drive, with snowy roads proving far more challenging to navigate than sun-baked motorways in the summer.
Horizon 4 introduced Forza fans to a battle royale mode, where 72 cars competed against each other in short races, hoping to become the last car standing.
1. Forza Horizon 5 (2021)
Forza Horizon 5 was IGNs Game of the Year for 2021, and it's clear to see why. Horizon 5 is simply an amazing game, building on all its predecessors to create an open-world masterpiece. Set in Mexico, the map is visually jaw-dropping, including various environments from jungles to volcanoes to idyllic beaches.
Gamers have a choice of more than 500 cars available, which have been meticulously designed to look like a clone of their real-life versions. On the road, each car feels different, whether that be through handling or suspension.
Horizon 5 also introduced the Horizon Tours feature, a three-race co-op event against another team to have the most players finish in the top six at the end of the event.
Whether playing with your friends or going solo, it's so easy to watch the hours tick by as you totally immerse yourself in Forza Horizon 5.
Have you played any Forza games? Nationwide Vehicle Contracts produce regular blogs on a range of topics, such as Real-World Manufacturers in Video Games and GTA 5: What is the Fastest Car to Drive?