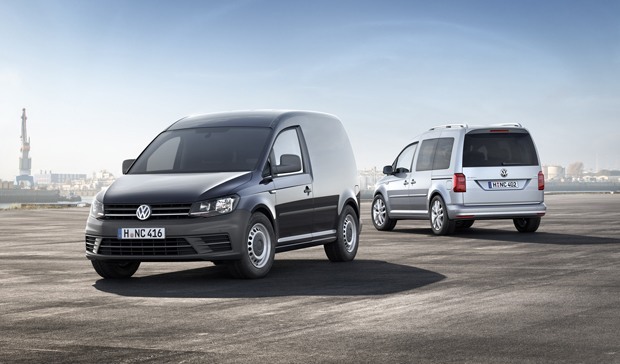 Following on from the 1.5 million worldwide sales over 11 years of the third generation of the Volkswagen Caddy, Volkswagen Commercial Vehicles has unveiled the fourth-generation with high expectations of similar results.
The new Caddy will be launched in Germany at the end of June with full UK specifications and release date to be announced later, but for now we will try and digest what we actually know about the updated Caddy.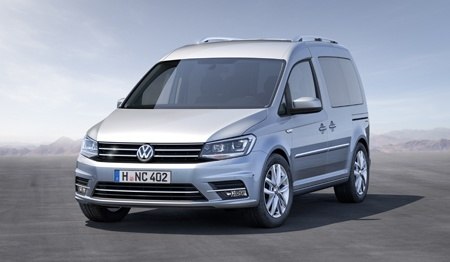 ENGINES and CONSUMPTION
Updated means, in this case, the use of state-of-the-art technology when it comes to the drive systems of the new Caddy, with new EU6 engines providing improved efficiency, as Dr. Eckhard Scholz, Chairman of the Board of Management of Volkswagen Commercial Vehicles, explains: "With its low fuel consumption of less than four litres per 100 kilometres (70+ mpg), the new Caddy sets a new standard."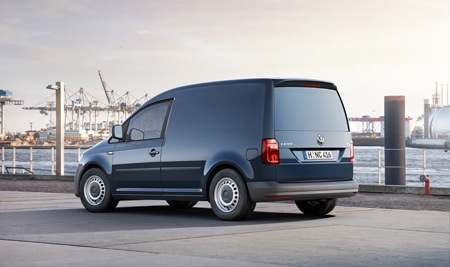 So what is it that gives these new figure? The Caddy range is powered by new 2.0-litre, four cylinder diesel engines with a variety of performance ranges that includes 55 kW / 75 PS, 75 kW / 102 PS, and 110 kW / 150 PS for the top-of-the-range engine, with the lowest fuel consumption coming courtesy of the ' specially developed for inner-city deliveries' Caddy Blue Motion panel van. And with the promise of an in-the-pipeline quiet and refined 2.0-litre, four cylinder EU5 diesel engine range that offers 55 kW / 75 PS, 75 kW / 102 PS and 103 kW / 140 PS versions, the arrival of some new technology is most welcome.
SAFETY
With the fourth-generation Caddy, considering the amount of new safety technology that is now available since the launch of the previous version, a high level of safety features is not only expected but very much evident.
"To achieve [the high level of safety], we have incorporated a large number of driver assistance systems, which are unmatched in the urban delivery van segment", said Hans-Joachim Rothenpieler, Member of the Board for Technical Development of Volkswagen Commercial Vehicles.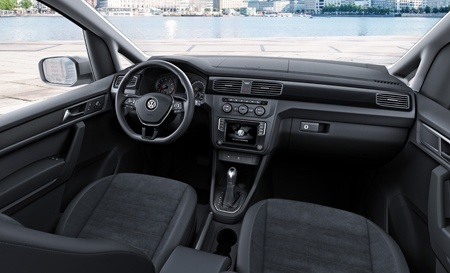 One of these systems is 'Front Assist' (that includes City Emergency Braking) where the brakes are applied automatically if an object gets too near and the driver fails to react; and others include an award-winning Multi-collision Brake System, 'Light Assist' system and the 'Driver Alert' system that "recognises any deviations from normal driving behaviour and recommends to the driver when a break is necessary."
A heated windscreen is optional, as is, for the first time ever on the Volkswagen Caddy, Adaptive Cruise Control (ACC) which, when used in conjunction with DSG, can slow the vehicle down to a complete stop in certain situations such as queues or traffic jam situations.
Also available as an option is a reversing camera and Park Assist - obviously a useful addition for the working company that, if previous Caddy use continues as it has done before, usually involves a type of courier work and parallel parking.
DESIGN
It's hard to change things when maybe they don't need it; but a fresh look at the Caddy as brought in some sharper design folds and more clarified and clearly defined surfaces with a re-designed front and newly distinctive rear - topped off with new-look front and rear lights.
The pictures don't lie - and the specification will certainly be an interesting one once it is fully released.