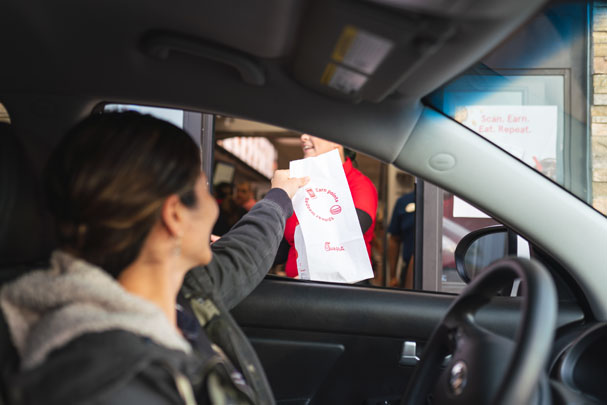 Nationwide Vehicle Contracts explores how the automotive industry has influenced how we eat food on the go.

One of life's simple pleasures is calling into your favourite fast-food restaurant and eating it in your car. For some reason, it just feels like total freedom.
In the past, this was seen as a bit of a luxury, but nowadays, because of the vastness of fast-food culture, eating on the go has become essential for many motorists.
The automotive industry has been central to the blossoming of the fast-food industry, and the latter would be nowhere near where it is today without us motorists. In any major town, you'll find an array of fast-food places, all situated on main roads, and most having a drive-thru.
In this blog, car leasing experts Nationwide Vehicle Contracts look into how the automotive industry has influenced how we eat on the go.
The Birth of Drive-Ins and Drive-Thrus
The modern world is about convenience and practicality, which is exactly how Drive-Inns and Drive-Thrus came about.

In 1921, Drive-Inns were popularised by a Texas chain of restaurants called the Pig Stand. You'd drive to the restaurant, pull up in a parking space, and be greeted by carhops who would take your order and serve you food. All you have to do is simply sit and wait.
Drive-Inns were innovative, and by the 1930s, they'd become very popular. As a result, carhops became extremely busy, and receiving your food took quite a long time. But what does any good entrepreneur do? They solve a problem.
In 1948, In-N-Out Burger built the first Drive-Thru restaurant, which features a two-way speaker system where motorists would order from a microphone and then drive around to one of the windows and collect their food.
Drive-Thrus massively reduced the waiting time for your food and were an immediate hit with the American people. By the 80s, most Mcdonald's were adopting drive-thrus, and soon after, they would become a hit globally.
The Impact of Cars on Fast Food Culture
The widespread availability of cars caused fast-food restaurants to change their business models to appeal to drivers, leading to a massive boom in fast-food popularity.

Fast-food chains began popping up in every corner of the world, and because drivers wanted quick and easy food, most restaurants came with a Drive-Thru. This meant that fast-food chains had to strategically locate their restaurants near major roads to accommodate their target customers.
The best example of this in the UK is service stations along the motorway, where you'll find an array of fast-food restaurants. They're convenient and are the only option for motorists who want a quick and tasty meal, meaning they have a constant stream of customers.
Think about it, when was the last time you saw a fast-food restaurant that wasn't on a main road or in a busy urban area? Supply and demand at its finest!
The Future of Car Friendly Food
You'd think that technology for Drive-Thrus will have finished evolving by now; you drive up, order your food, and drive off. But in the 21st century, we always want more, especially regarding tech.
Apps such as DriveUp and Drivu allow you to order through their app before you reach the restaurant, and then as soon as you get there, your food is brought out to your car. You don't even have to talk to anyone!
Innovations such as these will allow the fast-food industry to constantly be ahead of the game in terms of convenience and practicality.
Conclusion
The automotive industry has greatly impacted how we eat food on the go. It led to the creation of Drive-Thrus, which are now a focal point of any fast-food business model and has caused the expansion of fast-food restaurants to become major household names.
How often do you visit your local fast-food joint? If it's more than you like, there are plenty of ways to eat healthier while on the go.
Plan ahead if you're going on a long journey. Bring on board some dried fruit, nuts and seeds, and a couple of protein or energy bars to satisfy your hunger. Although they may not be as nice as fast-food, they'll ensure you have a healthy and balanced diet.
Nationwide Vehicle Contracts is one of the UK's largest car leasing brokers, and we produce regular blogs on various topics, such as How To Save Money On Car Maintenance and What To Do After A Car Accident.
Thinking about leasing a car? Check out our affordable leasing deals or ring one of our car leasing experts on 0345 811 9595.