CAMPAIGNERS TAKE CALL FOR FUEL DUTY CUT TO NO. 10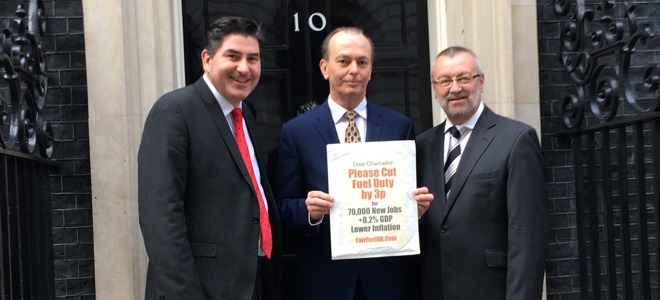 Fuel Duty is a nasty word when you are talking to a motorist, and it's not a always nice word if you are Chancellor of the Exchequer – especially when you are presented by a petition calling for a three pence per litre reduction in fuel duty by the FairFuelUK (FFUK) Campaign, and especially not when you are in the process of producing ideas for your next Budget in a few days (19 March).
Presented to the Chancellor at Downing Street by Rob Flello (MP Labour Member for Stoke-on-Trent South and Chair of the All Party Parliamentary Group for Freight Transport) along with motoring 'guru' Quentin Wilson last week, it certainly has given George Osborne something to think about.
Mr Flello said: "The Chancellor needs to put forward a budget which will help individuals and businesses. A cut in fuel duty would bring welcome relief to many who are struggling to with rising energy costs.The wide spread support the Fair Fuel UK campaign has gained from businesses and the public demonstrates the strength of feeling that the issue generates. As a Member of Parliament I am going to continue to press the Government to take action on this issue."
The campaign is backed by many of the motoring organisations, including the Freight Transport Association who have estimated that each penny of fuel duty costs freight and logistics operators £116 million a year, and the 3ppl cut would save around £350 million a year to the industry.
Karen Dee, FTA's Director of Policy, said: "FTA believes that the Chancellor could give the economy a real boost by reducing fuel duty by 3p per litre in the Budget on 19 March, as well as easing the pressure on struggling businesses. Research has shown that the cut in fuel duty would make an enormous difference to the 'pockets' of freight operators, and that the Chancellor would get his money back through higher tax receipts from increased employment and improving trade."
The FTA figures are backed by evidence from The National Institute for Economic and Social Research (NIESR) and CEBR whose evidence has shown that the UK economy would benefit from such a reduction by generating at least 70,000 jobs, increasing GDP by 0.2% and helping to lower inflation as the increase in disposable income for consumers and free cash for businesses would be spent or invested elsewhere in the economy, leading to the re-ignition of economic growth.
For Mr Osborne it is a tough call when you take into consideration the power that the FairFuelUK Campaign Group seems to wield because they have been credited with stopping all fuel duty increases that were planned in this Parliament, so dare Mr Osborne ignore them?
And it is made harder when you realise just how much of the price of fuel goes to the Governmental coffers to spend how they see fit. And to realise this you need to understand just how a Fuel Price is made up.
What makes up a Fuel Price?
TAX
Bad (and good news) for the Chancellor is that the Government takes the largest portion of the fuel bill with two separate taxes on every litre of fuel we buy here in the UK.
There's the hated Fuel Duty which is payable on all forms of Hydrocarbon fuel such as petrol, diesel, biodiesel and LPG. And is presently 57.95p per litre on both petrol and diesel – which means it is about 44% of our petrol bills and 42% of diesel.
And then there is the just as hated VAT at a rate of 20%.
So that means that the Exchequer takes over 60% of the money that we all pay for fuel!
OIL COMPANIES
Not at all a big surprise but after tax the biggest cost in fuel is the fuel itself, the money from that split between the company that supplies the crude oil and the refinery that turns that oil into the liquid that you pump into your car. (Refining diesel costs more than petrol which is why it is more expensive.)
And the cost of oil itself, according to consultancy firm Wood Mackenzie, is split into five sections. Exploration takes up 5% of the price; land, rigs and building 20%; Staff, transport and management - otherwise known as operating costs – 10%; Tax (More for the government) 40% and Profit for the oil company 25%.
PETROL STATIONS
To be honest, the petrol station gets a bit of a rough ride – and the rough end of many a driver's tongue – because the retailer themselves get about 4% of the price of a litre of fuel; which is about 5p.
This means that many of them are operating on tiny margins – but selling lots of it.
Don't think I'd like to be The Chancellor!