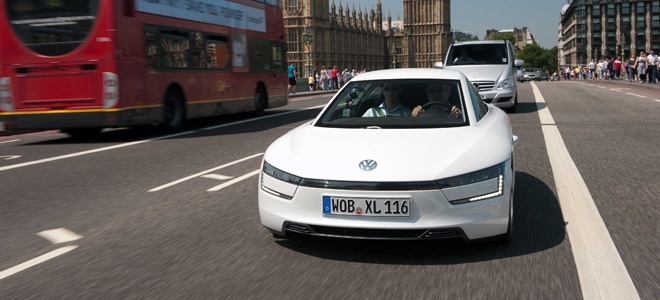 VOLKSWAGEN'S 313 MPG CAR MAKES UK DEBUT
Just like Sir Clive Sinclair's famed C5, yet another "world's most fuel-efficient" vehicle" arrived on London's streets last week in the shape of Volkswagen's futuristic XL1.
But what makes it any different from so many before it – apart from the promise of 313mpg?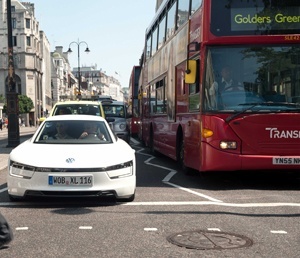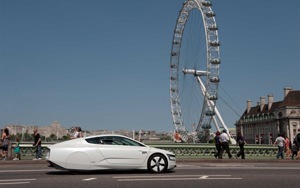 It's a two seater diesel-electric hybrid that emits just 21 g/km of carbon dioxide, and it certainly made the taxi drivers and bus drivers of England's capital take a second glance as it travelled along the streets of the city on its way to the Goodwood Festival of Speed last weekend; not only because of its shape and design but also because its white carbon fibre body shell stood out in stark contrast to the black cabs and red double-decker buses.
And there wasn't just one of these making heads turn, eyes pop out of heads and smartphone cameras click across London, as another XL1 made its way to Buckingham Palace where it was displayed as part of the Coronation Festival where Vokswagen took the opportunity to mark the 60th anniversary of the year when the first Volkswagen vehicles, Beetles, were imported into the UK. .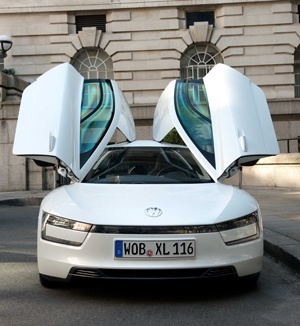 Amazingly enough, for a car that looks as if it should be in a Terminator film (the future bit, obviously), the super-innovative, ultra-frugal XL1 is already in a limited production run of 250 at Volkswagen's Osnabrück factory in Germany (producers of the Golf Cabriolet and Porsche Boxster) in a left-hand drive version only.
With a lightweight body of mainly carbon-fibre reinforced polymer, its engine consists of a marriage between a two-cylinder 800 cc diesel engine and an electric motor, and because the car has been aerodynamically optimised, adopting the classic 'tear drop' shape, it's what could be termed "a bit nippy around town".
Like any good supercar, it is down near the road when it comes to height (at 1,282 mm high it is lower than a Porsche Boxster) and in order to get in you have to negotiate scissor-opening doors; mind you, it does have more of a spacious boot than your average supercar enthusiast would like (120-litres to be precise – so you can fit more than a Louis Vuitton handbag in it!)
You will notice that there are no wing mirrors. These have been replaced with small cameras called e-Mirrors which "transmit exterior images to interior displays." (i.e. let you see what's behind on a small interior screen.)
Hopefully it will last longer than the Sinclair C5, and not attract as much ridicule. And I hope that the advertising agency that will get the job of advertising the XL1 won't smash it up as the one that did the C5 did in the corridors of their Paddington offices.
I was there (but it wasn't me!) Honest!