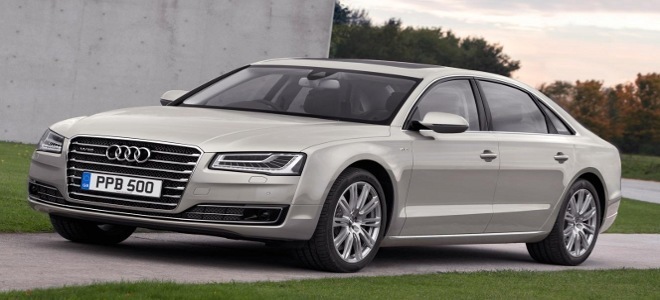 Now This Is Exciting
With the first UK deliveries set for January 2014, it seems about time we were made aware of the specifications of the next generation Audi A8.
The new Audi A8 will be priced from £58,800, and it seems that you'll get a lot of bang for your buck. Audi are promising more power, enhanced fuel efficiency and a host of new features, equipment and technology.
The New Audi A8 – Sculpted For Safety Success
The new Audi A8 looks different, but this is more than a simple facelift. Revisions have been made to the weight-optimised, predominantly aluminium Audi Space Frame (ASF) body, which in itself will make for better handling and superior efficiency, with no compromises made on safety or reliability.
The frontal view of the new generation Audi A8 has been sharpened thanks to a subtle resculpting of the bonnet, the single frame grille, the bumper and the lower edge of the headlight units. Also expect to find all manner of chrome elements, new high gloss black window surrounds and five new colours to choose from.
The headlights can be fitted with MatrixBeam LED technology, which is capable of reacting extremely precisely to other vehicles whilst never refraining from illuminating the road. Should the on-board camera detect an oncoming vehicle, the MatrixBeam LED headlights can mask the relevant sections of the high-beam through either dimming or shutting off individual diodes, preserving bright illumination in the remaining zones. Now that's clever.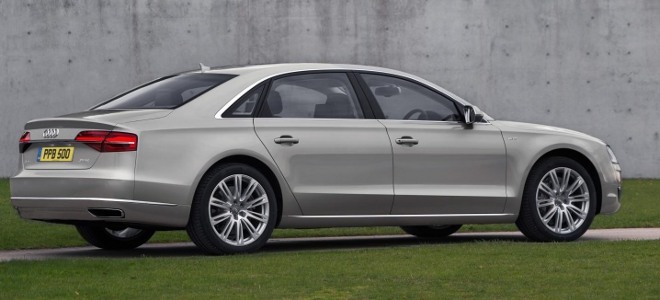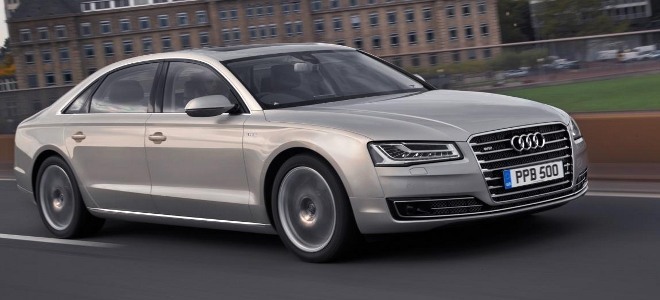 Freshly Enhanced Engines
The Audi A8 will be available with a choice of seven petrol and TDI engines, all of which come with an advanced eight-speed triptronic transmission gearbox. All engines, be they petrol or diesel, are compliant with the forthcoming EU6 emission regulations, and most of them have been painstakingly revised for improved performance and efficiency.
If you want a powerful ride, the next generation Audi A8 will not disappoint. The supercharged 3.0 litre TFSI petrol engine has been boosted from 290 to 310PS, whilst the breathtaking V8 twin-turbo 4.0 litre TFSI now produces a staggering 435PS.
Even the more efficient diesel engines have been given a power boost. The 3.0 TDI now offers 258PS, whilst the 4.2 TDI produces 385PS whilst delivering a formidable 850Nm torque. Yet despite these power enhancements, thanks to the AdBlue exhaust treatment system, both TDI engines are now classed as "clean diesels".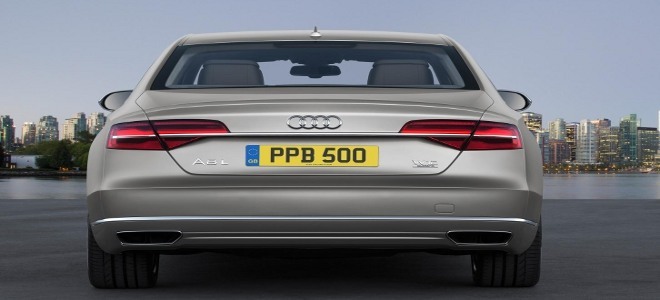 The Best of the Next Generation Audi A8
By far the king of the castle is the luxurious Audi A8 L W12 quattro. Fitted with a 6.3 litre 500PS petrol engine, it features a cylinder-on-demand system that was developed specifically for this model, resulting in a best-in-class combined fuel consumption.
But claiming the title as the ultimate Audi sports saloon is the 520PS S8, whose 4.0 litre TFSI engine is capable of achieving 0-62mph in just 4.1 seconds.
But for those who want their luxury in green, there's the Audi A8 hybrid, which combines a 2.0 litre TFSI engine with an electric motor to generate 245PS and 480Nm. Thanks to a lithium-ion battery, this model is capable of emission-free purely electric driving at up to 62mph with a range of around 1.9 miles. Overall, the new Audi A8 hybrid is capable of up to 44.8mpg, with CO2 emissions as low as 144g/km.
The next generation Audi A8 will be available in the UK from January 2014. But if you simply cannot wait, click here for the latest Audi A8 leasing offers from Nationwide Vehicle Contracts.