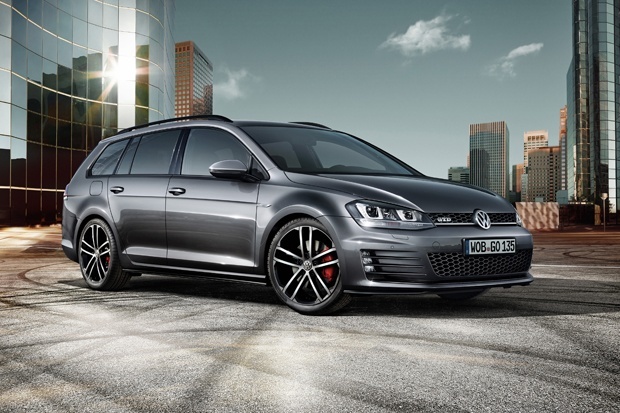 The Gran Tourismo Diesel (GTD) logo has graced some Volkswagen models since 1982, but not the Golf Estate - UNTIL NOW! The time taken to do this is a bit of a surprise considering that both the Golf estate and the Golf GTD make use of the same 184 PS engine, but at least it is here now; or will be when it makes its debut at the Geneva Motor Show in March.
Being an estate, you would not expect us to be using the word 'sporty', but use it we will when describing the character of the new Golf GTD Estate, emphasised by the external look which features special GTD bumpers, a honeycomb radiator grille, smoked rear lights and flared sills. Adding in some exceptional 17" Curitiba alloy wheels, black roof rails, dual chrome tailpipes and bi-xenon headlights, we can safely say that the use of the 'sporty' adjective is not overstated.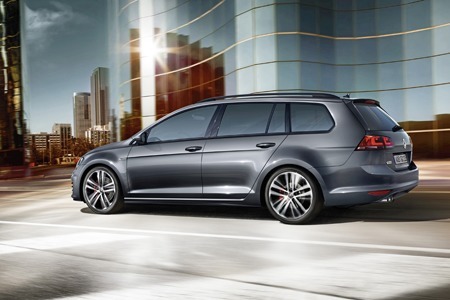 And when it comes to the responsiveness of the car, with the ride height having been lowered by 15 mm, the adaptation of some sport suspension, and the provision of some progressive steering, the whole car gives a sharper response during high-performance driving as well as ensuring greater comfort when driving in what could be termed 'ordinary' conditions.
We'll continue to use the 'S' word when looking at the dynamic interior , with sports seats in Clark tartan, illuminated door sills, black headliner and black pillar trims, decorative inserts and panels in Checkered Black, and stainless steel pedal caps making sure that the sporty theme is continued, aided and abetted by the multifunction steering wheel with aluminium trim and the gear knob styled as a golf ball.
Also available with 18" Nogaro alloy wheels and seat covers in a choice of Alcantara or Vienna leather, the Volkswagen GTD Estate (which also offers a Sports and Design package as an extra that features driving mode selection, the aforementioned 18" alloy wheels, red brake callipers and tinted windows) has some pretty impressive figures to go along with its pretty impressive figure.
How is an acceleration from 0-62mph in just 7.9 seconds for a start? And how about the 2.0-litre unit delivering a maximum torque of 380 Nm with a combined fuel consumption figure of 64.2 mpg? Thought so.
The Golf GTD Estate is expected to go on sale in the UK in April, with first deliveries in June and a full specification to be confirmed closer to launch.