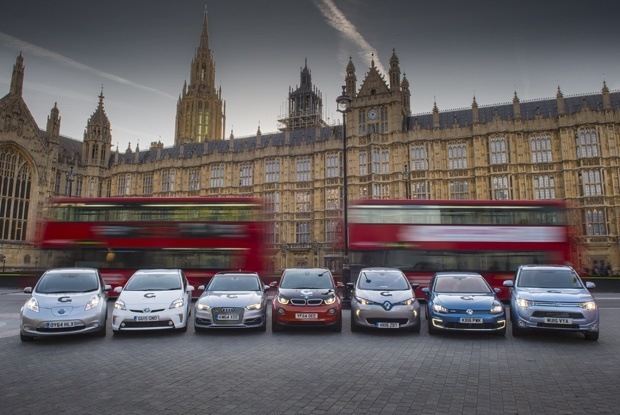 The 2015 Regent Street Motor Show that took place on Saturday 31 October presented a very special 'mile of automotive style' stretching between Piccadilly and Oxford Circuses as the UK's largest free-to-view motor show showcased a glittering display of more than 200 cars from past, present and future generations.
Yet it was the display of Low Emission cars on display courtesy of Go Ultra Low that was, for many visitors, the real star of the show, exhibiting many of the electric (and hybrid) cars that are available to lease from Nationwide Vehicle Contracts.
And, considering what else was on show at the 6th Annual Regent Street Motor Show, standing out was no mean feat.
What else was on?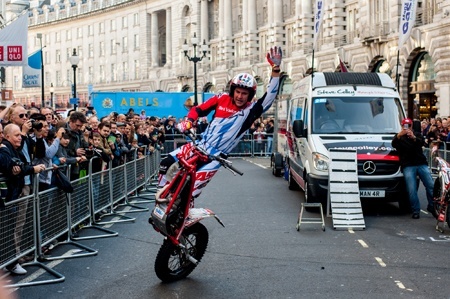 With James Bond having launched that weekend, the futuristic Aston Martin DB10 from the new film Spectre drew the expected crowds, as did the many pre-1905 machines that were taking part in the following day's annual Bonhams London to Brighton Veteran Car Run as well as entering the prestigious EFG International Concours d'Elegance. Chitty Chitty Bang Bang and various cast members from the west End show performed, and Radio 2 DJs Chris Evans and Ken Bruce put in an appearance in the classic buses that they would be driving the next day.
But it wasn't all older cars and film stars on display. Motorcycle stunt rider Steve 'Showtime' Colley wowed the crowds with some gravity defying displays; a Top Gear Experience and a McLaren Honda F1 Experience simulator were both creating a buzz all day; up near Oxford Circus, a team of four technicians from Caterham took a pile of parts and created a brand new Seven sports car, driving the car off the stand at the end of the show; and there was also a special Race Of Champions display.
But it was the latest plug-in and fuel cell vehicles on display that proved to be some of the biggest hits
The Go Ultra Low Show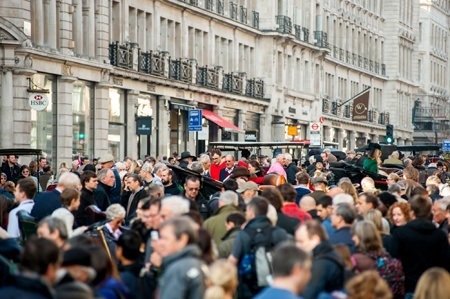 Not only showing off all sorts of low-emission vehicles from plug-in hybrids to zero-emission electric and hydrogen cars, Go Ultra Low also allowed visitors to experience many of the cars themselves as the explanations were forthcoming as to the pros and cons of electric vehicles and the like - and why the demand for them is on the increase.
Cars producing less than 75g/km of CO2, including a first UK public viewing for the new Mitsubishi Outlander PHEV and Toyota's new hydrogen-powered Mirai, as well as the BMW i8 sports car, the already popular Nissan LEAF, the Renault ZOE and the latest Toyota Prius Plug-in, were all popular choices for a quick test drive.
The Go Ultra Low team, in partnership with Transport for London, were delighted to attract over 350,000 people to their stand on the day at the free-to-view motor show; and Poppy Welch, Head of Go Ultra Low, was a very happy lady.
"These ultra low emission vehicles don't just represent the future of motoring, but are a compelling option right now. Visitors to the Regent Street Motor Show saw why increasing numbers of drivers are switching-on to the financial benefits, including fuel costs from just 2p-per-mile, and practicalities of owning and running an electric vehicle."
Go Ultra Low representatives were available to answer visitors' questions about ultra low emission vehicles, with information about electric vehicle charging and infrastructure provided by experts from charge point provider APT Technologies, and the feedback from visitors was very positive - with many astonished at just what was available when it comes to low-emission cars. The line-up on the day represented the wide variety of electrically-powered cars currently available, ranging from family run-arounds to high-performance sports cars and 4x4s because it is important to know that there are now 27 pure electric and plug-in hybrid cars available in the UK now, and that demand here has never been higher.
In fact, 20,992 motorists made the leap to plug-in power between January and September this year, a surge of 138.5% against 2014.
There was even the very latest in clean public transport with Transport for London showing off its latest electric bus alongside a classic Routemaster double-decker, and a number of evolt charging posts so that visitors to the stand could see just how easy it is to charge the cars.