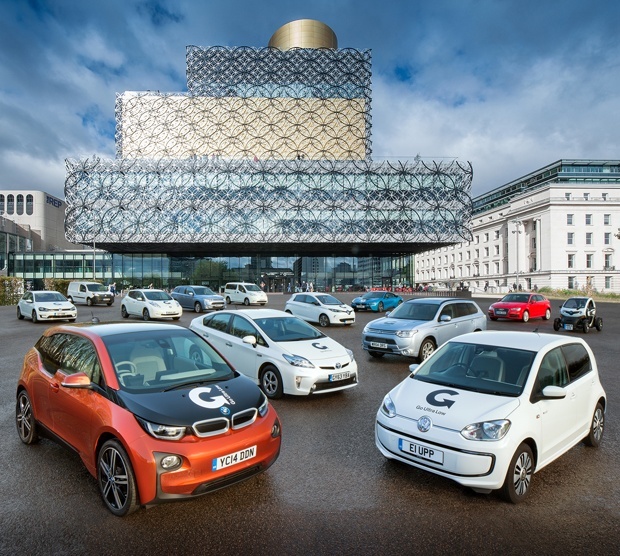 With the news that four of the Top 10 cars in the Auto Express Driver Satisfaction survey were either electric or hybrid, and that figures from the Society of Motor Manufacturers and Traders show that sales of electric-type cars are booming with registrations having more than doubled in 2014 compared with 2013, it may be time for you to look at just what is on offer from Nationwide Vehicle Contracts when it comes to the 'green alternative'.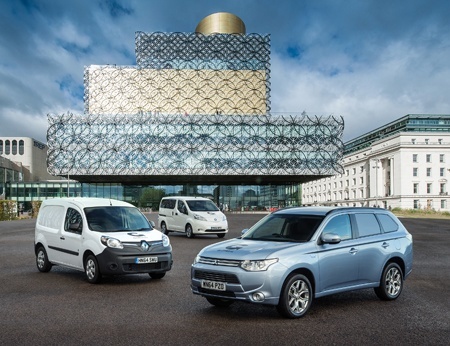 According to Go Ultra Low research, registrations of ultra-low emission passenger cars have also reached all-time high in 2015, with ultra-low emission new car and van registrations up 386% on the first quarter of 2014, with petrol Plug-in Hybrids taking the lion's share of the market with 67% of sales.
The most popular choice so far this year is the Mitsubishi Outlander PHEV, followed by the Nissan LEAF and BMW i3, both of which we will look at soon; but why are drivers looking for these alternatively-fuelled vehicles?
Hetal Shah, Head of Go Ultra Low, a joint initiative by government and the UK automotive industry, has his own opinion: "The latest plug-in vehicle uptake figures prove that ultra-low emission cars and vans make sense for both private and business users, especially with the potential for fuel costs as low as 2p a mile and reduced whole life running costs."
Add in:
CO2 emissions of less than 75g/km
Exemption from road tax
Typical annual fuel savings of £660
A nationwide network of free recharging points
No congestion charge to pay in London
and you can now see why the future is looking slightly electric.
That final point may be one of the reasons why figures show that car buyers in the South are most likely to opt for an ultra-low emission vehicle, followed closely by Londoners, but across the country figures are on the rise. And this is good news for the Government which has a target to hit for new vehicle registrations of a minimum of 5% ULEV (ultra-low emission vehicles) by 2020.
As we have said, It's not just pure electric vehicles which are becoming more popular. Plug-in hybrids are leading the way for those not quite ready to go all-out electric, and you can see what Nationwide Vehicle Contracts have on offer when it comes to sub-95g/km CO2 emissions here.
But let's take a look at what are the most popular when it comes to leasing from NVC
BMW i3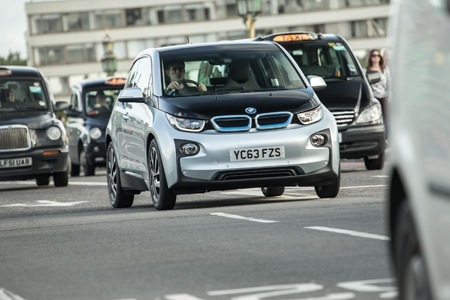 At its launch, back in 2013, BMW described the long-awaited new BMW i3 as the beginning of "a new era of premium car ownership"?
But what does it offer?
First of all, zero-emissions; but then you add in four different interior options - Standard, Loft, Lodge and Suite - that all contain responsibly sourced wood, natural fibres and tanned leather; an electric drive system; and perfect weight distribution just for starters.
Then there is:
170hp output and a peak torque of 250Nm on demand instantly.
0-62mph in just 7.2 seconds (and 0-37mph in as little as 3.7 seconds)
A range of between 80-100 miles on full charge (increased by 15% in ECO PRO mode and 30% in ECO PRO+ mode.)
The BMW i3 Series was crowned What Car? 'Green Car' back in 2014, with judges praising its hot hatch pace and handling, kerbside appeal, thoughtful use of renewable energies and recycled materials, Chas Hallett, What Car? editor-in-chief, saying: "The i3 proves that electric motoring needn't be pious. It suits the town roads where it will spend its life, but it offers fun and performance too."
Check out Nationwide Vehicle Contracts leasing deals on the BMW i3 here where you can also find details of the hybrid version of the BMW i3 with its range extender 650cc two-cylinder 34hp petrol engine that emits a negligible 13g/km CO2.
BMW i8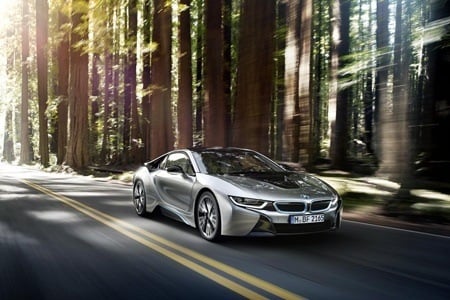 Winner of the UK Car of the Year award for 2015, BMW's (already) multi-award winning plug-in hybrid sports car, the i8, "...is helping to redefine what a sports car is, in a world attempting to reduce its dependence on fossil fuels. The pairing of a three-cylinder engine and electric motor gives mind-boggling headline economy and emissions figures, while it makes few compromises in the driving department."
So said Craig Thomas, one of the 27 motoring journalists that made up the judging panel that also awarded the i8 the title of Performance Car of the Year, as the i8 added the COTY award to its victory in World Green Car awards, following its BMW i3 brother to the title.
The BMW i8 is the first plug-in hybrid vehicle manufactured by the BMW Group, and combines the performance of a sports car with the fuel consumption and emission figures of a sub-compact vehicle.
So what is there that ecologically-conscious BMW drivers can look forward to?
37 kilometres under electric power alone
A 1.5-litre three-cylinder petrol engine (equipped with BMW TwinPower Turbo technology) and an electric motor.
Roadside charging
266 kW/362 hp
0-62mph acceleration in just 4.4 seconds to 100 km/h
Combined fuel consumption of 2.1 l/100 km
Combined CO2 emissions of 49 g/km.
An extensive use of innovative materials and energy-efficient production processes.
But above all, it is a BMW; and you can view leasing details for the BMW i8 from Nationwide Vehicle Contracts here.
Nissan Leaf
The Nissan Leaf is considered by many people to be the flagship for all electric cars; and its trophy cabinet bears testament to that.
And with three models available in the range - Acenta, Tekna and the Visia, there is plenty to get excited about if it's the Leaf that floats your boat when it comes to electric vehicles.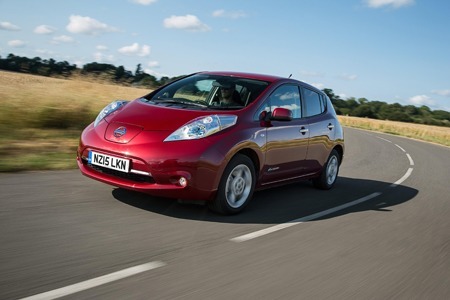 Nissan's figures give a range of 124 miles on a single charge, and there are more than 7000 charge points in the UK at almost 3000 locations to 'fill up' if more is needed.
Powered by a 109PS electric motor with the promised Zero emissions, 0-62mph is achieved in 11.9 seconds up to a top speed of 87mph; and also features:
Bluetooth system
PAS
Push button starter
Trip computer
Voice control system
4 speakers with Radio/CD and USB/iPod connection
Steering wheel mounted audio/telephone controls
amongst many other features.
Check out the leasing options on the Nissan Leaf from Nationwide Vehicle Contracts here.
Toyota Prius+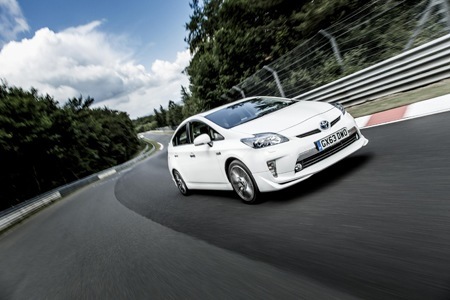 The Toyota Prius+ is already Europe's market-leading seven-seat hybrid MPV, and has recently been the recipient of what Toyota has called a 'regrooming' with new styling details, new equipment features and new colour choices.
Take a look at what Nationwide Vehicle Contracts have on offer when it comes to the new-look Toyota Prius+ here but for now, here are a few of the outstanding specification details for Europe's ONLY seven-seat hybrid.
New upper grille and new LED headlights
Two new body colours - Dark Sherry metallic and Attitude Black mica.
Upgraded interior with a new 4.2" colour TFT information screen
Toyota Touch 2 multimedia system with touchscreen control, Bluetooth and a reversing camera.
Electric seat adjustment, a front centre armrest and Intelligent Park Assist
Hill-Start Assist
Mitsubishi Outlander PHEV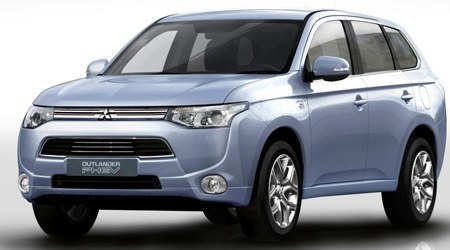 According to figures from The Society of Motor Manufacturers and Traders (SMMT), the Mitsubishi Outlander PHEV is now the UK's best selling plug-in hybrid vehicle; a fact not lost on Lance Bradley, Managing Director of Mitsubishi Motors in the UK.
"The new Outlander PHEV has quickly established its credentials. We have reached a defining moment in vehicle drivetrain technology which challenges conventional wisdom. Few would have predicted that a family-sized 4 x 4 sports utility vehicle could become the UK's best-selling plug-in hybrid based on economy, on and off road performance and practicality".
The Outlander PHEV...
Uses both electric and petrol power, with more miles per battery power (32.5) than other its competitors
Produces just 44g/km of CO2 and an official combined fuel consumption figure of an impressive 148mpg
Is exempt from road tax and the London Congestion Charge
And, of course, is available as a lease Mitsubishi Outlander PHEV option here from Nationwide Vehicle Contracts.
Is electric / hybrid right for you?
All these facts may be appealing to the ecologically and financially-minded driver, but electric-only vehicles aren't for everyone. Considerations need to be made concerning (amongst others):
The range of the car and prospective journeys with the charging range of EVs limited to around 120+ miles on a full charge
The location of public charging points or capacity of a household to run a charging point
The cost of the EV against savings made
The last of these points is negated when considering leasing, so visit our Fuel Efficient Car Leasing Deals page for details of some of the electric and hybrid vehicles we have on offer.