Goodwood Festival of Speed Hits Our TV Screens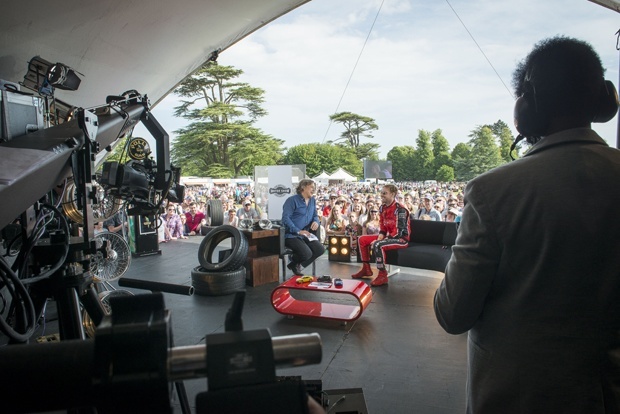 Back in June we previewed the 2015 Goodwood Festival of Speed, with its 'Flat-Out and Fearless: Racing on the Edge' theme; and if you missed what turned out to be their biggest ever event with a 200,000-strong crowd watching the largest number of cars ever gathered for a Festival of Speed, you can now enjoy it courtesy of three programmes on ITV4 (or via the ITV Player).
The shows are separated into three distinct episodes, all of which are aiming to bring the very best of the action from this year's Festival of Speed to the small screen.
Supercars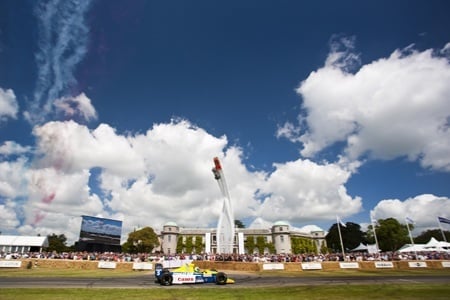 This was actually broadcast last night (Tuesday 7 July) and was narrated by BAFTA-winning actor David Morrissey.
Starting at the very beginning with the widely-acknowledged first Supercar - the Lamborghini Miura – it took us on a journey right up to some the very latest machines such as the extraordinary track-focused SCG 003 and other Supercars that included some spectacular million-pound hybrids.
And right at the end of the show there was the Michelin Supercar Shootout - a David v Goliath battle that featured TV presenters Suzi Perry and Kevin McCloud, racing driver Mark Webber, designers Frank Stephenson, Gordon Murray and Sir Jonathan Ive and dancer Darcey Bussell.
Certainly worth having a look at on ITV Player.
Best of the Fest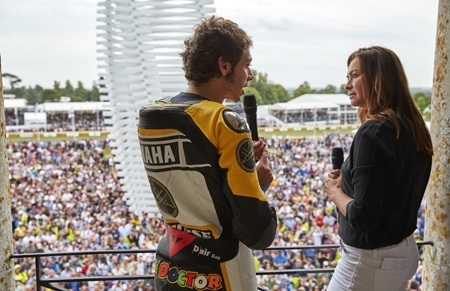 This episode will be screened on Wednesday, 8 July at 9pm on ITV4 and will be presented by Craig Doyle and Louise Beckett. And it does exactly what it says on the tin.
You can watch the very best of this year's 'Flat-Out and Fearless: Racing on the Edge' event, as Louise takes a ride up the Hill with Sir Stirling Moss in the legendary Mille Miglia-winning Mercedes-Benz 300 SLR while Craig gets to go 'hooning' with Gymkhana creator Ken Block in his incredible Ford Mustang 'Hoonicorn'.
The show also includes some interviews with:
Goodwood debutant Valentino Rossi
Johnny Herbert reminiscing about his Le Mans victory in the Mazda 787B
Bike legends John McGuinness, Casey Stoner and Greg Hancock
Derek Bell talking about his career
Porsche's current drivers Mark Webber and Brendon Hartley
Added to this there is footage of the enthralling battle to be 'King of the Hill' in the Sunday Shootout as well as an insider's view of what goes on with the judges of the Cartier 'style et luxe' concours d'elegance as they deliberate on what they think is the most beautiful car on-site before deciding on the exquisite Peter Mullin-owned Talbot-Lago T150 C SS as overall winner. The judging panel included Ferrari design chief Flavio Manzoni, TV presenter, Jodie Kidd, and Queen drummer, Roger Taylor.
The Goodwood Moving Motor Show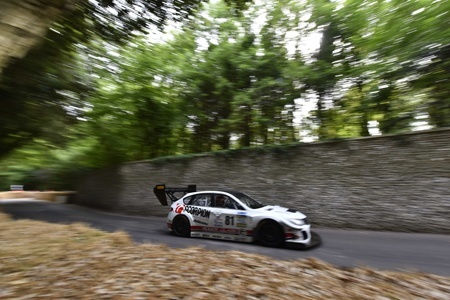 The final show of the Goodwood Festival of Speed triumvirate, airs on Thursday, 9 July at 2100 on ITV4 with comedian Alan Davies "presenting a live studio show from the heart of the Goodwood Estate, with a host of celebrity guests joining him on the sofa and heading up Goodwood's iconic 1.16-mile Hillclimb" that includes Kaiser Chiefs frontman Ricky Wilson and Harry Potter actor Rupert Grint with his European Rallycross competitor brother, James.
There is also a segment with comedian Alex Brooker on a high-speed ride, and another with model (and thrill fanatic) Jodie Kidd and rapper Example discussing cars that they have owned and ridden.
On top of all this there is a special focus on all the very latest models that were showcased at the Moving Motor Show, sponsored by the AA in association with the Daily Telegraph.
The Moving Motor Show featured such cars as the new 500bhp Peugeot 308 R Hybrid, the new Ford Focus RS, the UK debut of the latest SEAT Ibiza and the all-new Mazda CX-3 and MX-5 (with the latter now available to lease from Nationwide Vehicle Contracts.)
In fact, many of the cars that Nationwide Vehicle Contracts will be offering for lease in the months to come featured in the Moving Motor Show, so if you see something you like on the show, contact us to see if we can help.
But if you can't wait for the new vehicles to be released, check out what we've got on offer at the moment by browsing our catalogue of brand new cars.