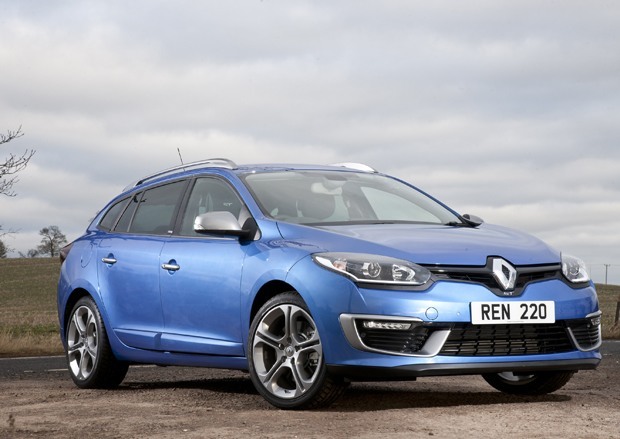 Not content with owning an existing range of multi-award-winning performance Megane models, Renault has decided to introduce GT 220 versions of the Mégane Hatch, Coupé and Sport Tourer to spice things up a little bit, and make driving a Renault Megane that little bit more exciting.
The GT 220 is based on the Megane GT Line but delivers up to twice as much horsepower thanks to its 220 hp version of the Renaultsport 2.0-litre turbo engine and, courtesy of stiffer springs and dampers, larger front brake discs, a Renaultsport-engineered chassis and 18"'Serdard' alloy wheels clothed in 225/40R18 Dunlop Sport Maxx TT tyres, an even more dynamic driving performance.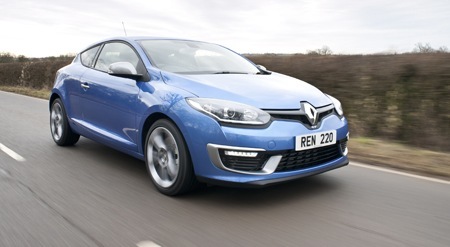 THE FINER DETAILS
The 2.0-litre 16-valve turbocharged engine develops its 220 hp at 4,750 rpm, driving the front wheels through a slick-shifting six-speed manual transmission, creating 340 Nm of torque at 2,400 rpm. With all this power under the bonnet at the disposal of the driver, it is hardly surprising that the GT 220 has a 0-62 mph acceleration time of just 7.6 seconds on the way to a top speed of 149 mph. Yet with Renault's Stop & Start technology as standard, the GT 220 is also economical and efficient, returning 38.7 mpg on the combined test cycle, with CO2 emissions of 169 g/km.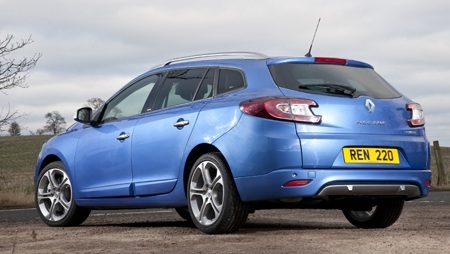 From its erstwhile brother-in-wheels , the Mégane Renaultsport, the GT 220 borrows not only the rear bump stops but also specific front and rear dampers, calibration and valves on the Renaultsport-tuned chassis; but this means that the steering calibration has to be specified to the GT 220 to take into account the different and specific tyres and chassis settings.
With speed of the essence here, you will need some quality braking technology and material, and the Renault designers and engineers have ensured this with ventilated 320 mm front discs and 260 mm solid rear brake discs (controlled and regulated by the Mégane Renaultsport's master cylinder) along with the addition of ABS anti-lock brakes with EBD emergency brake assist, and Renault's Anti-Skid Regulation (ASR) and Understeer Logic Control (UCL) advanced driver aid systems.
THE WHOLE PACKAGE
The whole appearance, specification and colour choices for the GT 220 mirror that which is available with the GT Line models - and that includes the option of bespoke Malta Blue paintwork with anthracite grey and polished detailing as well as door mirror housings in a dark chrome shell.
At the front of the GT 220, Renault have redesigned the GT bumper, and added in a reshaped central air intake and an integral gloss black cross bar that carries the number plate. And at the rear, the bumper has a lower section finished in body colour with an anthracite-coloured aerodynamic diffuser.
Inside the car, the influence of Renaultsport stares you right in the face with the sports seats and upholstery, the thick leather-rimmed steering wheel with thumb indents and stitching detail, and the analogue dials and aluminium pedals not only giving the clues but providing the answers too. And if more sporting prowess is required then there are interior door handle pulls, outer air vent surrounds and a dashboard all with a polished carbon finish.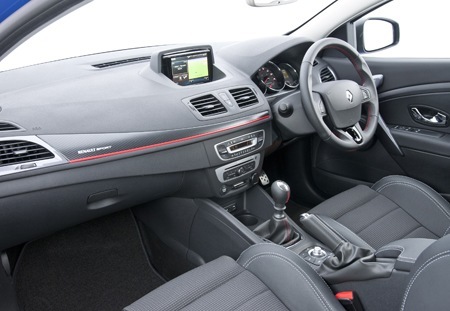 The list of standard equipment is just as you would expect with such a powerful and desirable car, incorporating many details that you would only find as optional extras on many other cars such as dual-zone climate control, cruise control, speed limiter, automatic headlights and windscreen wipers, LED daytime running lights, fully integrated Renault R-Link satellite navigation, Bluetooth, a USB connection, a rear parking camera and an uprated Arkamys 3D sound system.
The optional list on the GT 220 models allow scope for much personalisation and include a Leather Pack of carbon grey heated leather seats as well as the advanced Visio System by Renault that includes technology such as lane departure warning and automatic main/dipped beam headlights operation.
Like the car itself, the GT 220 Megane models from Renault will be speeding their way to a showroom soon.