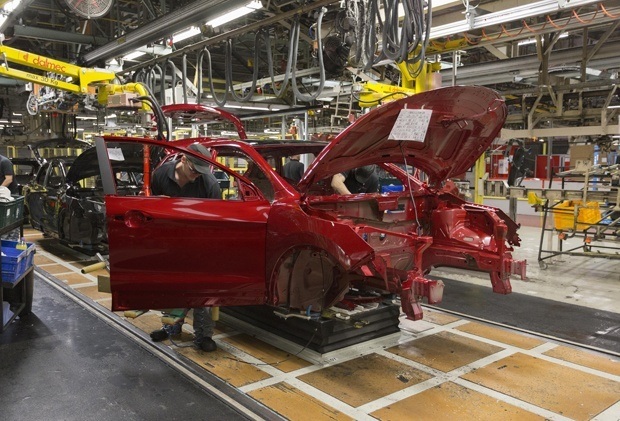 It may have only seemed like yesterday that the first ever Nissan Qashqai appeared on or roads, winning What Car of The Year back in 2014, but recently Nissan celebrated as the record breaking 500,000th Qashqai rolled off the production line in Sunderland.
This fact makes the Nissan Qashqai the fastest ever UK-built vehicle to smash the half million production mark having achieved it in a mere 21 months with a new Qashqai having been built every 62 seconds on the Sunderland factory's Line 1.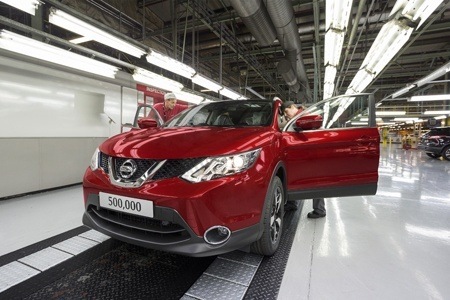 And smash it it has, because, when you look at the two previous record holders, they took a lot lot longer to reach the half million landmark. The MK1 Ford Cortina took 34 months to hit get to 500,000, and the Austin/Morris 1100/1300 reached the same total in 29 months - a snail's pace in comparison to the Qashqai.
"The Nissan Qashqai is going from strength to strength," said Paul Willcox, Chairman, Nissan Europe. "Half a million Qashqais in just 21 months is an astonishing achievement and proof that the Qashqai is hitting the spot with buyers. Together with the pioneering first generation version, there are now more than 2.5 million Qashqais on the road in Europe, making Nissan the undisputed leader in the Crossover sector."
And that domination is likely to get greater with the news that the new Qashqai will also be manufactured in St. Petersburg for domestic sales in Russia from late autumn this year.
Why Lease The Nissan Qashqai?
The eagerly awaited new Nissan Qashqai describes itself as "the ultimate city crossover" and few would disagree. With a bold, commanding presence, truly state-of-the-art technology and a luxuriously comfortable interior, the new Nissan Qashqai is an empowering next generation compact SUV that's set to dominate the streets, and is available for both business and personal customers at competitive and affordable car lease prices from Nationwide Vehicle Contracts.
Power & Performance
The new Nissan Qashqai is available with a choice of four engines: two petrol and two diesel. Always offering impressively low running costs, the latest generation model is more fuel-efficient than ever, with no compromises on power or performance.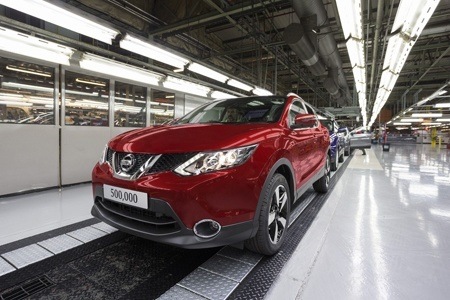 The entry-level engine is a turbocharged 1.2 litre petrol, which is ideal for dynamic city driving, but there's also a 1.4 litre petrol option that's better suited for longer journeys. The diesel options include a mighty 1.6 litre unit that delivers the sort of torque you'll need for fully-loaded excursions, but the 1.5 litre unit offers the best combination of power and efficiency. With this engine, the Nissan Qashqai is capable of over 70mpg, with CO2 emissions as low as 99g/km.
But no matter what engine you choose, the advanced chassis control system guarantees a smooth and responsive ride. Body motion control deploys brake torque to reduce bounce, whilst the brake force control allows you to take corners with effortless confidence. There's even an all mode 4x4-i option, which instantly and automatically distributes torque as and where it's needed for optimum traction at all times.
Technology
The new Nissan Qashqai is fitted with advanced Nissan Safety Shield technology, a complex system of 16 sensors that constantly evaluate your surroundings to reduce the risk of accidents and keep you in control. The system includes Blind Spot Warning, Lane Departure Warning and Autonomous Emergency Braking.
Further helping you to stay aware of your surroundings is the 360° Around View Monitor (AVM) and motion sensor. Using four separate cameras, you can get a panoramic look all around your Nissan Qashqai, even getting a bird's-eye view to get a taste of your surroundings. The Park Assist feature can accurately assess whether there's enough room in a space, with an automatic mode to take the complicated steering manoeuvres out of your hands.
The New NissanConnect navigation system lets you choose from scores of upgradeable apps, including Google Points of Interest and Send to Car functionality, internet radio, social media and such information as route guidance, flight times, weather, news and sports updates – all displayed in crystal clear definition on a sparkly 7" screen.
Leasing
By leasing a new Nissan Qashqai from Nationwide Vehicle Contracts, you can enjoy a lower initial deposit, inclusive road tax and breakdown recovery, and flexible contracts and mileage terms, so click here to check out some of the great deals that are available on the Nissan Qashqai.