Another birthday to celebrate this year, on top of Mitsubishi, Volkswagen is celebrating the 40th birthday of the most successful European car of all time: the Volkswagen Golf, sharing its birthday with the Rubik's Cube, Post-It notes and liposuction.
Since its conception over 30 million of VW's best-seller have been sold and the changes from then until now have been a great example of technological progress.
Looking at just what has changed is almost a timeline of car changes through history. Turbocharged engine, direct-injection engine, electric and plug-in hybrid drive system; ABS, ESC, XDS and 4MOTION; Adaptive Cruise Control, City Emergency Braking, trailer stabilisation and Automatic Post-Collision Braking System; automatic air conditioning, Dynaudio sound system, touchscreen with proximity sensor and LED headlights; GTI, GTD and GTE – all technological advancements and, quite often, it is the Volkswagen Golf that led the trend.
Let's look through history from the very start of the Volkswagen Golf story.
Golf Mk I:
It was on 29th March 1974 that the first ever production Volkswagen Golf rolled off the assembly line in Wolfsburg in Germany onto a motor scene that had been dominated by the Volkswagen Beetle and other rear-mounted engines with rear-wheel drive. And the Golf was to lead a mini-revolution of front-wheel drive and front-mounted engine fortitude. (It was also the year the Lord Lucan disappeared – although probably not in a Golf.)
The Volkswagen Golf Mk 1, designed by Giorgio Giugiaro and Volkswagen Design, had a lot to live up to, following the Beetle's 21.5 million units success – and that it certainly did; so much so that in just over two and a half years 1,000,000 Volkswagen Golf models had been produced.
And with that million in 1976 came the first ever Golf GTI and Golf D (naturally aspirated diesel engine), soon to be followed by the Volkswagen Golf Cabriolet (in 1979) and the Golf GTD (turbodiesel) in 1982, the latter marking a breakthrough for diesel cars in the compact segment.
Golf Mk II:
Time for a change in August 1983, with more space in the Volkswagen Golf Mk II so that passengers weren't as cosy with each other. Further changes were made in 1984 (regulated catalytic converter) and in 1986 (anti-lock braking system, power-steering to the lower medium class and syncro – to open up the all-wheel drive option to Golf drivers).
Golf Mk III: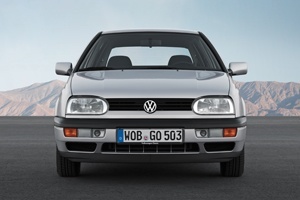 Safety was very much to the fore at the Volkswagen Golf Mk III appeared in August 1991. There had been major technological advances in car body construction over the previous years, and the Mk III Golf was the recipient of this, along with front airbags (in 1992).
This particular model was a starting point for Volkswagen with many features that we now take for granted (or did) in cars. The first six cylinder engine (VR6), cruise control, oxidation catalytic converter for diesel engines appeared in the Volkswagen Golf in 1991 and the first direct injection diesel engines (TDI) in 1993 – the same year that the Volkswagen Golf convertible, Syncro II and the Volkswagen Golf Variant estate made their first appearance. And then ABS became a standard feature on all Golf models in 1996.
Golf Mk IV:
Seven years on, in 1998, under the direction of Hartmut Warkuß, then Head of Design at Volkswagen (Group), the Volkswagen Golf Mk IV appeared butterfly-like from its design cocoon setting the standards for future Golfs – and with ESC debuting in 1998, safety was again prioritised.
Around this time (1998) Volkswagen unveiled the first all-wheel-drive Golf with a Haldex clutch in the shape of the Volkswagen Golf 4MOTION, before 2002 saw the arrival of the R32, with a top speed of 250 km/h (155 mph) and a revolutionary dual-clutch gearbox (DSG) for the first time.
2002 also saw the first direct-injection engine (FSI) and the debut of the standard head airbag (window airbags).
Golf Mk V:
Safety-wise the torsional rigidity was increased by 35% and the number of airbags increased to 8 with side airbags introduced; and with the safety aspect all tied up, it was time to look at customer comfort, and the Volkswagen Golf Mark V "boasted levels of comfort and dynamic performance that left many competitors way behind in 2003," as well as offering so much more on the security side of things.
The Golf Mk V also offered a new four-link rear suspension, seven-speed DSG, bi-xenon headlights, panoramic sliding sunroof, plus the world's first twincharger (in the 2006 TSI) that combined turbo- and supercharger.
3 years later, in 2006, the Golf Plus made its debut, and in 2007, the CrossGolf, a new Estate and the extremely fuel-efficient Golf BlueMotion (4.5 l/100 km or 62.8 mpg) appeared on Volkswagen forecourts across the world.
Golf Mk VI:
The sixth generation of the Volkswagen Golf appeared in 2008, and in just four years, a further 2.85 million Golf cars had been produced by the end of July 2012.
By then the Euro NCAP crash test had been introduced, and the Volkswagen Golf passed with flying colours, gaining the maximum five stars. And in that timeframe, Volkswagen had introduced more TSI engines and a change in the turbodiesel engines (TDI) from unit injection to the common rail system that meant greater dynamic performance and lower fuel consumption. Using this, the second Volkswagen Golf BlueMotion was a real winner with a combined fuel consumption of just 3.8 l/100 km (74.3 mpg), equivalent to 99 g/km of CO2.
The Golf Mk VI was also the first Volkswagen Golf to take on new assistance technology like Light Assist automatic main beam management and Park Assist – things we almost take for granted now.
Golf Mk VII:
And finally, on 4 September 2012, Volkswagen celebrated the world premiere of the seventh generation Golf; the most up-to-date Volkswagen Golf.
Lighter than previous models, it provides improved fuel economy by up to 23% with the new Volkswagen Golf TDI BlueMotion consumes only 3.2 l/100 km (88.3 mpg) - equivalent to 85 g/km of CO2 under standard NEDC conditions.
And it almost goes without saying that the Volkswagen Golf Mk VII is the most technologically advanced Golf there has been with an entire flotilla of new assistance systems – some as options and others as standard.
And then there is the 2014 arrival of the all-electric e-Golf with a range of around 190 kilometres that is already available and the forthcoming new Golf GTE in the Autumn with its plug-in hybrid drive system managing a standard fuel consumption of 1.5 l/100 km.
So it's a very happy birthday, admittedly a touch belated, to the Volkswagen Golf, the most successful model ever built by Volkswagen with sales of 30,000,000 by Summer 2013.
Volkswagen Golf leasing from Nationwide Vehicle Contracts is available here.